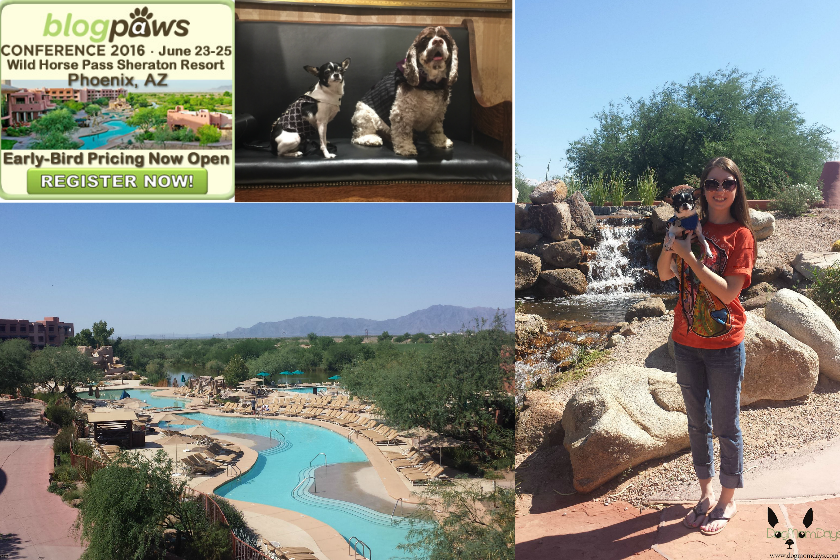 by: Carol Bryant
People treat their furry and feathered companions more like family members than ever, pampering them with treats, gifts, toys—even home-cooked meals. Well, sure that attention caught my attention: Did it catch yours? If you are a pet lover, a pet parent, or in any way, shape, or form have spoiled your pet and are proud of it, then these words you live by and wear like an emblem! Pampered pets mean big bucks.
According to a recent Nielsen survey conducted by Harris Poll, 95 percent of U.S. pet owners consider their pets to be part of the family. That number is huge: 95 percent. Consider that just 10 to 15 years ago, that probably was not the case. Growing up, how many of you recall taking your family pet on vacation? I sure don't. In that same study.  two generations take the cake, so to speak, in terms of spending: Millennials (65% own pets) and Gen X (71% own pets). And of that spending, a large percentage of it goes to pet food. Americans shell out large amounts of money, making pet food a thriving, multi-billion dollar industry. Is it any wonder then, that bloggers, particularly those who focus on pets or have a section dedicated to pets on their blog, are courted so diligently by brands?
Happy Birthday To Fluffy
It isn't just food, as toys for pets are huge sellers.  U.S. pet parents spent $389 million on pet toys alone last year, with $32 million being spent on chew toys and $8 million on pet ropes.
Get Well Soon
Pets are family members, so we need to keep them well: If they are sick, it's off to the vet we go.  Nielsen reports Americans spend $389 million on medicine, $19.2 million on pet treatments, $2.4 million on pet repellent and $379.1 million on flea and tick products.
Pet Friendly Travel and Conference
In 2009, three people had a vision: To bring pet bloggers together with the brands they need to know and vice versa. Those three people, Caroline Golon, Yvonne DiVita, and Tom Collins, formed what we know as BlogPaws. Who would have imagined that 7 conferences later, an eighth in motion for 2016, programs galore, and so many plans on the horizons….well, here we are reinforcing the pets are family, pets deserve a voice, and pets matter mantras. The conferences are always pet welcoming.
Wild Horses Couldn't Keep Us Away
Pet blogger and self-proclaimed dog mom, Amanda Yantos, says her life has been changed by BlogPaws. "Through everything I've learned, the people I've met and the amazing tight knit online community, I've become a full time pet blogger.  Yes, I sit at home all day and play with my dogs.  Well, maybe not.  But some days I do," she says. "Anyways, I went to Nashville, TN in May to attend my first ever BlogPaws conference.  I flew with Wynston across the country so I could partake in the phenomenal learning experience and meet all of my online blogging friends in person!  It truly was a fantastic experience and I feel honored to be welcoming the 2016 BlogPaws conference to my beautiful state of Arizona!"
Yantos was a finalist for Best New Pet Blog at the 2015 BlogPaws Pet Blogging and Social Media awards. She also enthusiastically volunteered to visit the resort where the June, 2016 BlogPaws Conference will descend. With so many new things coming, fun surprises on the horizon, and wanting to up the bar even more, here's what the locale has to offer for attendees, in Amanda's own words (and pictures!)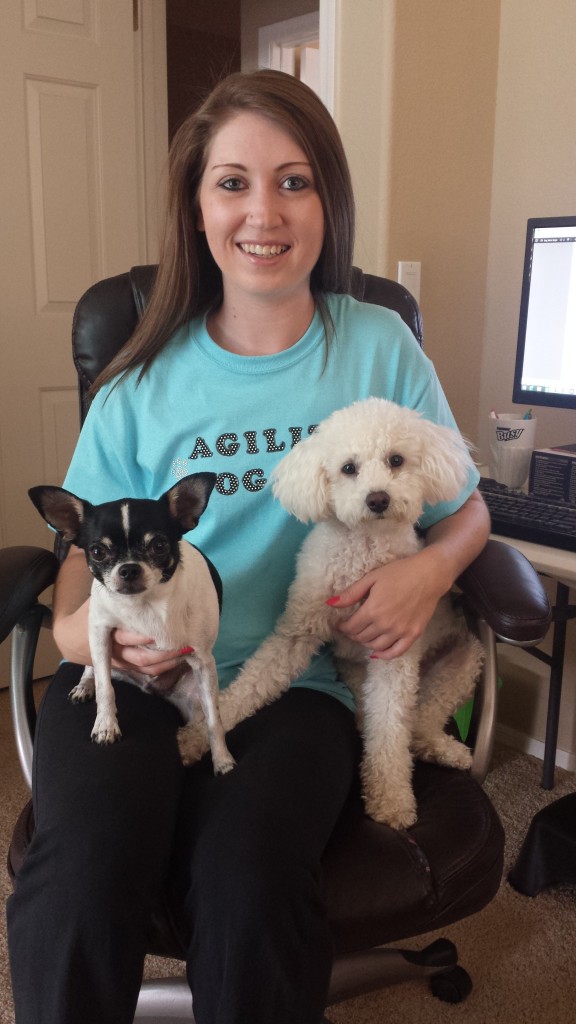 When I arrived at the resort, I was welcomed with open arms.  The first thing I noticed was how friendly all of the staff was.  Opening doors for me, asking how I was doing, complementing me on my cute dog…and we all know how much I love that.  Wynston and I were lucky enough to tour the Sheraton Wild Horse Pass so we could get a glimpse into what the 2016 BlogPaws conference will look like.  There was actually a conference taking place at the resort so it was filled with people but I got to see what a conference set up is like.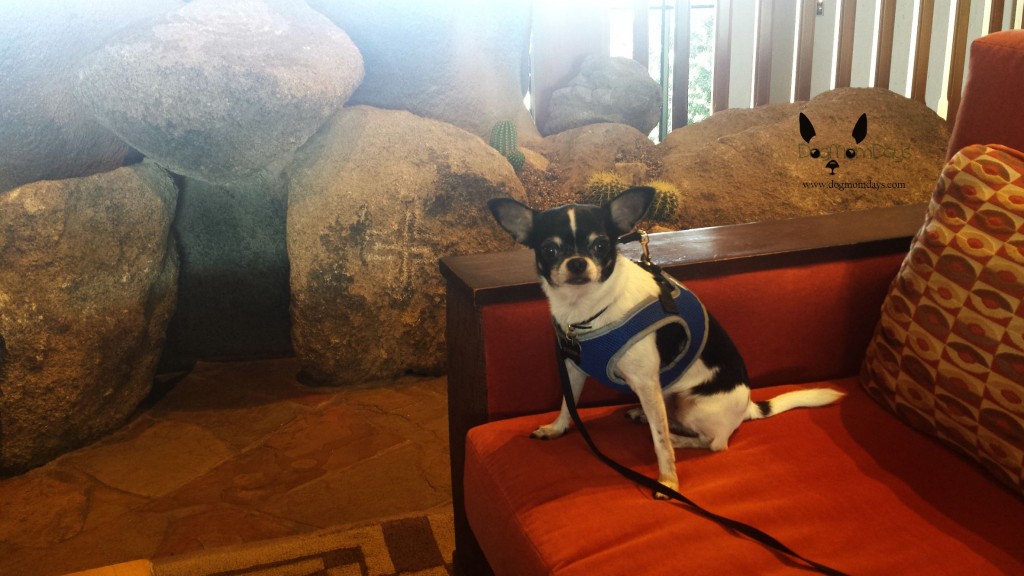 The Sheraton Wild Horse Pass is very expansive.  The entrance lobby is two floors and the conference area alone is at least three times as big as the area at the Sheraton Music City hotel.  What I loved most about the resort was the outdoor areas.  There are a ton of gorgeous places to take photos, with sprawling mountains and blue skies in the background.  Of course as a dog mom, my first thought is "Will this be a good place for 100 animals to be in at one time?" Absolutely.
In terms of amenities, there is a gift shop in the downstairs lobby (that sells Coke products, thank goodness) and a lifestyle clothing store.  There is also a business center, coffee bar and daytime/evening bar.  I'm happy there's a bar in the lobby where you can order drinks with your dog by your side.  You can grab a seat and enjoy the views from the tall glass windows.  Currently the restaurants are under construction but they will be up and running by conference time.  Wynston would like to add that he thoroughly enjoyed running up and down the spiral staircases.
Wynston and I were even able to check out one of the guest rooms!  The rooms are very up-to-date and snazzy.  The bathrooms are luxurious, complete with a tile shower.  Even though the resort is just 20 minutes from my house, I'm definitely staying there for the conference next year. Something I really enjoyed about the Sheraton Wild Horse Pass was the art.  I love Native American history and the hotel was filled with local art and murals.  It really adds to the resort's southwestern feel, and you get a taste of local history!
Want to catch some rays and get some pool time in while you're at the BlogPaws 2016 conference?  Look no further than this incredible pool area.  I really don't even need to describe it.  See for yourself… P.S – you may want to book a few extra days for relaxation!
My FAVORITE part of the Sheraton Wild Horse Pass?  Definitely all of the beautiful outdoor areas to walk the dogs.  I know that everyone at the conference is going to be thrilled with the views and backdrops for photos.  Plus, there are lots of places for dogs to go potty.  #dogmomproblems Note: BlogPaws will have walkways cooled with sprinklers that run in the area leading to the outside for pets to relieve themselves, so paws are never compromised. The flagstone did get a tad hot for Wynston's paws.  I noticed that he was trying to walk in the shade so I took of my sandal to test out the temperature of the flagstone sidewalk.  It was too hot for him to walk on so I picked him up.  However, there are a lot of shaded areas and the flagstone will be cool in the morning and will cool down by the evening.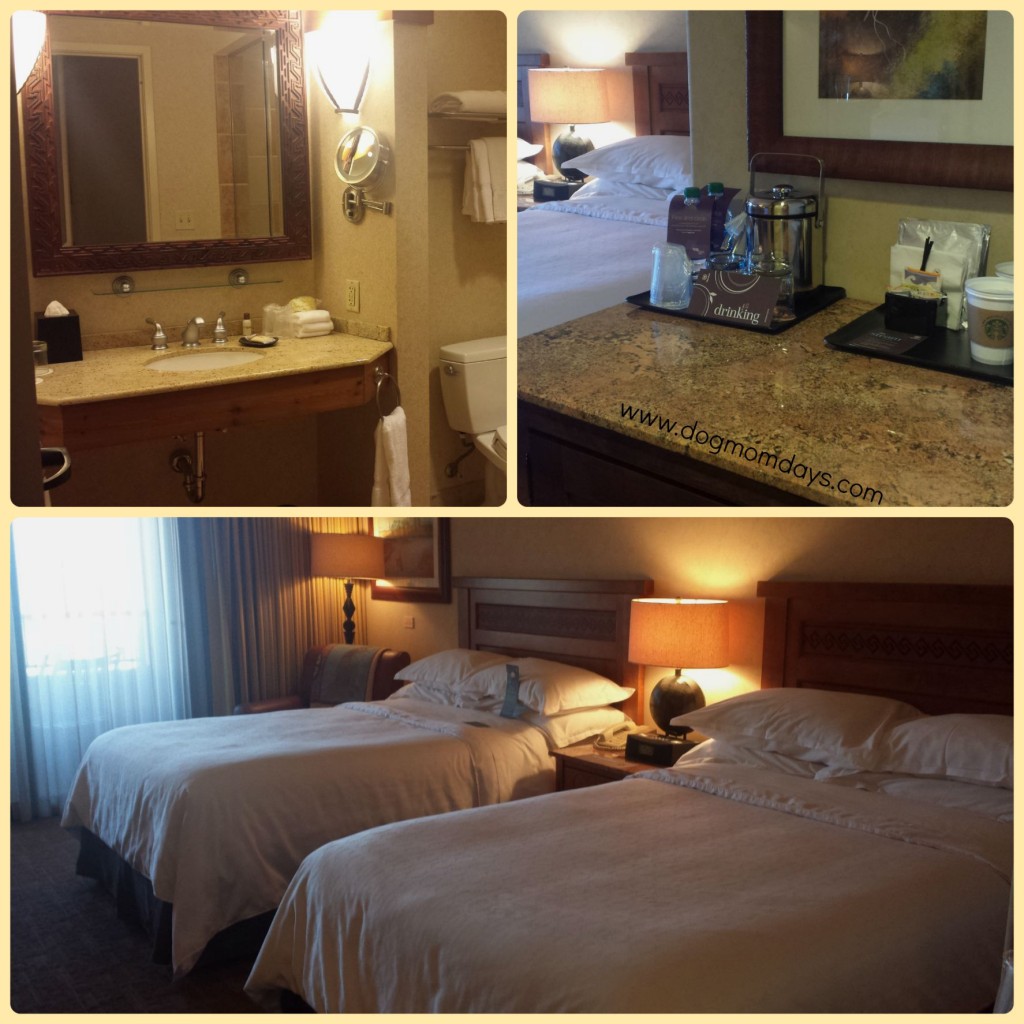 Things to consider for BlogPaws 2016:
It will be hot and sunny so bring sunscreen for you and your dog if you plan to be outside in the sun for an extended period of time.
Don't forget your sandals and swim suit!
There is a large, super fun casino (Wild Horse Pass Hotel & Casino)just down the road if you need a crazy night out.
There is a Chevron gas station about a mile away if you need extra snacks or drinks.
A brand new outlet mall is just a mile away from the resort.
Want a golf or spa day?  Check out the Aji Spa or Wild Horse Pass golf course!
I'm very excited to welcome the BlogPaws community to Arizona next June for the 2016 conference!  The Sheraton Wild Horse Pass Resort & Spa is a vacation destination and there's nothing better than visiting for a pet blogging conference! A HUGE thank you to the Sheraton for allowing Wynston and I to tour the grounds and an even bigger thank you to Megan and Nikki for showing us around!  I'd also like to make a shout out to Sheraton Hotels & Resorts for being so dog friendly.  If you'd like to personally ask me any questions about the resort or my experience there, please leave a comment or feel free to email me!
You can connect with Amanda on her Dog Mom Days blog.
You can get early bird tickets and reserve rooms for the BlogPaws 2016 conference taking place June 23-25 here.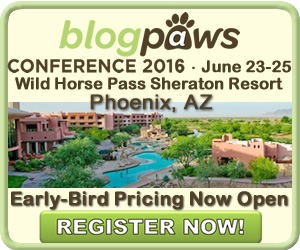 Is your pet a member of your family? What do you do to include pets in your life??? Share in the comments below.