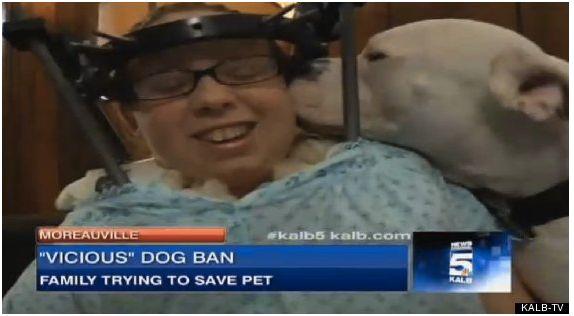 Courtesy KALB
Well it's been a sad day! Zeus went on doggy vacation today! I don't think Ohara and I have cried so much! We already miss our Zeusy baby and I know the 2 other families are missing their fur babies too!! My children are already acting out and just so sad and don't understand why this happening!!
That is the Facebook post on the wall of "Saving Zeus," which as of this writing, has nearly 45,000 followers. Breed-specific legislation is not a new topic to the BlogPaws Community, and one more  community is fighting back against it.
The town of Moreauville, Louisiana, banned all Pit Bull Terriers and Rottweilers as of October 13, 2014. In the order, these two particular breeds could not longer reside with the pet parents who owned them. If not, confiscation and "further disposition" of the dogs would occur should pet parents ignore the ban.
According to KALB-TV's website, one of the pit bulls in question provides support for O'Hara Owens, a young woman who requires a halo and wheelchair. The dog, Zeus, alerts O'Hara's mom when she has seizures during the night.
"If anything ever happened to him, I would just shut down," O'Hara told KALB.
A nation responded and on Monday, December 1st, Zeus and the fate of all Pit Bulls and Rottweilers in the village were safe once more.
How Did Things Get So Far?
Apparently, complaints were received by the aldermen (the council overseeing the village) that residents were not able to walk in the neighborhoods due to dogs running around. A new law, passed by a large majority, surfaced on October 13th: Protect people from dangerous dogs and ban Pit Bulls and Rottweilers.
Dog lovers of the world found out.
The position was soon put on hold but not before a little girl in need of her assistive dog had to temporarily say goodbye to her canine companion.
Zeus was  hidden at an undisclosed location for his own safety. A petition was started. A nation spoke up. A hearing to revisit the new law was held on December 1st.
The dog never received complaints, never bit anyone, and took the family (and the village) by surprise.
Even the White House says breed-specific legislation is a bad idea.
Opposition
Not all were in favor of the law being overturned and reconsideration given to Zeus and those like him.
On the Saving Zeus Facebook page, this message was posted on December 1st: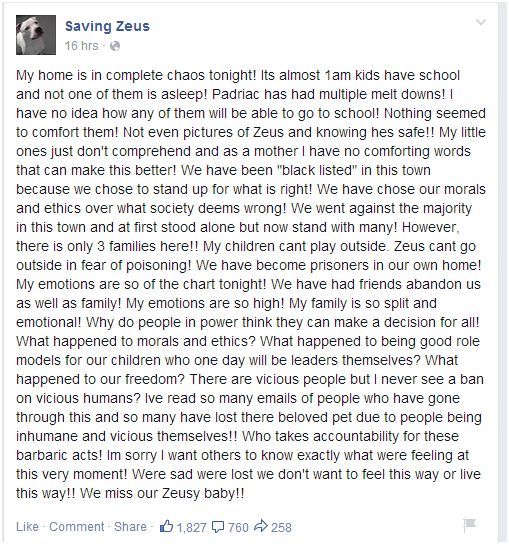 The Meeting
Live from the meeting, KALB-TV's Brooke Buford tweeted on Monday evening, December 1st:

As Louisiana resident, Terri Drager shared, "Now and then, common sense actually does prevail."