BlogPaws is excited to be working with Pets Add Life to raise awareness to pet adoption, the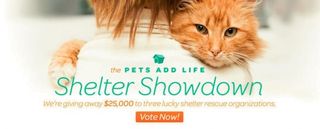 human-animal bond and Pal's mission, "to demonstrate the joys and benefits of pet ownership, thus driving increased adoption of pets and responsible ownership of pets."
If you're a pet lover — whether it's cats, dogs, ferrets, pot belly pigs, birds or bunnies, PAL (Pets Add Life) is hosting a contest that provides a way for animal lovers to help their shelter win up to $15,000. What do you need to do? Vote once every 24-hours. Urge your friends to vote too!
As anyone who is involved with pets can tell you, the work done at local animal shelters is never-ending and is undertaken by pet lovers working to find homes for pets, save pets and draw attention to the pets that are living in shelters every day.
If you've always wondered how you could be involved, but never knew how, this is a way for everyone, everywhere to participate and make a difference in the life of shelter pets by the push of a computer keyboard button. The Shelter Showdown is a way to be involved and make a difference in the lives of pets. 
What can you do? Here are a few steps:
Like Pal's Facebook page
Click the Shelter Showdown link to place a vote for your shelter. (Pal is working with Petfinder so any Petfinder shelter is eligible)
Don't waste any time! The contest is open through October 4. Winners will be announced the week of October 7.
What can the shelters win?
First place: $15,000! $10,000 for holding a community-wide adoption event on November 19, National Get a Pal For Your Pet Day, and a general $5,000 donation. 
Second place: $5,000 donation
Third place: $5,000 donation
Make some time today ((and every 24 hours) to vote. Check out the Facebook page to track the progress of which shelter is at the head of the pack. 
This post is sponsored by PAL.