The Shelter Pet Project is raising awareness of Adopt-a-Cat Month with PSAs that encourage people to interact with real shelter pets. Download them here!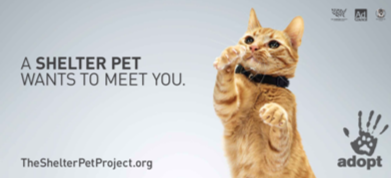 Every year, an estimated 2.7 million healthy and treatable shelter cats and dogs need to find a home. This Adopt-a-Cat Month, we hope all animal lovers will show their support for the Shelter Pet Project by spreading the word about our public service campaign on their blogs and social media channels.
You can also "meet" a real-life cat or dog at our new interactive experience: theshelterpetproject.org/meet. Just pick the animal you want to get to know, and you'll see them run, purr, jump and play.
For more ways that you and others can help raise awareness about pet adoption this Adopt-a-Cat Month, check out this list from our partners at Petfinder.com. To learn more, visit TheShelterPetProject.org.
(submitted information and photo)