Guest post by Alana Greylak
Sunday, May 25th was a lovely day in Chicago, and I took advantage of it by indulging BlogPaws' request to go along for a ride on a Chicago architecture cruise aboard Chicago's First Lady (that's the boat's name. I thought it best to clarify) for a unique fundraiser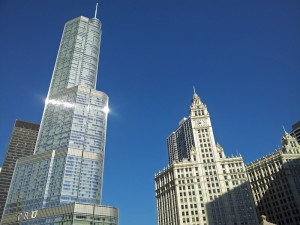 for cats.
Why would BlogPaws ask me to go on a boat tour? You see, this particular tour was special because all of its proceeds were going to benefit Tree House Humane, one of my favorite no-kill, cage-free cat shelters, thanks to the generosity of Mercury Skyline Cruiseline.
It was one of those rare days in our city when the weather seemed just right. The boat took off a few minutes after 9 am, gliding into the smooth, sun-sparkled river, accompanied by the sound of a voice that listeners of WGN know well: that of Steve Dale, a frequent speaker and yearly presence at the BlogPaws pet bloggers and social media conference, who also happens to be a board member at Tree House and citizen of Chicago.
Steve kicked off the boat ride by welcoming everyone to the event, known as "Puss in Boats." He shared the good news that Tree House is once again on par to break 1,000 adoptions for the year, a huge feat they managed to accomplish for the first time just last year. He also reminded us that June is Adopt A Shelter Cat Month, which will hopefully give them a great boost in their adoption numbers. After opening up the tour and inviting everyone to indulge in complimentary cookies and bagels (of which I had two and a half), Steve introduced Constance, a docent of the Chicago Architecture Foundation who expertly narrated the 90-minute cruise.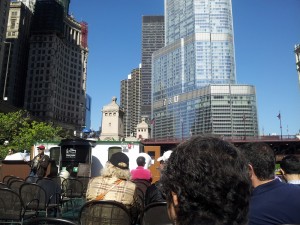 Although I'm a native of Chicago, I found out quite a few facts about the city that I didn't know. For instance, balconies on converted buildings mean they are now residential rather than industrial. Also, the view from just beyond the Chicago Avenue bridge is a good example of what Chicago looked like one hundred years ago. And, I'll have you know, our good city's river was recently elevated from the status of "toxic" to "badly polluted."  Quite a feat, no?
The event was a bit early on a Sunday, so the tickets weren't quite sold out, but a fair number of people attended, raising a sizable donation for Tree House. Events like this are an excellent example of creative fundraising. While it's true that not every city has architecture river cruises, each city likely has something unique and interesting that can be tapped into to help fund local rescue efforts. Tree House is excellent at finding ways to creatively fund their projects, and cruises like this are one of the highlights.
If you happen to find yourself in Chicago during a time when Tree House has a fundraising boat ride, I highly recommend you attend. If you're nowhere near Chicago, look around for similar events where you live and if there are none, you may have just found your next rescue project.