BlogPaws Guest Blogger: Wanda Kruse
I was
lucky to participate in one of Your Daily Cute's pet rescues. "Cute" fellow BlogPaws community member Dorian
Wagner had arranged for two young tabby cats to be transported from the
southeastern part of the U.S. to St. Louis, Missouri. Artist BZTAT aka Vicki Boatright
recruited me via Twitter. Twitter is an incredible medium for getting the word
out quickly to a worldwide audience. I contacted Dorian, and I was chosen to
drive the last leg of their journey to their final permanent home.
I had the
route planned almost down to the last minute. (When I drive, I drink a lot of
soda which means I have to plan for stops if you know what I mean.) I headed
across the Mighty Mississippi and soon left the majestic Gateway Arch behind me
heading east on Interstate 64. I had my iPod loaded, the AC blasting, and my
pedal was not quite to the metal. You see, I cut my teeth on Chicago traffic,
but I try to drive sensibly. Since I was on a Mission of Cute, I had to be
vigilant.
I don't
know how many of you have driven across central Illinois, but it is not the
most inspired landscape. I think that I memorized every farmhouse, cow, and
pig. I found a lot of places where ATT doesn't have signal. It was so hard to
see all the crops suffering from the drought, and I kept thinking about the
poor farmers with the reduced yields of soybeans and corn.
Finally, I reach the
transfer point which was at the Indiana/Illinois border. The previous drivers
made quick work of transferring the cats in their crates, and there I was. I
had two rescued cats entrusted to me. I had a precious cargo. I was on my
Mission of Cute. I felt like the Blues Brothers. Me: "It's 106 miles to
Chicago, we got a full tank of gas, half a pack of cigarettes, it's dark and
we're wearing sunglasses." Chalse the Rescue Cat: "Hit it."
Chalse was
an incredible traveler. He only had something to say when it was potty time. He
was a gentleman and chose his time very close to an off ramp so I could remove
the evidence. Wendy was frightened and had a bit more to say. Chalse must have
given her the idea it was ok to use the facilities. So two miles later, I found
another off ramp. I moved Wendy to the front seat so I could reach into the
carrier and scratch her. Wendy appreciated that because she moved close to the
front so my fingers could reassure her.
It had
been a long day in the sun for me, and the responsibility for the cats was upon
me. Finally, I saw the Gateway Arch! It is an incredible sight on a regular
day, but on a momentous occasion like this, my heart leaped into my throat and
I almost cried.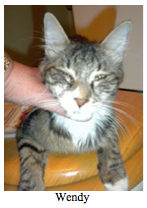 Let me
tell you a bit more about the cats. Chalse (think southern drawl version of
Charles) was a teenager, a gorgeous brown tabby with a tail that would rival a
Maine Coon's long tail. He was an active guy, cool personality. Wendy was such
a small young brown tabby, so brave. It looked like her eye had gotten
scratched somehow and it hurt her terribly, so she was quite scared. I fell in
love with Wendy and almost wouldn't let her go.
The new
parents, Marsha and Ron, arrived at my house about 10 pm. Marsha had a bit of
one-on-one time with the young cats, and we rounded them into their carriers.
You should have seen their faces – a mixture of exhaustion, worry, relief,
happiness, and OMC what did we get ourselves into! I looked at their new
tabbies then back at Marsha and Ron. Their faces told me they had fallen in
love and the tabbies had finally found their forever home.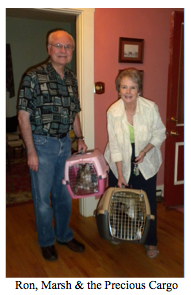 I hear
from Marsha on FaceBook occasionally. Their cat family has settled down. Wendy
had to have an eye operation, and doesn't realize anything was ever wrong. Chalse
had a bit of time settling in, trying to telling Wendy what to do. He has since
realized that telling women what to do is not a good thing. Both Chalse and
Wendy have established themselves as part of the new four-cat family.
Will I
participate in another Mission of Cute? Without a doubt! I will even set my
cruise control on 70, maybe drink one less soda, and I will be at my
destination waiting.
There are
a number of rescue/transport groups across the U.S. Dorian Wagner focuses on the
southeast since she is in Florida, and arranges for transports through her Your
Daily Cute website, on Facebook, and on Twitter
(@yourdailycute).
Wanda Kruse blogs at krusekats.blogspot.com, is an award winning quilter, and creator of the BlogPaws Honor Flag Project. Follow her on Twitter @MaggieTKat & on Facebook.