Post by Robbi Hess
#GivingMonth at BlogPaws is officially winding down because 2013 is coming to a close. As pet lovers, though we all know that giving back and giving to pets and pet shelters and rescues is something that should be ongoing. When it comes to the idea of giving back and rescues, giving pets as holiday gifts seems to be a topic of conversation. Rescuing and adopting a pet and giving it as a gift around the holidays it has always been something that those in the pet community have said is a bad idea. Why? Because it was believed that many pets given at the holidays (fluffy bunnies and chicks at Easter, puppies at Christmas, etc.) were gifts that were bought on a whim. "What should we get Johnny?" "Oh, I don't know… how about a kitten?" Yipes! Does Johnny even want a kitten? Are the people involved in this conversation prepared to care for Johnny's kitten when the "newness" has worn off?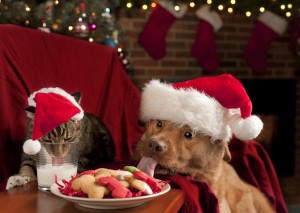 I know I have seen advertisements from the local animal rescues and shelters that they are offering "half price pets" for the holidays and while I want every pet in a shelter to find a forever home, I wrote that I worried about it being given to someone who may not truly have wanted the responsibility of pet ownership. On Saturday though I read an article in the newspaper with the headline of "ASPCA reverses itself after study backs pets as presents." What?! Perhaps my indignation at "half price pet" sales was misplaced?
The article read in part, "giving a puppy or kitten to the pet lover on your list is a gift idea animal activists have long warned people to avoid…" A recently study by a national welfare group, the article stated, found that "fears of pets being rejected or returned are unfounded." Shelters appear to be split on the feasibility of holiday pet adoptions — some believe they are a great way for the pets to find new, loving homes and others feel that a pet should be chosen after the holiday rush has passed.
Perhaps if you're giving your friend, child or other family member a pet as a gift you should offer a certificate for a puppy or kitten. If you do that, the recipient knows the gift will be one he or she can choose based on their initial interaction with the pet. The recipient may want to adopt a black cat or dog (these are the least adoptable colors in shelters, it's been found) or perhaps they want to rescue a senior pet rather than a puppy. If you offer a certificate for "the pet of your choice" you can then make a day of it and the gift giver and recipient can visit shelters after the holidays are over to finalize an adoption.
If you're giving a gift of a pet to a loved one, why not also offer a gift of veterinary care or offer to help with paying for obedience classes or if the person you're getting the pet for travels frequently, offer to pet sit or pay for the cost of a ticket so the pet can travel along with him or her.
Will you be giving a pet as a holiday gift? Does the recipient really want a pet? Have they come right out and stated as much? If you simply think, "Mom or Dad are lonely… they'd love a puppy." Think again. Mom or Dad might be lonely, but might not have the energy for a puppy or a kitten. If your parents (or other friends or whomever you're considering) is a pet lover, don't make the gift a surprise. Ask them, "Would you like to adopt a puppy/kitten/cat/dog/ferret, etc.?" If they say yes, tell them you'll be happy to pay the adoption fees, take them to the shelter to choose the pet of their dreams and do all of this after the mad dash of the holidays has past.
What are your thoughts on pets as holiday gifts?