Post by Blog Manager Robbi Hess
With the frenzy of Black Friday and CyberMonday behind us what can we, as pet lovers, do to celebrate Giving Month? Believe it or not, at the top of the list is to gift a pet loving/pet blogging friend or family member with a registration for BlogPaws 2014. No, this is not simply shameless self promotion. 
Attendance at a BlogPaws conference can help the pet lover or pet blogger in your life (or yourself, for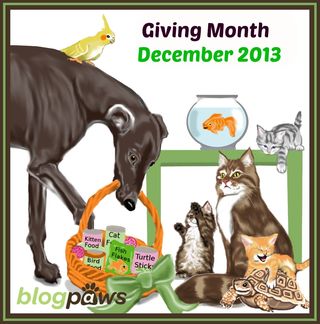 that matter) focus his or her talents on their pet blogging niche. BlogPaws conferences bring together pet lovers as well as those who run pet rescues and shelters — pet bloggers can work hand-in-hand with rescues and shelters to help give pets better lives. 
How can you help or get involved in Giving Month? Let me count the ways: 
Offer to housesit for a neighbor's pet if you know he or she will be gone for a long day of holiday shopping. You don't have to spend the entire day with the pet, but a pop in and a quick walk and pat on the head will be much appreciated by a lonely pooch. 
Are you like me and when you get a coupon you need to buy as many items with that coupon as you possibly can? If so, will your cats ever truly make their way through all of those bags of treats before the "best if used before" date?" If you don't think they will, gather the additional treats up and donate them to your local shelter. 
Do you see the numerous adoptable dogs, cats, bunnies and other animals that scroll through your Facebook feed? Even if you don't live in the area where these pets are and where they need to be adopted from you could share that link on your social media sites. The more shares and the more exposure these adoptable pets receive the higher their chance of finding a forever home. 
What is on the wish list of your local shelter or animal rescue? Ask and then play Santapaws and drop off an item or two. 
Do you have a few spare hours a week? Would you love to have a pet (or another pet!) but simply don't have the room or time? Then why not give some of your time and love to a pet in need at a shelter. Simply sitting and petting a kitty or walking and playing with a dog can help relieve that pet's stress and could make him or her more adoptable. 
Do you have room in your home to foster a pet? Ask if your shelter offers a foster program and perhaps you could bring a dog or a cat home for a week or a weekend (again to help them get away from the stress of a shelter) and spend time one-on-one with humans again. A pet that has been fostered may be more readily adopted because he or she is still comfortable in a family setting. 
Do you have a skill you could offer to the shelter or rescue? Can you blog? Manage social media? Take adorable pictures of pets and put them on a website or Instagram or Pinterest as a way to help people see what pets are available? Do you want to get your hands dirty and help clean kennels and litter boxes? Call your shelter or rescue and ask what they need help with then volunteer. 
If you have kids why not talk with them and ask them how they'd feel about geting one fewer present this year and using that money (even offer them a dollar amount, say $10) and shop for an item on the shelter's wish list. Involving your children in "giving moments" could foster a lifelong love of both animals and of giving back. 
Do you have fantastic organizational or fund raising skills? Why not put those to good use and host a fundraiser for your local shelter. Is there a pet you've seen that truly needs medical help or other assistance for which you could help fundraise? Remember, you don't have to save the world, but you can save lives one pet at a time. 
What can you do to give back this month and every month? We would love to hear about your efforts! Join the conversation in the Writer's Group in the BlogPaws Community. 
Don't forget: All month long we are having a Holiday Sweepstakes which you can enter by registering for BlogPaws 2014 in Vegas!