Editor's Note:  During June, which is Adopt A Cat Month, we are hosting a blog hop in which we asked bloggers to link up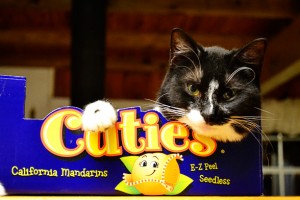 and share their cat adoption stories with us. Join the blog hop here.
Cartoons depict cats and dogs… well, fighting like cats and dogs! If you're a dog household, do you think a cat will fit into your lifestyle? Paris Permenter blogs about that very topic over at DogTipper. She writes about how to safely integrate a new cat into a household that has two dogs and a bevy of cats!
If you're considering adopting a cat this month and wondered if it would be a good fit if you've been a dog only household or if you already have older cats, this post may answer some of your questions.
Do you have any hints or tips on how you introduce a new pet to your current family of pets?