Today we celebrate one of my favorite holidays: Earth Day! I'm not the only one who loves this day, am I?
This year's Earth Day theme is "Trees for the Earth." Not all of us are in position to run out and plant a tree, but it got me thinking about all the other ways we can work to save trees… and water… and soil… and, of course, animals.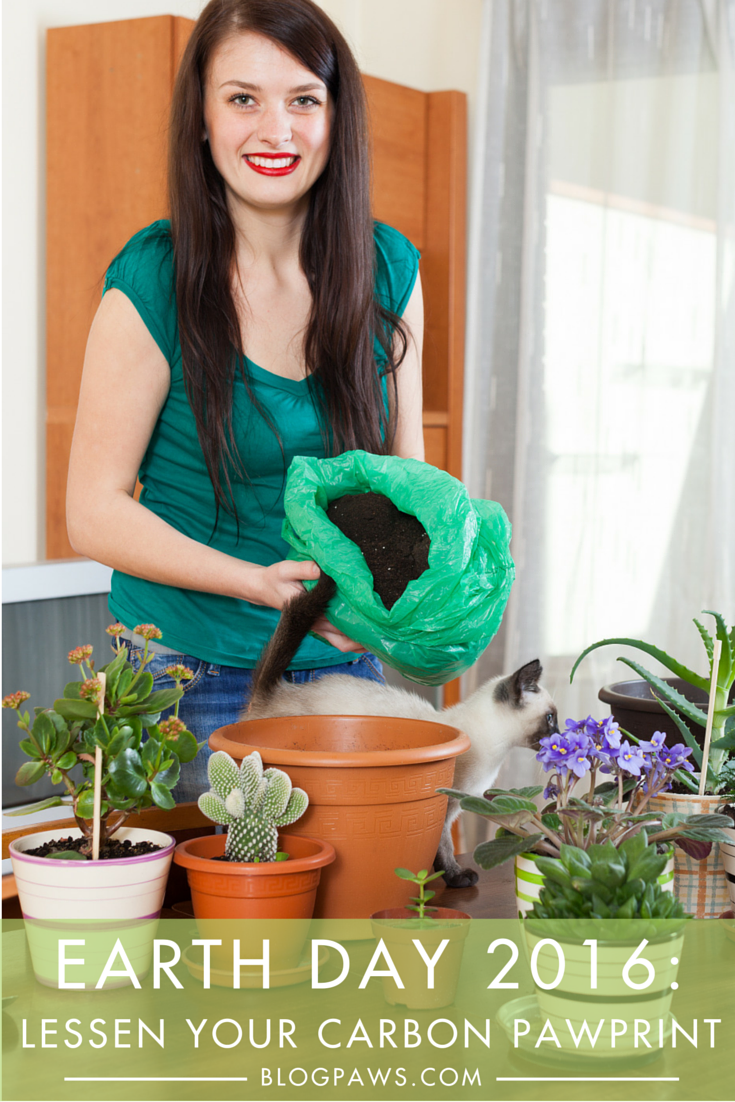 For Earth Day 2016, here are some ideas on how to lessen your carbon pawprint:
On your blog
If you're in the market for a new hosting provider, switch to a green host. Why? "Did you know that the energy used by a single google search is equivalent to turning on a 60W light bulb for 17 seconds?" That's according to an Inhabitat article that shared a staggering infographic about Google's energy use (which they offset). How much of that juice do you use as a blogger? Not to mention all the other energy costs associated with keeping servers running, monitors glowing, and even that tiny little blue light that signifies your laptop is switched off. Offset that energy use with a green service provider.
Not in the market right now? Or maybe you want to do more? Use your blog to share an eco-caring message. Create tip posts on eco steps that you take to inspire your readers. Share photos on social of sustainable practices that others can incorporate, too.
At the store
Years ago, there was an uproar over discussions about how unsustainable pets are. I remember an article that said pets are more damaging to the environment than SUVs. As a responsible consumer, you can choose brands that support sustainable initiatives. Buy in bulk when possible and, when not, always select recyclable packaging.
As a conscious consumer, know which brands have a track record of sustainability. To see a list of pet-specific companies and get ideas for your home or for a blog post, visit the Pet Industry Sustainability Coalition.
Around the house
Generally speaking–and, of course, there are exceptions–products that are gentle on the planet tend to be pet safe. Swap out your household cleaners for ones that are holistic: good for the environment, good for you, and good for your pet. Fill your home with pet-safe plants (if it's safe for your pets' personalities) and open the windows on sunny days.
This year, my husband and I are installing a rain barrel to collect water for our veggie garden. We've also switched to making our own cleaners with affordable, safe ingredients like vinegar and baking soda, which we know won't harm our dogs, cat, or fish. Being more eco-friendly is easy and cheap… and gives me tons of ideas for blog posts!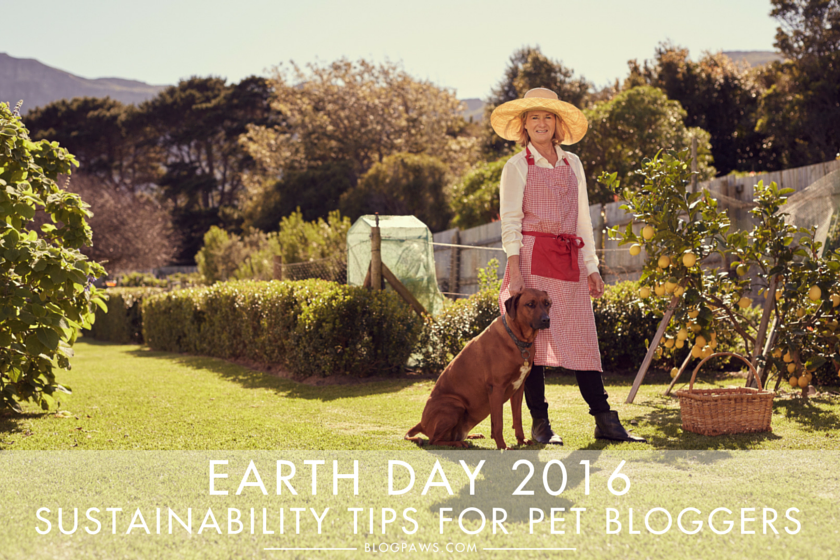 BONUS: The BlogPaws conference strives to achieve Zero Waste. How? Well, for example, attendees can choose to use the digital schedule instead of printing a hard copy. Of course, recycling will be available everywhere–including composting! There are so many other ways our sponsors, staff, and attendees are working toward Zero Waste. Read all about the Zero Waste Initiative and figure out how you can contribute at this year's conference!
What ideas do YOU have to be more sustainable? Are there any practices that you and your pets do to lessen your impact on the planet? Any favorite eco brands we should all check out?
Maggie Marton serves as the BlogPaws senior editor. When not hiking with her two pit mixes, Emmett and Cooper, or playing with Newt the Cat, Maggie writes about them (and the pet industry) at ohmydogblog.com and maggiemarton.com. 
Images: Iakov Filimonov/Shutterstock.com and mavo/Shutterstock.com