Trade shows offer digital influencers unprecedented access to brands, retailers, reps, and media colleagues all in one place. It's important to understand just how different a trade show is from a conference, though. Remember the purpose of a trade show: The brands aren't there specifically to meet you… They're there to connect with retailers and to sell their products!
That said, most do appreciate time with the press. With SuperZoo around the corner, here are dos and don'ts for trade show networking as a member of the press:
Do set appointments. Reach out to brands, retailers, and media you want to meet. Explain in your email who you are and why you'd like to meet, then ask for a small allotment of time. Ten to 15 minutes should do it. While you might not hear back from everyone, having a pre-arranged schedule helps get over that initial awkwardness of introducing yourself on the spot.
Don't expect brands to know who you are. You might have a huge following, of course, but manufacturers and reps can't keep up with all the influencers out there. Be ready to introduce yourself!
Do prepare your introduction. When you do get a chance to sit down, whether it's with someone who's scheduled an appointment with you or someone you encounter in the moment, be prepared to succinctly explain you, your site, and your readership.
Don't "sell" on the spot. Approach trade show networking with a conversational mindset. Think: How can we make a connection? 
Do ask thoughtful questions about the products and the company. Instead of jumping into asking how they work with bloggers or how you work with brands, take time to learn more about them. If it's a fit, save your formal pitch for a follow-up email.
Don't walk up to a booth and ask for freebies or samples. They might offer you something, and that's OK, but walking up and asking is impolite and off-putting to brands.
Do follow up in a week or so…
Don't follow up the day you get home. Give the reps time to get home, get unpacked, and get caught up on email before yours hits their inbox. You don't want to get lost in the fray because you caught them before they had a handle on their post-show to dos!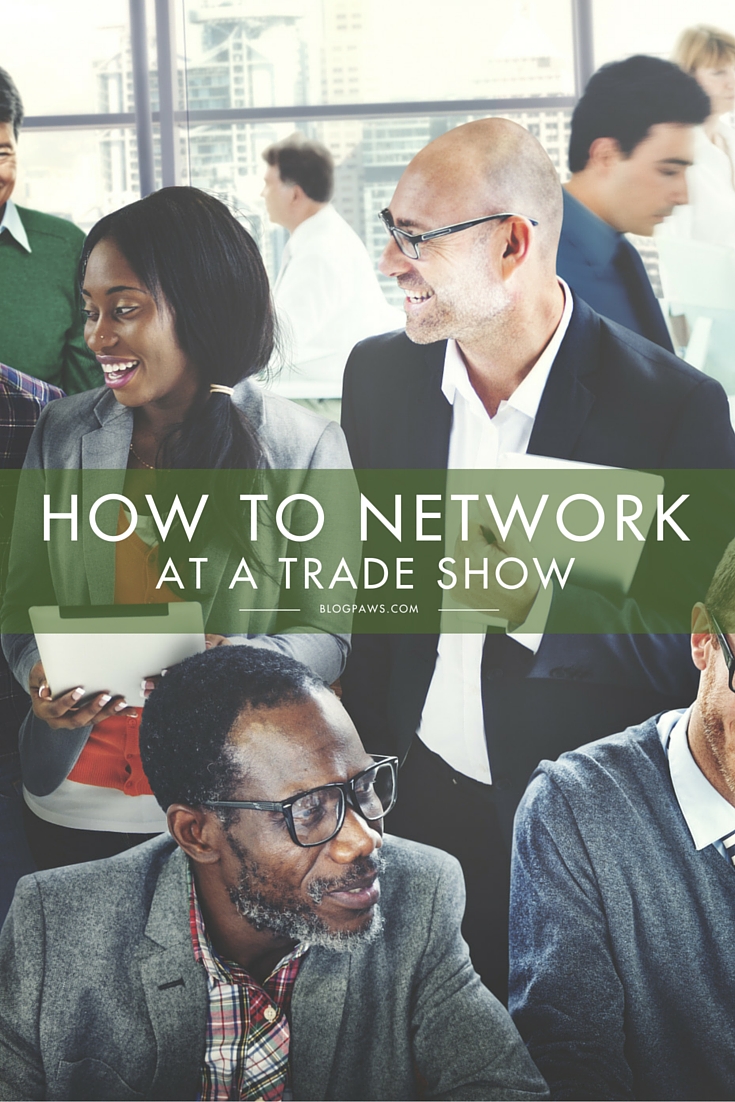 Do be polite, personable, and authentic in your networking to get the most out of the event! Bottom line: Unlike a conference where the brands come specifically to meet bloggers, at a trade show they're focusing on selling their products to retailers.
Trade shows provide incredible opportunities to get to know brands and peers in the pet industry–all in one place! Maximize your time there by following these dos and don'ts. And, of course, have fun!
What's your number one tip for trade show networking? Please share in the comments!
Maggie Marton serves as the BlogPaws senior editor. When not hiking with her two pit mixes, Emmett and Cooper, or playing with Newt the Cat, Maggie writes about them (and the pet industry) at ohmydogblog.com and maggiemarton.com. 
Images: Adriano Castelli/Shutterstock.com and Rawpixel.com/Shutterstock.com
Save