Can you believe it's March? I don't know about you but I'm ready for Spring. I can't wait for longer days because that means more time outside taking walks and kayaking with Chuy!  A new month also means a new SLC Influencer Challenge. We are continuing the #BoostYourBlog10K challenge in March with a focus on engagement. The challenge is for new and veteran bloggers alike. Whether you are looking to start a new blog or grow your existing blog, we welcome you to join the challenge.
What is Engagement?
Hello, is this thing on? What is the point of blogging if nobody is engaging with your content? Engagement is what builds a community around your blog. It creates a two-way conversation with your readers. Engagement can include interactions on your content and social media posts such as comments, shares, likes, re-tweets, etc.
Why Is Engagement Important?
You want to be an Influencer, right? Do you want to get paid to write engaging content? I know I do! To be a true Influencer, you must focus on engagement with your audience!
Engagement leads to more page views and potentially more opportunities to make money and work with brands! Engagement starts with truly knowing your audience and what is going to get their attention. For example, I focus on the small dog lifestyle, so if I reviewed a product for large dogs my audience would be furious!
Engagement shows the brands that you are influential and that the content you write will reach a targeted and engaged audience. This benefits the brand because it creates awareness of their product and could lead to more purchases from your readers. Chances are, these brands will want to work with you again!
How Can I Create Engaging Sponsored Posts?
Know your WHY before ever applying for the campaign. If you have a why and can tell a story or share why you feel the product could be a good fit for your readers, they are more likely to engage with you.
If your WHY is literally because you need to pay rent that month or have to get new tires but have no real story to tell, it will become quite obvious in your post. Your readers will feel that you are speaking AT them and not with them. Influencers create conversations.
Felissa Elfenbein, Director of Influencer Marketing has a great tip:
"Don't do what I call 'spray and pray.' Don't just drop links all over the internet in hopes someone might interact with it. Create a conversation."
Boost Your Blog with Engagement!
In the challenge this month, we'll be providing tips and action steps to create engaging content for your readers! It's an exciting time right now at BlogPaws with the launch of TapInfluence for all of our sponsored campaigns. You now have the ability to track and monitor the engagement of all your sponsored content you create! Our challenge will provide you with the steps to do this in addition to lots of other tips and tricks!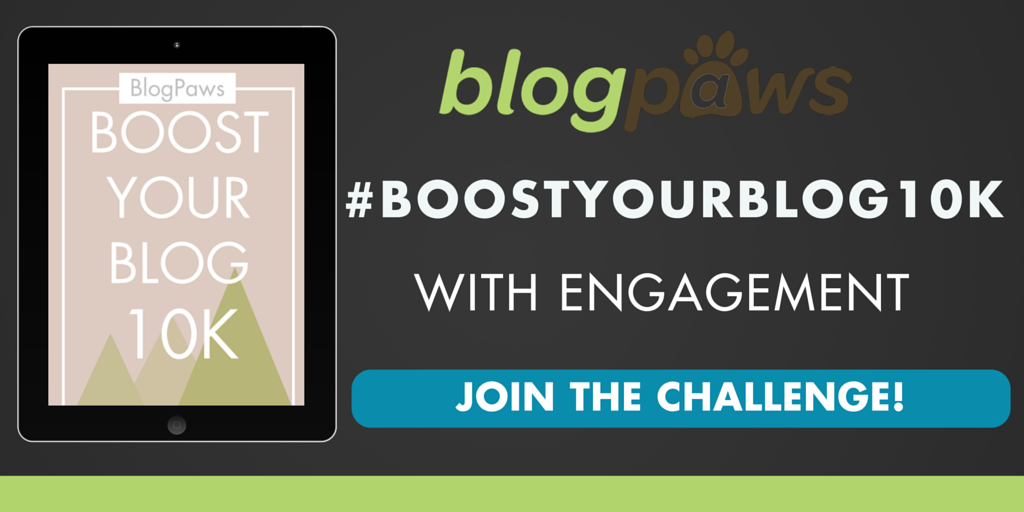 How To Join the March SLC Challenge
You must be a member of the BlogPaws community.
Already a member? Great! All of our challenge discussions will take place in a private BlogPaws SLC Facebook Group. Request to join the group if you haven't done so yet.
Look for new challenges and tips posted Monday through Friday in the Facebook group. Interact and comment with BlogPaws and your fellow SLC challengers!
What is the BlogPaws #BoostYourBlog10K Challenge?
Our goal is to help everyone in the BlogPaws Influencer Network grow their page views to 10,000 views per month by the time of the BlogPaws Conference in June 2016. If you're already getting 10,000+ page views/month, congrats! You can strive to add another 10,000!
Get Social
We want to get social with you! Tweet with the entire BlogPaws team and community about the Boost Your Blog 10K challenge on social using the hashtag #BoostYourBlog10K
Aimee Beltran is the Director of Community Education for BlogPaws. She also writes two blogs, Irresistible Icing and Irresistible Pets with her Chihuahua, Chuy. Aimee is passionate about her mission, "create an irresistible life you can't resist!" She loves anything with glitter, kayaking, and spending time at the beach.
Image: takayuki/Shutterstock.com