With the increase in online video consumption, YouTube is quickly becoming one of the largest social platforms online. And, while most people think of YouTube as the epicenter for cat videos, it's also a great place to build an audience for your business or personal brand.
Those who have built big audiences on YouTube have all done so by following some key principles when growing their channel.
So, how do you go about growing a YouTube channel?
We've got the 5 key ingredients outlined below. Let's dive in!
1. Keep Audience Attention with Concise Content
It's no secret that human attention spans are getting shorter and shorter. For this reason, it's important to keep your content as concise as possible. Start with an attention-grabbing introduction, hit the main points in the body of the video, and finish the video off strong with a solid conclusion.
You want to refrain from adding any fluff into your content or rambling on. Get straight to the point or else you risk losing the attention of your viewers.
This is more important than people think. That's because YouTube uses video engagement as a key ranking signal when determining whether or not to show your videos to others. If no one sticks around to watch your video, you won't be appearing in "Suggested Videos" anytime soon.
2. Build Recognition with Consistency
Building familiarity with your audience is an essential part of having a successful YouTube channel. Your audience should know when you post and have an idea of how often you post. Posting regularly is encouraged.
Following a content schedule will go a long way for your channel and it will help you stay on top of things.
Consistency should also be applied with the title of your videos, as well as your thumbnails. When your audience navigates to their subscription tab on YouTube, you want your viewers to recognize your videos right away.
The only two things that subscribers will see are the thumbnail and the title, so you want these two things to standout and provide some sort of context. Having a well designed YouTube thumbnail will greatly increase your chances of getting noticed.
Here is an example of Sam Evans' channel. He does travel videos and vlogs and his thumbnails along with his video titles are all very consistent with his content. Sam's videos are numbered in an aesthetically pleasing manner, while his cinematic travel videos are clear and provide you with context to the video.
3. Repurpose Your Content
Repurposing your blog content can be a great way to drive traffic to your YouTube videos and vice versa.
To do so, summarize your blog post in the form of a video and upload it to YouTube. If the audience likes your video, they can click through and read your full blog post.
Embedding a full YouTube video in your written blog post can also reap many benefits. Some peoplelearn and consume content better visually, so a video will allow your audience to obtain more from your posts.
Entrepreneur and marketing guru Gary Vaynerchuk does an excellent job of doing this with his content. For almost every video he creates, he also creates a blog post for his website with a full outline of what happens in the video.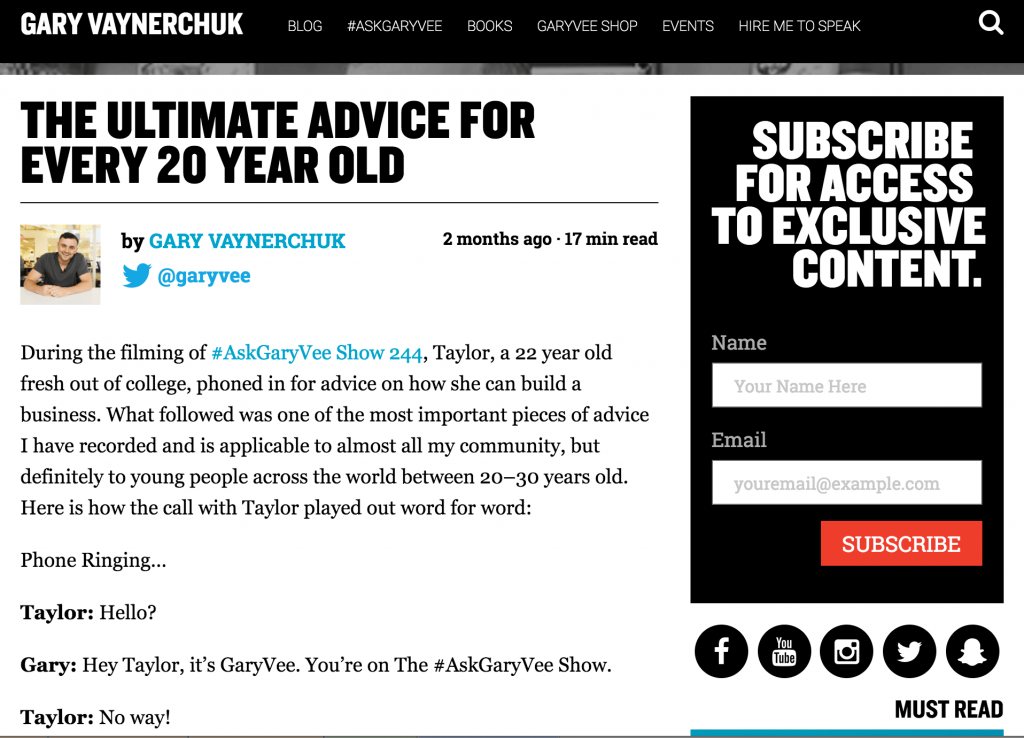 4. Optimize Your Channel for Search
Before you do anything, you want to make sure your channel is optimized for search. Many bloggers start a YouTube channel, begin to post content, and complain about not getting the results they want.
Optimizing your channel should be an ongoing thing, but it should be the first thing you do when starting with YouTube. You can start optimizing your channel with some content research. Do this by seeing what your competitors are doing or what is currently trending on YouTube.
Use tools such as Google Trends or Google's Keyword tool in AdWords to see what type of topics are being searched often. Form your content around what is working and always improve future content by analyzing your previous videos. Take advantage of highly searched keywords with a strong title and a strong description for your videos. Tag your videos with relevant keywords and remember to include annotations in your video when possible.
5. Ask Viewers to Subscribe
The best way to keep viewers coming back to your channel is to make sure they're subscribed. To do so, ensure that the last 5 seconds of your video encourages them to subscribe to your channel.
To keep them further consuming content, it's also a good idea to promote additional videos for viewers to watch.
Conclusion
When used effectively, YouTube is a great platform to grow your audience. These tips should help you attract viewers to your content and keep them coming back for more.
Are you on YouTube? Share your link below! What questions do you have about the platform or growing your audience with video?
Nick Le is a content marketer at Snappa – the software that helps you create online graphics in a snap. 
Images: Zull Must/Shutterstock.com and screenshots courtesy of the author