Any reputable journalist will tell you that when reporting or writing an article, sources are essential. A source guide is one tool in the blogger's arsenal of must haves, and this post will explain how and why to develop your very own source guide for blog posts.
Blogging is not sheer opinion if you want to be considered an expert. I am not an expert in many of the topics on which I blog. I am, however, pretty darned good at finding folks who are experts in their fields. I utilize places like HARO (Help a Reporter Out), message boards, groups on Facebook, in-person networking to exchange business cards, industry-oriented mixers, Twitter, and so on.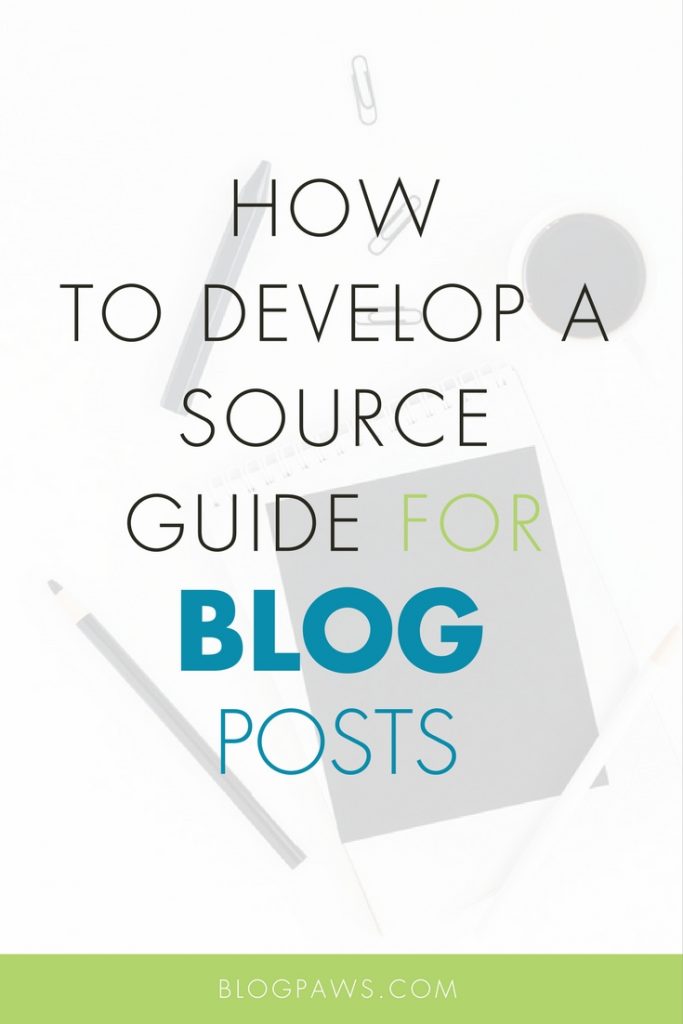 Source Guide for Blog Posts
Over the years as a writer, blogger, and in working in the PR/social media/marketing spaces of the pet sector, I've amassed a source guide. I happen to lay my source guide out in spreadsheet format in Excel. Whatever format you choose, knowing how to develop a source guide for blog posts will become your second best friend (next to your pets, of course). Here's a step-by-step plan to make it happen:
Determine The Format
Before you start a collection of names and contact information, decide on its format. These options include, but are not limited to:
Google Drive Spreadsheets
Excel spreadsheets
Twitter Lists: I have several and love them because I can get to know the source, retweet and engage, and add them to my source guide (more about that later).
It's really a preference and I happen to use both and then back up my data monthly using an online backup service along with a hard drive for extra security.
Learn How to Find Expert Sources for a Blog Post
In her post for BlogPaws, writer Reyna Gobel recommends the following tips (and she should know, as she has appeared on CBS.com, in Modern Dog, and on Reuters.com.
Start by contacting associations.
Don't be afraid that you're blog is too small for a professional or association to respond.
Use referrals from other sources.
Pay attention to how study information is gathered and date available.
Read Gobel's advice article on How to Find Expert Sources for a Blog Post.
Decide When to Source an Expert (or More) For a Blog Post
On this topic, Gobel shares, "When I sit down to write a blog or article, my first or at least second thought is always, "Am I an expert enough to write this article with authority?" If I'm not, how do I find the best source?"
There are many times when you should look for a source or more for your blog post. In doing so, you add an expert flavor, credibility, and facts to the post. Opinion posts are fine but if you are writing about something that is beyond your opinion, consider sources. Gobel says these are three reasons to seek a source:
When you're dealing with a medical issue.
A statistic that can help your readers feel less alone in their situation.
If you are a subject matter expert, you don't necessarily need to source someone else.
You can read the entire article on when to source an expert for a blog post.
Using Online Sources for a Blog Post
As a dog health and wellness blogger, I am very familiar with using online sources for my blog posts because I use this tactic frequently. Most of us can agree that not all online sources are credible. "Just because one reads it on the Internet does not make it true," and all that jazz.
Here are a few considerations when determining whether to use an online source:
Is the source credible and well known?
What is the background of the source?
Is the potential source educated in his or her field of supposed expertise?
Does the source provide documentation with links to support their case?
What is the date of the material where the potential source appears? (you want current or updated)
Is the source someone controversial? (which is fine if that's what you are seeking)
Does the source mention that permission must be granted before being cited? If so, get it.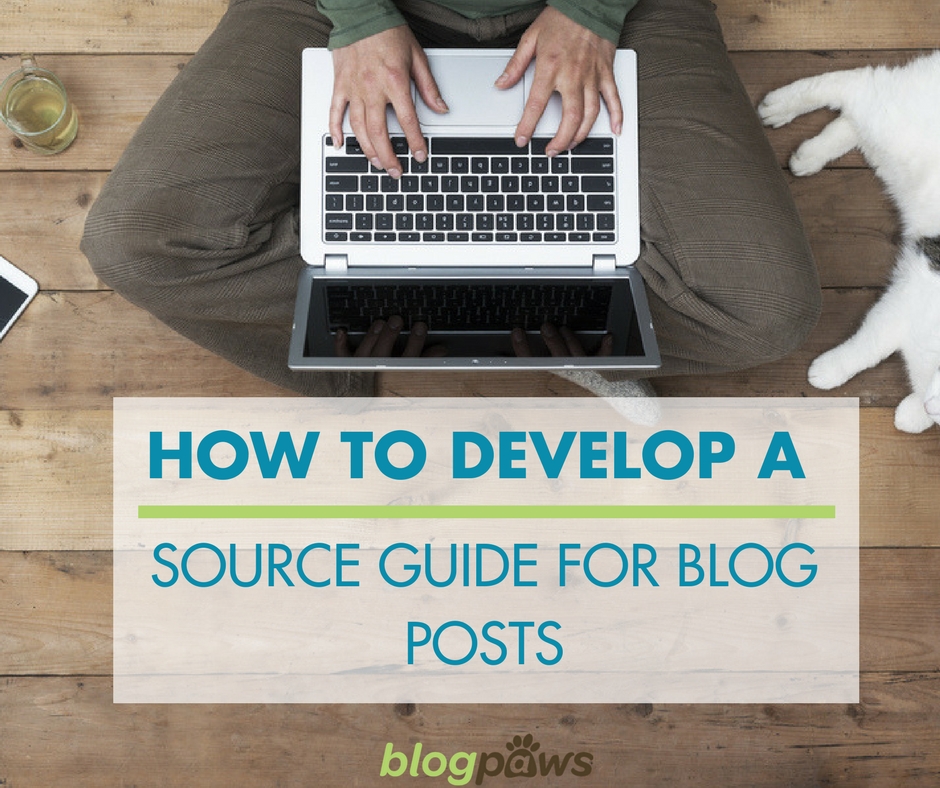 How to Properly Cite Online Sources
This topic can be a complete session at a BlogPaws Conference, and I see online sources improperly cited or not cited when they need to be all the time. For example, let's say you are writing a blog post and USA Today is a source because you read an article on their site by one of their writers. This is called newsjacking, and since this is a credible source, you must give credit where credit is due, like this:
We recently discovered that USA Today (provide link) predicts that in 2018, ferrets will rule the Internet.
The folks at Hubspot say, "One thing to keep in mind when quoting text from someone else's website is that many companies have content usage guidelines that will let you know how, or if, they want you to use their content." Here are the Content Usage Guidelines for Hubspot so you can get a better understanding of what to look for in your sourcing pursuits.
Never copy and paste someone's else whether in print or online. Always cite your source and cite the source in the correct manner.
What if you found a compelling quote on another blog or in an online resource that you want to include in your own blog post? Quoting the person is crucial and including the link to the page where the quotation appears is a must. The website you quote will get a pingback, you now appear on their radar, and you can even take this one step further. We love Hubspot's technique in citing online sources:
They write, "…there's still some internet etiquette that goes along with quoting someone other than just throwing some quotation marks around their statement. Here's an internet-friendly way to quote someone in your content (taken from an old blog post of ours):"
Notice how they linked out to the source but they also adding icing to the online cake but advising their readers to follow the source on Twitter AND they provided a link to the source's Twitter account.
I've used this technique and it's a great way to get on the radar of media, too!
How to Connect With a Source
Let's say the source you want to connect with is more than something you read online. Get on the source's radar and look them up on Twitter, LinkedIn, or even Facebook. I've written to potential sources before and prior to doing so, I start getting to know them and their work. For example, if I know I want a source like Dr. Marty Becker to provide me with a quote for a blog post, I know that I have to get creative.
I met Dr. Becker at a BlogPaws Conference and we did selfies with my dog. I would write Dr. Becker a friendly email, share the photo, lead with reminding him how we met, and ask if he would be so kind as to contribute a quote for an article. Make the email short and sweet and to the point. I receive hundreds of pitches a month and I love when folks are friendly and direct.
Other ways to connect with sources are:
Comment on their blog/website
Retweet their content
Engage with their business page on Facebook
Get to know them on LinkedIn
Read their articles and get to know them
Tip: Don't be spammy and artificial. Pitches that start, "I just read your article on dog winter tips and loved it. Hey would publish something on your blog that I wrote?" No, no, and more no. Even though you are looking for sources, the same online etiquette and common sense holds true. Get connected by being connected.
I start looking for sources for blog posts weeks to months in advance. How, you might be wondering, can I do that so far in advance? The beauty of an editorial calendar means I can plan ahead so that I can get sources well in advance of my planned blog content. I use this same technique when writing for other media like magazines and newspapers.
Again, there are many ways to set up an editorial calendar. Here's how to use Trello as an editorial calendar.
What to Put in Your Content Source Guide
Once you have connected with someone, you should add them to your content source guide. Here's a snippet of mine to use as an example:

Think of your source guide as your modern day Rolodex. I keep the title of the contact as one of five or six different options. I do this so when I write a blog post on a topic, I can easy sort and then search for someone that makes sense for the post.
In Conclusion
A blog post with credible sources adds many layers to your online portfolio. Sources show that you take your work seriously;  proves that even if you aren't an expert on a topic, you are willing to put the time in to find someone who is; and credit with pingbacks to the source are always welcomed.
Your Turn
Do you ever use sources in your blog posts? How do you find them? Are you properly citing them? Let us know in the comments below.
Carol Bryant is the Marketing and Social Media Manager for BlogPaws and runs her own blog, Fidose of Reality and its fundraising arm, Wigglebutt Warriors. When not busy playing with her Cocker Spaniel, Dexter, she stays far away from cooking. Her trademark is her mantra and is tattooed on her arm: My Heart Beats Dog.®
Images:  Flaffy /  Twin Design /Shutterstock.com