For introverts, and I'll bet many pet bloggers in the BlogPaws Community can identify with that, networking is not easy. It's so much simpler to sit behind a keyboard and network and make friends with colleagues in the pet industry from the comfort and safety of your home office. Getting out from behind the keyboard, having to mix, mingle, shake hands and get to know someone in real life can be downright terrifying.
However, if you're going to thrive as a pet blogger you will need to put yourself out there, learn to give an elevator speech and shake some hands… and some paws! If you're going to the BlogPaws Conference in Arizona this is especially true. Any pet blogger who is making the investment in him or herself to attend, needs to make certain they see a return on investment, don't you agree?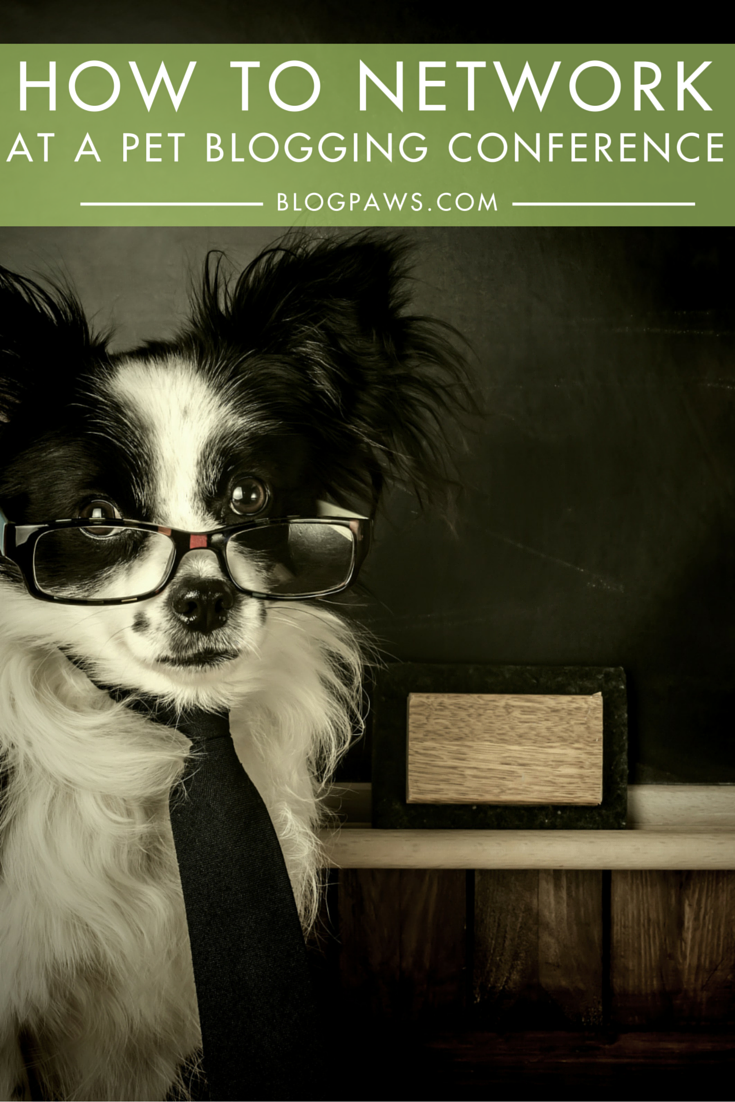 Here are some networking tips that even introverted pet bloggers can embrace and use to make the most of their networking event.
Make friends before you get to the event.
Join the BlogPaws Community groups and meet individuals who will be at the conference. Get to know them. Make some friendships prior to attending the conference. You can cement your friendships in real life at the conference site. Remember, networking should be happening all of the time, not just right before you attend a conference.
Participate fully.
If you're attending a networking event or a conference and you're spending your time in the bar or coffee shop, you're not going to see a return on your investment. If you're sitting in the hotel lobby hoping someone will strike up a conversation and it doesn't happen, it's up to you to take the initiative. Keep in mind that even the most verbose and seemingly outgoing person has a case of stage fright, too. Walk up, say hello and break the ice.
Attend the meals at a networking event or conference; it's a great way to interact with multiple people and your fellow tablemates will probably be very chatty and relaxed.
You need to give in order to receive.
Networking is a two-way street. You can't expect to walk up to someone and say, "Hi, I'm Jane Doe and I build websites… want a quote on yours?" What?! Hold back on the sales pitch. Your new acquaintance may have just had a new site built. If you haven't even looked at her site or spent a moment to get to know her, how do you know what she needs?
It's like asking someone to marry you before you go on a first date. Are they in the market for a spouse? You won't know until you get to know them – it's the same for prospects. Ask your new acquaintance what they do. Get to know her. Don't go right into sales pitch mode.
Pay it forward.
If you have met someone and are hitting it off, don't keep that person all to yourself. Introduce him or her around. Build your network of new friends by sharing those friends with one another. Be a connector. People remember those who connected them with someone else. Facilitate a conversation.
If you're looking to build a team of your own, being a facilitator will help you do just that.
Go outside of your comfort zone.
For many of us, attending a conference will involve cross country travel, sleeping in a hotel and sitting in conference sessions surrounded by strangers. Take a deep breath and spend time before you go to the conference making a list of:
People you want to meet
People you want to interview for your blog
Products you want to learn more about
What photographs you want to capture to mark your attendance
What you want to learn at the conference
What are your ultimate goals for attending the conference? Meet new pet-loving friends? Find new blogging gigs? Network and perhaps work with the brands that are in attendance? Knowing what you want to gain from the conference will help you make the most of your time. Revisit your list often to assure you're on track. Don't wait until the last day to find a colleague you've admired; if they left early you will have missed your opportunity.
Sessions you want to attend. Make note of why you want to attend a particular session and what you hope to learn from it. This will help you narrow your focus when you're at the session.
What tips can you offer to introverted pet bloggers who might be attending their first networking event or conference this year?
Robbi Hess is the former BlogPaws blog manager and will be speaking on Time Management Tips For The Blogger at the BlogPaws 2016 Conference. She blogs at All Words Matter and is the Media Manager for Big Barker, maker of premium beds for big dogs. 
Image: GAMARUBA/Shutterstock.com