If you're a writer aka blogger, chances are you have either thought, "I have enough material to write a book" or when you're meeting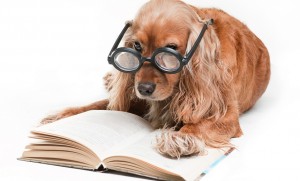 with people they will tell you that they should be writing a book!
As we continue to celebrate #PetBloggerMonth at BlogPaws we found this fantastic post that shows you how to be fetching to a publisher! You can read the entire post from Paris Permenter at DogTipper here.
Do you have enough material for a book? Have you already published a book? If you have published, please share with us in the comments!
If you are considering writing a book, but haven't done so yet what's holding you back?
(Photo Shutterstock: Dog on a book)