Guest post by M.K. Clinton
Have you ever searched your name on the Internet? If you had tried to "Google" me on the World Wide Web before 2012, you'd have been out of luck. I didn't exist, I know because I checked. Fast forward to 2015, and it often feels as if I am everywhere on social media. Googling my name now leads to pages of information and links. The journey that I have taken over the past few years has been incredible, but it's one that I never imagined.  How did I get here? Pet blogger and author and all over the Internet!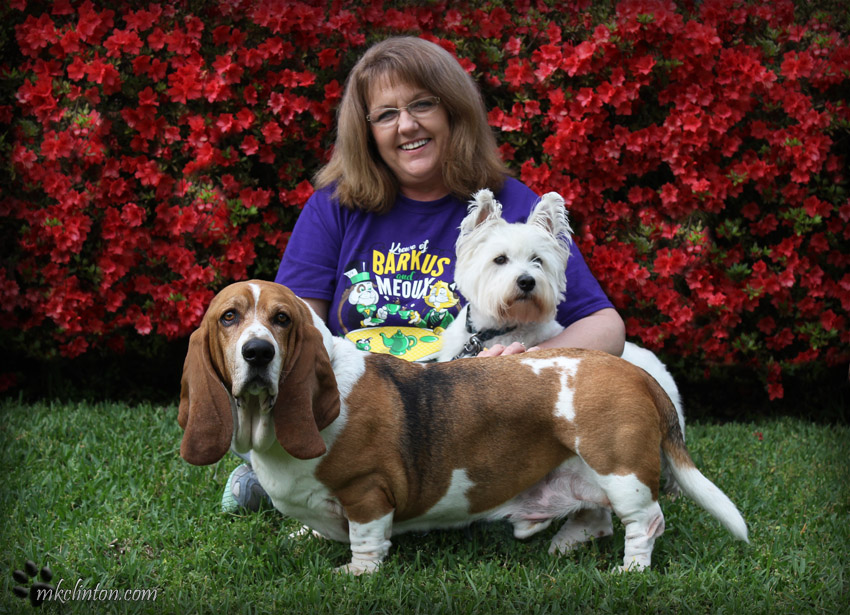 Where I Was
In 2011, I was working as a library clerk at a local high school. During that year I had back surgery and my second knee surgery. While recuperating, there was plenty of time to renew my passion for reading. Although I can't give you an exact count, I read an average of one book every two days. The more that I read, the more story ideas came to me. It has always been a secret desire to write something other than PTA newsletters. My husband encouraged me to sit down and let my imagination soar. I played around with some ideas and realized that I loved putting the stories into actual words. That spring, we decided to make this dream a reality and I resigned from my job. Big life changes can be both exhilarating and frightening. Starting a new career where you are responsible for the success or failure tends to grab your attention.
Of course, I did not know much about the publishing world. That meant putting down the fiction books and picking up ones on how to become a published author. To be honest, it is almost too easy which is why there are a lot of poorly written books available. I did not want mine to be in that group. My first two unpublished works were in the romance genre. It didn't take me long to discover that I mostly enjoyed sharing the dogs in those stories. When the idea for The Returns series hit me, it was as if I couldn't get my characters to stop talking to me. I'd be in the bed and one of them would start a conversation. The only way to quieten them was to get up and type their words. Believe me; you won't remember a conversation the next morning if you don't write it down. Once the first draft was ready, I began asking people to proof-read it. It was time to dip my foot into the publishing waters.
How I Moved Forward
I hired an editor and a graphics designer and got busy. Once my first book was published through Amazon, the real work started. Being an indie author is truly being one in a million. Thousands of books are published every single day. You cannot remain anonymous and promote a book by yourself. My first venture into social media was Twitter. I found a number of author groups and began to learn the ins and outs of self-publishing. As with any profession, there are some people that you can trust and others that should come with warning labels. There are also some over-inflated egos that reside in every group. The majority of people are very helpful and friendly. You just have to remember that when you jump in deep waters, there are sharks lurking.
I joined a number of author support groups and each one stressed the importance of having a blogging platform. This opened up another world to me. I had never read a blog before and quite frankly, didn't understand them. Working in the high school library, I spent most of my days with print books, magazines and newspapers. You'd be surprised how many people still have no idea that blogging is even a "thing." Seriously, ask a random person if they have ever read a blog. Their answer can be a bit disheartening, but the good news is that is changing. More people are discovering that no matter what their interests are; there is a blog that celebrates it. Companies are realizing that blogging is a great way to reach potential customers.
When I jumped into the blogging world, I did so as blindly as I did publishing. It was once again back to the books to learn more about designing a website. I should probably receive a degree from YouTube University, having watched so many "how-to" videos. If you are ever stuck with a problem, there is most likely a YouTube tutorial to help solve it.  The first three months of posting were sporadic as I learned how to maneuver through blogger.
Where I Am Now
In December of 2013, I discovered BlogPaws through a Twitter friend and once again my life was changed. The feeling that I got upon discovering an entire world of pet blogging is hard to describe. I knew that I had found my niche. The comradery in our community has been astonishing. It is great to work alongside fellow authors who share a passion for animals. The general feeling of, I have found my people, is truly shared by members that I've met.
A Life "Gone To The Dogs"
I often say that December 13, 2013 is when my life went to the dogs. I haven't slowed down or looked back since. Blogging is my dream job and although I write with humor, I am serious about my work. It is a great day when someone tells me they laughed at a post or enjoyed a photograph. Blogging has also given my husband and me a new career after leaving the workplace. He adds the photography to accompany my written words. It makes the entire process more fun. We have attended the last two BlogPaws conferences and are looking forward to our third. Each session has inspired us to make improvements or taught us how to monetize our blog. It still amazes us at how far we have come and we're anxious to see where we go from here.
There is always something to keep us busy. What I have learned over the past few years is that it is never too late to change the direction of your life. It takes faith, determination, positive mentors, and a willingness to learn. The truth is that we can do incredible things as soon as we realize that we are the only ones standing our way. That doesn't mean it is not a lot of hard work because it is, but the rewards are definitely worth it.
About the author: M..K. Clinton is the founder of Barking from the Bayou dog blog and author of the award-winning book series, The Returns. She is a 2015 BlogPaws conference ambassador. Melissa lives with her husband of 33+ years, her Basset Hound Bentley, and her granddog, Pierre in the bayou state of Louisiana. They enjoy playing, traveling and laughing together.