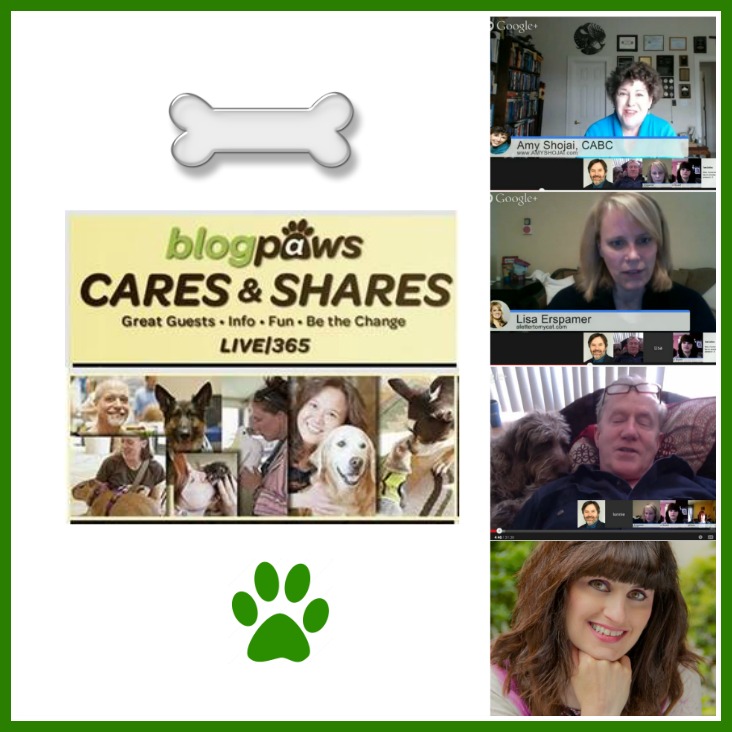 If you're wondering if it's necessary for a blogger to put his or her mind to writing and publishing a book, there are pros who know. These pros are Lisa Erspamer, Amy Shojai, and Lon Hodge. Combined, these three are an arsenal of information and BlogPaws has all three: In person, in Nashville, in May.
As a very special treat, Lisa, Amy, and Lon lent their expertise to a thirty-minute "BlogPaws Cares and Shares G+ Live Hangout" on April 23, 2015. If you're a blogger, and you want to build your platform and your readership, these are the people in the know.
Check the entire schedule for the BlogPaws Conference here.
Get to Know the Pros

Lisa Erspamer is a creative force who loves to turn a great story into a visual spectacle, Lisa Erspamer is a five time Emmy-nominated producer and the president of Unleashed Media, a television, film and digital production company in Los Angeles. Prior to starting her own multi-media company, Lisa served as the Chief Creative Officer and Executive Vice President of Programming and Development for OWN: The Oprah Winfrey Network where she launched over 40 original series and created 7 original documentaries in less than two years. Lisa also served as Co-Executive Producer of The Oprah Winfrey Show, where she produced hundreds of shows and oversaw such memorable episodes as the biggest Flash Mob in history, the legendary car giveaway, Oprah's After Oscar Specials, Oprah's Favorite Things, Whitney Houston's final interview, and many others. Lisa is the creator of the bestselling book series A Letter To… which includes books: A Letter To My Dog, A Letter To My Cat and upcoming A Letter To My Mom.She currently lives in Los Angeles with her two precious pups, Lily and Grace and is working on her next book, A Letter To My Baby!  Connect with Lisa at ALettertoMyCat.com.
Amy Shojai, CABC is a certified animal behavior consultant, and the award-winning author of 30 best selling pet books that cover furry babies to old-fogies, first aid to natural healing, and behavior/training to Chicken Soup-icity, as well as dog-viewpoint THRILLERS WITH BITE! She has been published by major New York publishers, smaller regional presses, and has self-published Ebooks, print and audio titles and considers herself a Hybrid Author. Amy is a founder of the Cat Writers Association, Inc. She created the Puppies.about.com site as the Puppies Expert, was the cat behavior expert at cats.About.com, and hosted an award-winning Pet Peeves radio show. Connect with Amy at her website, AmyShojai.com.
Lon Hodge, the "Veteran Traveler", has been involved in social media since 1979. While serving in the military he was a member of Task Force Delta a computer think tank and social platform designed for the Army War College. He has consulted on digital PR for Fox International, National Geographic, Star Alliance, Disney and others. Lon, a poet and former National Endowment for The Arts Fellow in writing, has won international awards for his blogging and writing. He holds an MFA in writing from Vermont College. He travels the country with his service dog, Gander, who was a 2014-15 AKC Award for Canine Excellence recipient to bring about more awareness for PTSD and Trauma survival and canine assistance. They have over 400,000 followers on social media platforms. Connect with Lon and Gander on Facebook.

And Your Host, none other than me, Carol Bryant: "A dog lover of the highest order," is how Gayle King introduced Carol Bryant when she and her Cocker Spaniel, Dexter, appeared on Oprah Radio's Gayle King show to dish dogs. A frequent media contributor, Carol has appeared on television, radio, and in print. A repeat nominee from the Dog Writers Association of America and writer for Pet360, Carol is the PR and Marketing Manager for BlogPaws. She is also the founder of her own canine-centric magazine-style dog blog, Fidose of Reality, and Wigglebutt Warriors, crusading to save dogs' lives as the fundraising arm of her blog. Connect with Carol through BlogPaws or Fidose of Reality.
Quick Hits: Here are some of the position markers from the hangout: Be sure to watch it below and listen for these stand-out nuggets, then meet these pros in person in Nashville May 28-30, 2015.
5:42  Publish or Perish: What does it mean and how can someone get publish without being afraid or intimidated to do so?
9:40: What doors can having a published book open for someone?
11:10: What does it mean to have "authority" in writing and how does this apply to bloggers?
21:18: What about self-publishing?
22:50: How can avoid saturating my readers with too much of the same?
Have you ever written a book? Would you like to?