There are 500 million active users on Instagram as of June, 2016. That's a whole lot of dogs, cats, bunnies, ferrets, birds, hamsters, and pets in general. Are you one of them? If you are, knowing how to make pictures pop on Instagram is important.
As Instagram continues to grow and add new filters via apps and its native app, users are left to decipher which ones works best, why, and when to use them. Not all filters or apps are created equally. Here then, are examples of some filters, how to make them work to your advantage, and a few free apps to make life easier. Want to make pictures pop on Instagram? Keep reading.
Fact: You don't need a fancy expensive camera to grow an Instagram account. There are two key factors to keep in mind as you post pictures to Instagram:
Filter usage is totally subjective, very much like photography.
Second, a filter may or may not work for your image. Experimenting is key.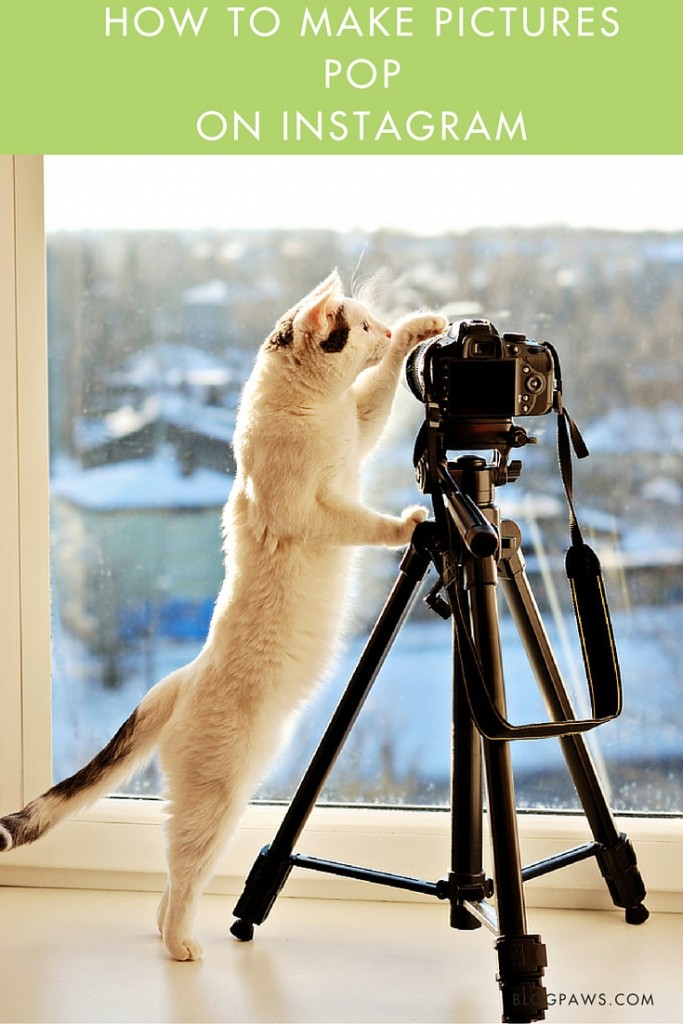 Native Instagram Filters and Editing Features
If you take a photo in Instagram and it just isn't right or perhaps you want to add some pop or sizzle to it, consider native Instagram filters. By native, this means right from within Instagram.
Here's a snap of my dog, Dexter, in his oh-so-snazzy sunglasses. See that bar of filters beneath it? There are many to choose from. One of the most highly used in the pet space is the Clarendon filter.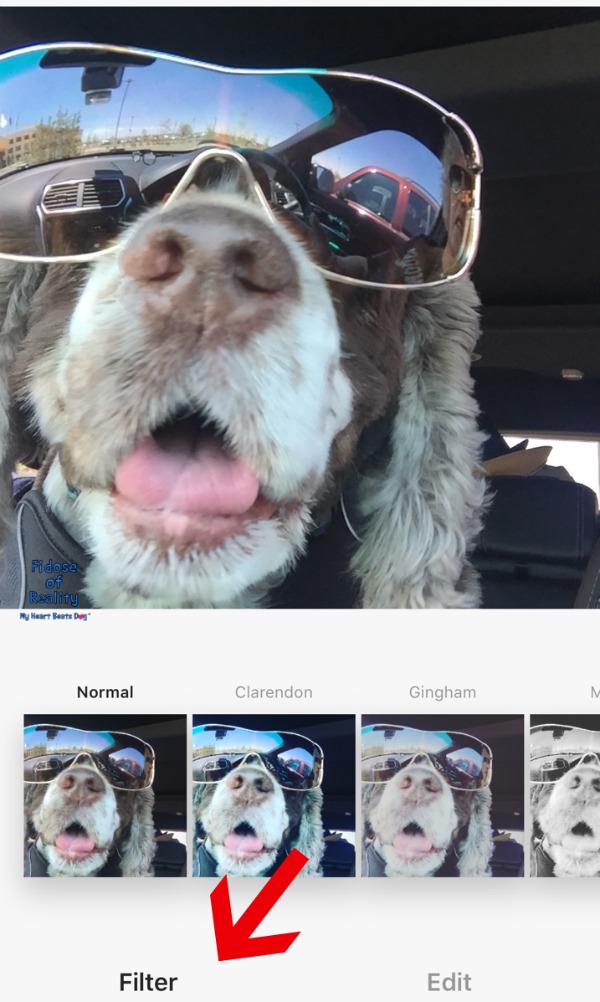 The Clarendon filter intensifies shadows and brightens highlights in your photos. You can imagine how this would come in handy in select situations.
Now, here's the same photo of my dog, but with the Hefe filter applied. Notice how it warmed the image and made the color saturation pop.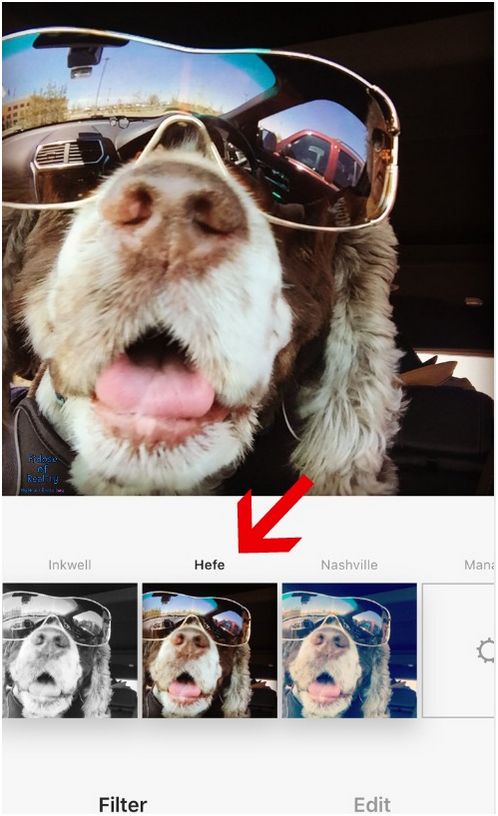 Experiment and don't be afraid to do so: There's always the backspace, undo, or delete key before you actually publish.
Editing is easy and fun in Instagram, as the EDIT feature is conveniently located next to the FILTER.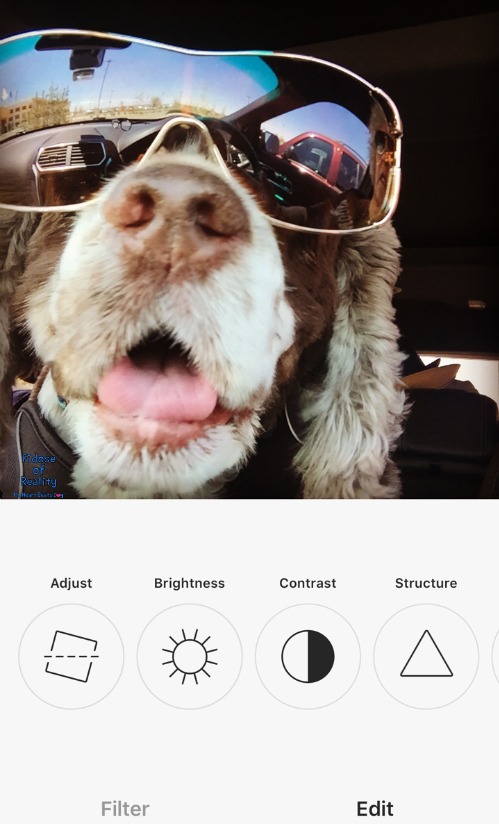 Angle, brightness, contrast, and structure can be tweaked.
Pay attention to the response of your followers. Some Instagrammers aren't into filter usage. In fact, the #nofilter hashtag is perfect for those image when you want the world to know it's the bare truth.
Helpful Photo Editing and Enhancement Apps
Most of these are for iOS operating system, but the Android version of some are coming. Here are five of my favorite Instagram apps that I "go to" regularly and why:
The New York Times calls this app "one of the best apps for iOS 7."
Why I Love It: Over 1,500 free stickers, overlays, effects, and frames.  It eliminates blemishes with one click. Use it for basic editing, as it has a full toolbox of photo editing tools that are very user friendly. I also create memes with this app.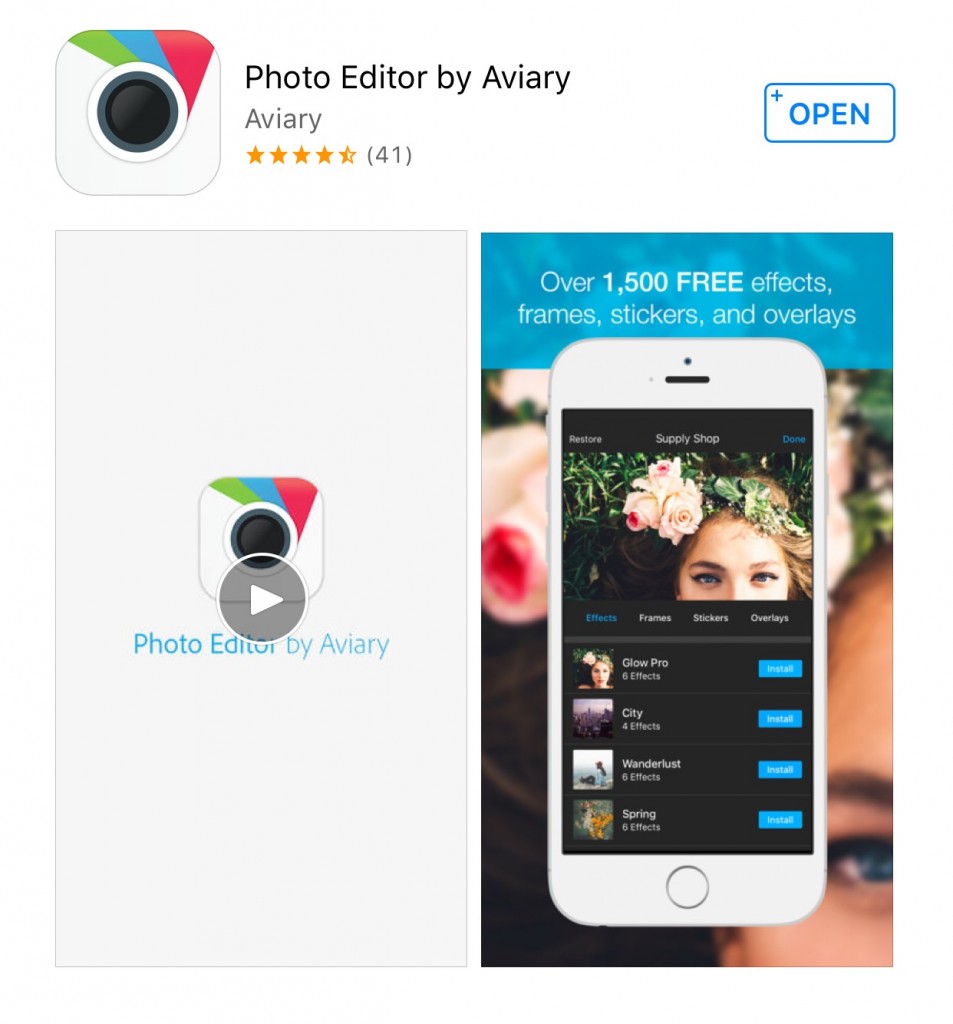 Can I have a hallejuah? As of this writing, Canva has finally released its app for iOS users, with a "stay tuned" to Android users. The folks at Canva say, "You'll be able to quickly create and edit designs on the go, and share them directly to social media. Another cool feature is being able to take photos directly within the app and add them to your designs. "
Why I Love It: Save color palettes for your brand/blog, resize designs, save fonts, use of folders, and just about everything the desktop version includes.
I am a Canva lover, and I look forward to all the Canva for Work features.
Use #PicPlayPost to create video collages and share your captivating stories using photos, videos, GIFs and music.
Why I Love It: PicPlayPost makes it super easy to combine different types of media into a a collage you then share to your social networks. If I am doing a pet-friendly blog post, for example, I will use part of the collage for video and part of it for still photos. User-friendly interface, too.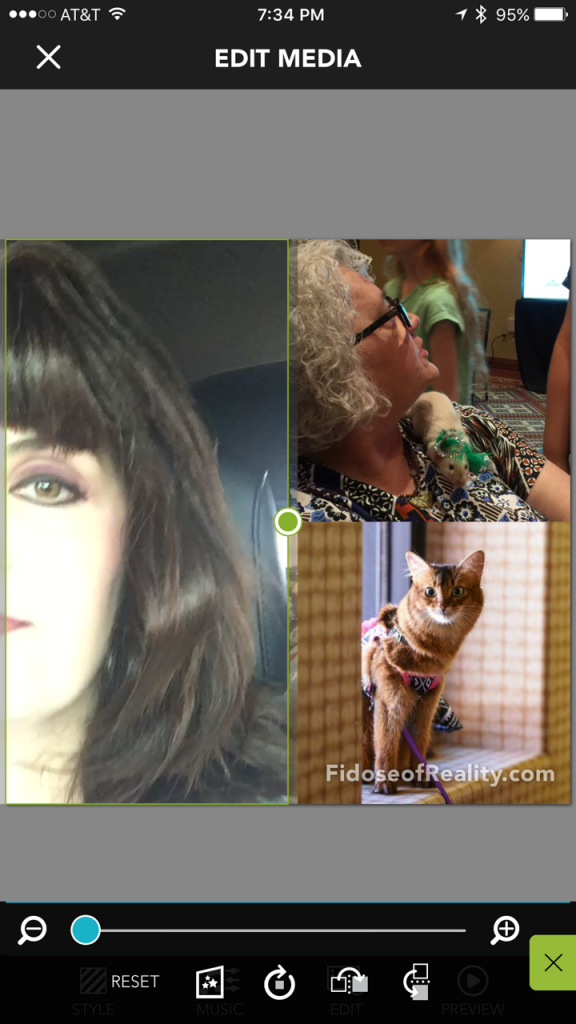 Afterlight is the perfect image editing app for quick and straight forward editing.
Why I Love It: I am not a bells and whistle girl most of the time: I love fancy things, but for images, I want to edit, get it and get out. Boom, I can post and I'm done.
As of this writing, Afterlight has 15 adjustment tools, 74 filters, 78 textures, and more. A photo does not always need cleaning up, but if you are shooting from your mobile device, this is an app you'll reach for time and again.
As you get acquainted with this one, you are so welcome. I say that because I want to hug the person who turned me on to this app.  Looking for an easy way to create attractive visuals? Typorama lets you create amazing visuals by "automagically" transforming your text and photos into beautiful typographic designs. Just choose a background, type in your words and your creative typography is ready!
Why I Love It: The fonts are over the top fantastic. And here's a trick: Keep tapping the text styles and you'll get different results. For example, here's the "What are we reading this summer" text style. Keep tapping it for different placement, sizing, and layout. Fun stuff, folks!
Bonus Filter
I recently learned of the Prisma app, which allows the user to turn photos into amazingly fantastic works of art. Best of all, there's a version for Android and iOS.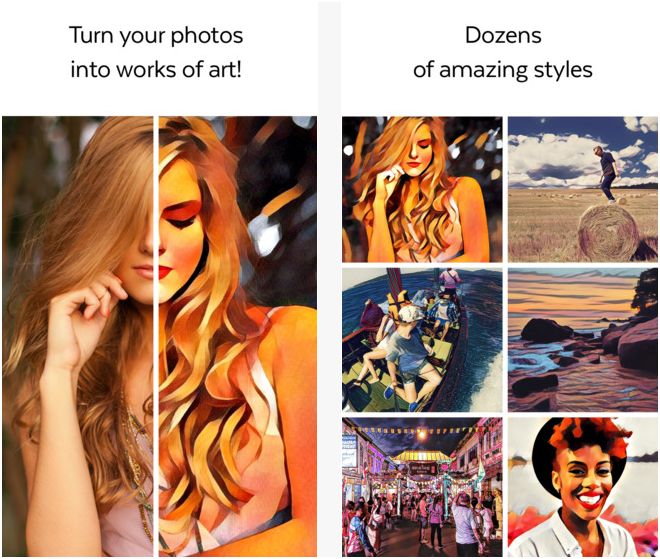 Growing an Instagram Account
Of course, having gorgeous pictures that have filters or text applied mean zip if you aren't maximizing the power of Instagram with a strategy. Below are some posts to read, follow, and apply to your Instagram strategy:
How I Grew My Instagram Following by 25% In One Month
Improve Your Instagram in One Weekend
Follow BlogPaws on Instagram and we will follow back.
Got an app that you totally can't live without for photo editing? Let us know in the comments below.
Carol Bryant is the Marketing and Social Media Manager for BlogPaws and runs her own blog, Fidose of Reality and its fundraising arm, Wigglebutt Warriors. When not busy playing with her Cocker Spaniel, Dexter, she stays far away from cooking. Her trademark is her mantra and is tattooed on her arm: My Heart Beats Dog.®
Save
Save