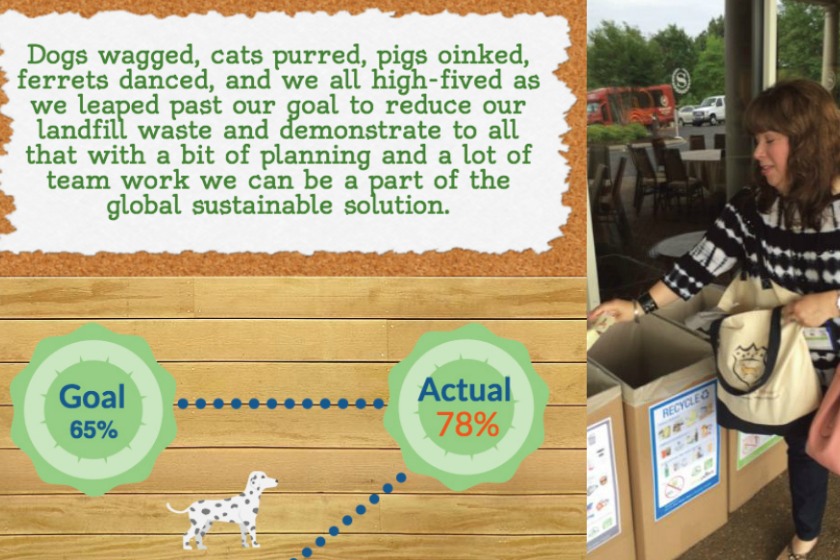 Can you imagine a pet-welcoming conference that reduces waste and by collecting compost, recycles most everything, and helps the environment while teaching others how do it. ? To Go Green is to care about the environment. Get ready…..
BlogPaws, Only Natural Pet, and the Pet Sustainability Coalition (PSC) announce a zero-waste initiative partnership for the second year in a row!
In 2015, the BlogPaws Conference went "green" for the first time in its history. With an environmental goal to divert 65 percent of event waste from going to the landfill, this partnership created an astounding first-time achievement of 78 percent! Impacts of this effort are likened to saving the amount of carbon dioxide released by driving 1,800 miles, or the same amount of energy generated by a hamster running on a wheel for over 3,000 years!
By the numbers, the partnership reduced waste by diverting:
* 1,320 pounds of recycling.
* 380 pounds of compost.
* 62 percent reduction of paper for conference schedules.
Big News Announcement
We'll be doing it again this year in Phoenix! "Going green" is a phrase that has become trendy and gets tossed around an awful lot these days. Reducing one's carbon footprints and pawprints is key. Toss the confetti and then scoop it up for recycling because this is HUGE!
Why Does This Matter?
Sustainability. When I first heard this word as it relates to the pet industry, my first reaction was simply "how does this apply to me, a pet blogger" and then "what does it mean?"
We're all busy these days, but sustainability does apply to all of us, especially as it relates to the transparency and resolve of pet industry companies, whether small or large, to remain sustainable as we progress forward.
If you like writing about and/or supporting companies and their products that are committed to being eco-friendly and with a "going green" mantra, then the PSC is a dream come true for you.
Sustainability involves methods that do not completely use up or destroy natural resources. No matter who you are, what pets you have, or how big or small your blog is, on this we can all agree: Sustainability is crucial to our planet's future.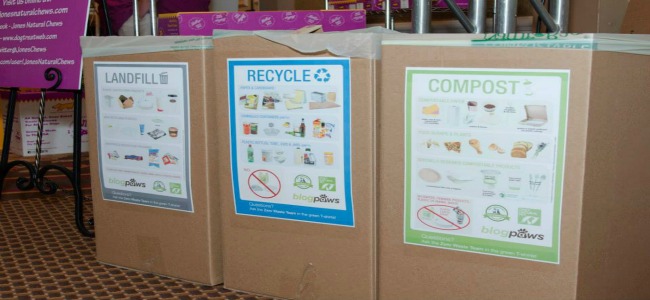 Only Natural Pet
Only Natural Pet, a Boulder-based manufacturer of all natural pet supplies, has been dedicated to sustainable waste management practices from the get-go. They reuse shipping boxes, minimize product packaging, use renewable energy, and participate in a zero-waste program at our office, warehouse, and retail store.
Facts
According to the PSC, conferences and trade shows generate 600,000 tons of waste each year, second only to the construction industry. That amounts to 20 pounds of waste per attendee!
Proper planning, logistics, and on the ground support are the keys to a successful zero waste event. Attendees of the BlogPaws 2016 Conference will be instrumental in the success of this hands-on, paws-on effort.
Combined efforts are focused on achieving as close to a "zero-waste" event as possible, one that will reduce the environmental footprint of the BlogPaws 2016 Conference  by diverting waste from the landfill and by educating conference participants about waste issues related to the pet industry.
It's a win-win-wag, wouldn't you agree? Meet the folks from ONP, PSC, and the entire BlogPaws Team in Phoenix!
Have you ever been to a zero-waste conference? How are you reducing your pet's carbon pawprint?

Want to learn more? Here's how Jessica Rhae Williams says pet parents can be more environmentally friendly.

Carol Bryant is the Marketing and Social Media Manager for BlogPaws and runs her own blog, Fidose of Reality and its fundraising arm, Wigglebutt Warriors. When not busy playing with her Cocker Spaniel, Dexter, she stays far away from cooking. Her trademark is her mantra and is tattooed on her arm: My Heart Beats Dog.®