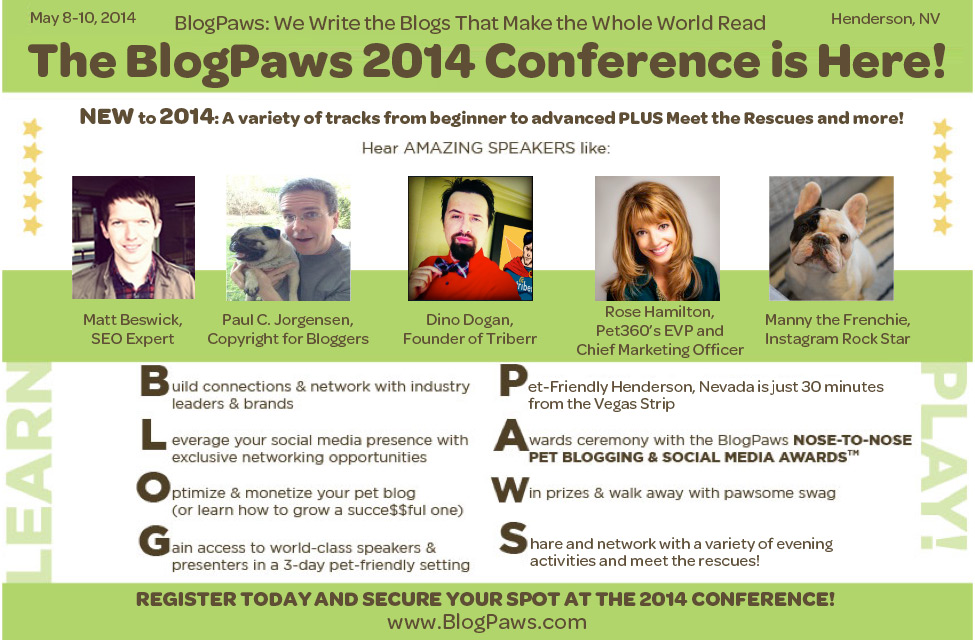 With the BlogPaws Conference being a mere 30 days away as of this writing, 04/08/14, we are taking this time to bring you the latest and greatest news to update everyone attending. Let's jump right to it:
BlogPaws is not your ordinary conference. We are pet welcoming but we are also on the ground, staff is available to chat with, network, answer questions, etc.
Most meals are included in the cost of the ticket. All sessions are held on premises and that also includes access to media, reporters, bloggers, brands, and much more.
The BlogPaws Nose-to-Nose Pet Blogging and Social Media Awards will be held on Saturday, May 10th.: The only pet blogging and social media awards that are not a popularity contest. This has become a much anticipated industry accolade and is the BlogPaws equivalent to the Oscars.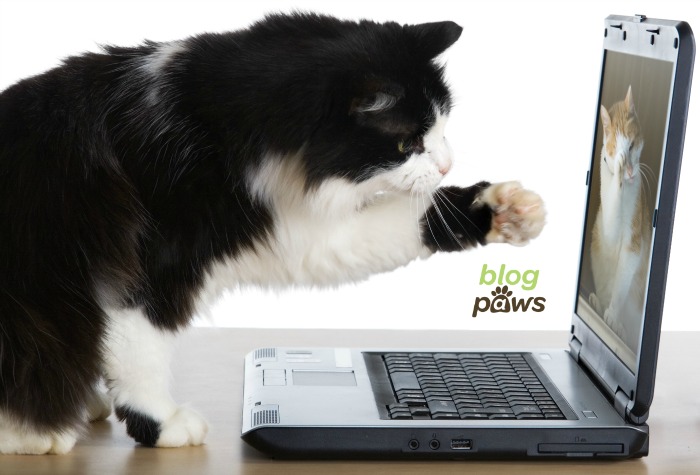 Now the latest news:
Tillman the Skateboarding Dog will be at the BlogPaws Conference! Not sure who Tillman is? Have you ever seen the television show, "Who Let the Dogs Out?" Well, get ready to watch this bulldog wheel his way into your heart.  Our friends at Natural Balance are bringing this canine rock star to BlogPaws!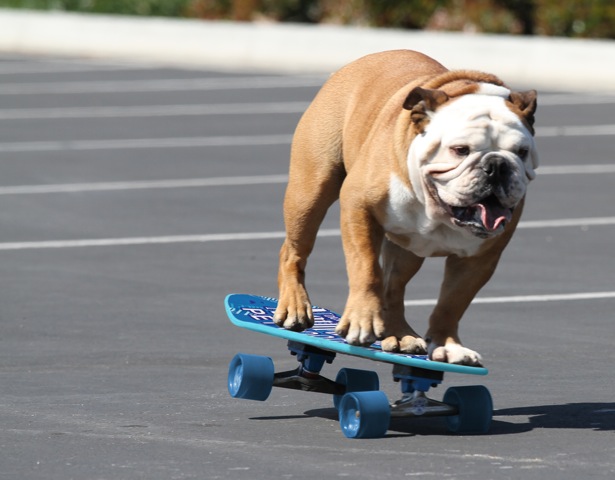 Kate Benjamin is returning with the Cat Lounge by Hauspanther. Stay tuned for a special post this week on Thursday, April 10th, all about it. Additionally, Kate has a very special news bite to share about her book and what you can expect at BlogPaws. Meow and mum's the word til then.

Our keynote on Saturday, May 10th, is HABRI: Human-Animal Bond Research Initiative. We have confirmed the two speakers and they are: Steven Feldman, HABRI Executive Director, and Dr. Kate Hodgson, DVM, MHSc, CCMEP. HABRI Central is an online platform for open research and collaboration into the relationships between humans and animals, specifically companion animals. www.habricentral.org.This is very exciting news because pet bloggers and microbloggers, who are also pet parents, realize the importance of researching and writing about the bond between people and pets. HABRI supports research, education, and other charitable activities that validate the positive impact the Human-Animal Bond can have on the integrated health of families and communities.
Dr. Patrick Mahaney has signed on as a table topic leader, where he will be talking pet nutrition during one of the lunchtime sessions.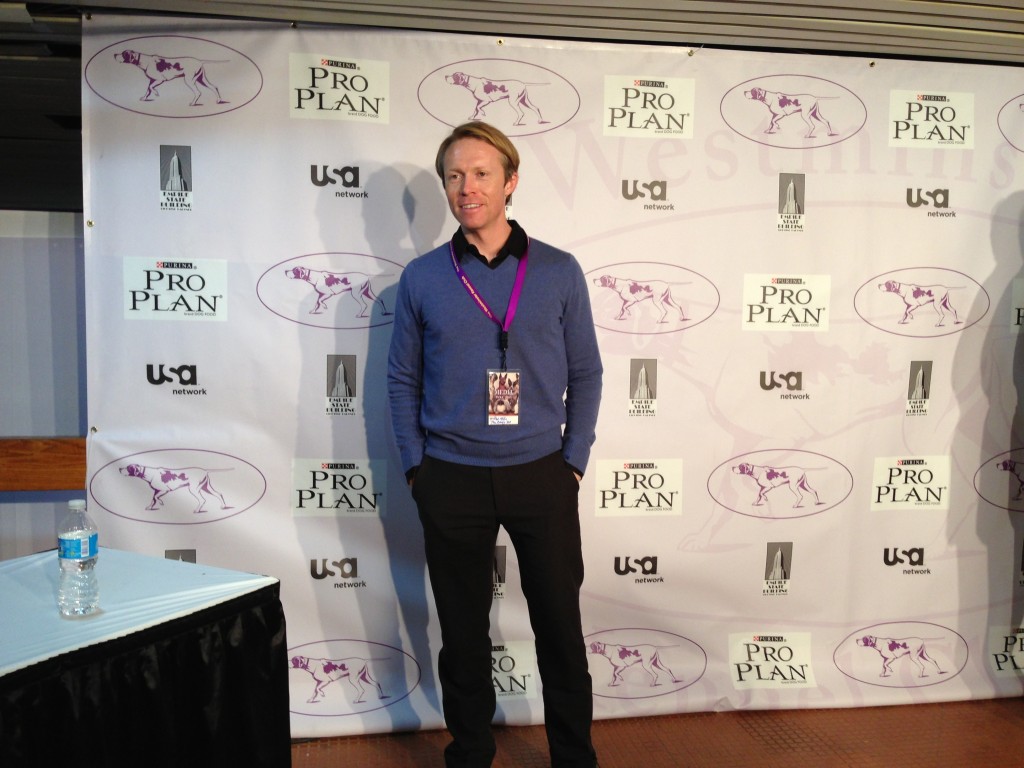 Remember, The Winn Feline Foundation has teamed with BlogPaws to present the annual Winn Media Appreciation Award to one select attendee. This year's recipient will receive the award from inaugural recipient, Steve Dale. Since 2005, the Winn Feline Foundation Media Award has recognized journalists and editors who publicly support the mission of the Winn Feline Foundation to advance feline health studies and to communicate facts about feline health.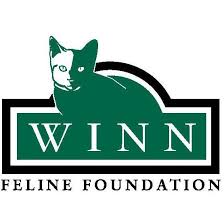 Meet the Rescues is growing and growing: And that means more info to help you help shelters and rescues get the recognition and attention they deserve. Meet the Rescues takes place Friday evening, May 9th. A big surprise will be announced in conjunction with this exclusive event.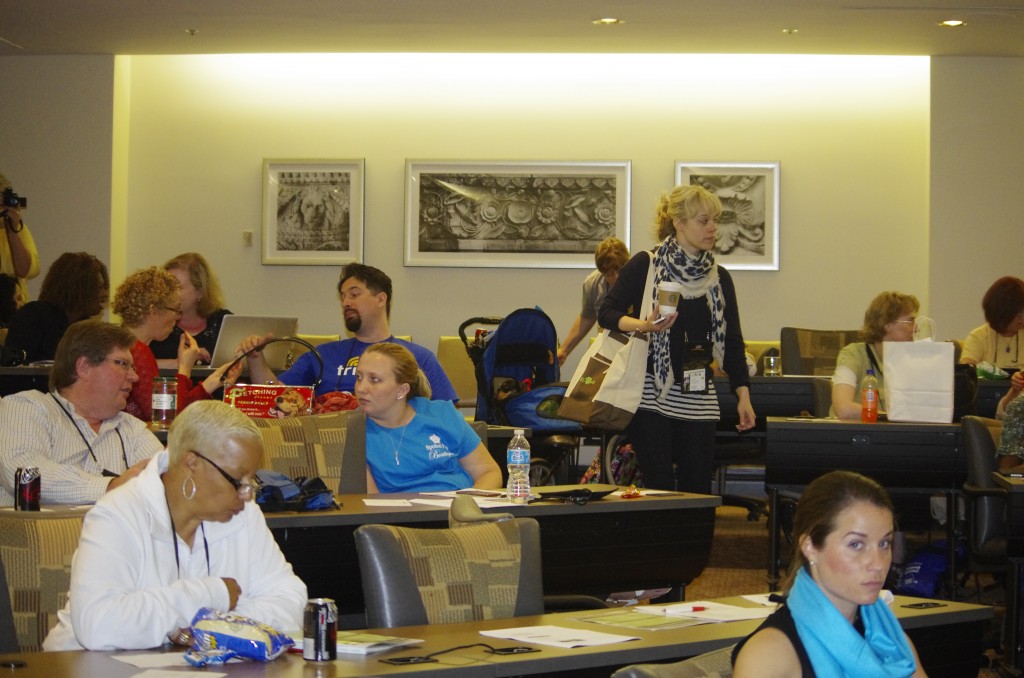 A press conference will take place on opening day, Thursday, April 8th.
Tonight, 04/08, from 8 to 10 pm est, join us for #BlogPawsChat on Twitter. We will be talking with representatives from Weruva, makers of a natural pet food made from "the best ingredients from around the world." The formulas are processed in a human food facility using "human grade" ingredients. During the #BlogPawsChat they will give away 10 cases of Weruva food – winner's choice! Follow them on Twitter: @Weruva_BFF

Join us on Thursday evening, 04/10, from 8 to 8:30 pm est on our next Google Hangout. Come and Hangout Live with the BlogPaws Team and special guests! This episode, Thursday, April 10, at 8pm ET/5pm PT, will feature three more of our BlogPaws 2014 Conference speakers: +Penny Sansevieri  +Nickey Rautenberg  and Jim Nelson of Tripawds (+Jerry G Dawg). Visit this link and get registered to watch.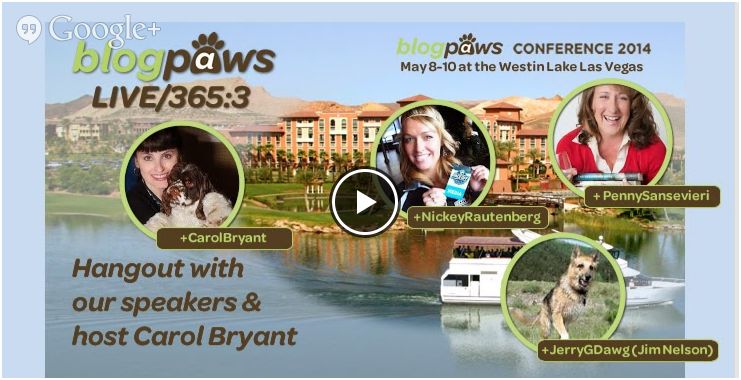 Okay that's all the news that's fit to print, but please stay tuned and keep checking back for more news and announcements.
Any questions?
Who Are the Speakers? Check out the complete list here: https://blogpaws.com/events/conference-2014/speakers/
Register for the Hotel: https://blogpaws.com/events/conference-2014/hotel/
Where Can I See the Schedule?  Visit the BlogPaws Program Page.
Can I See a Video? Absolutely: Here's a peek at what happens at BlogPaws:
Okay got your ticket and are you in? https://blogpaws.com/events/conference-2014/register/