At the core of being a pet parent is, first and foremost, concern and diligence for our pets' health. BlogPaws is proud to celebrate Pet Health Awareness Month throughout November.
My Friend: Changing the Journey, is a documentary that celebrates the fight against canine lymphoma and will be premiering on Saturday, November 1st, in Glendale, California.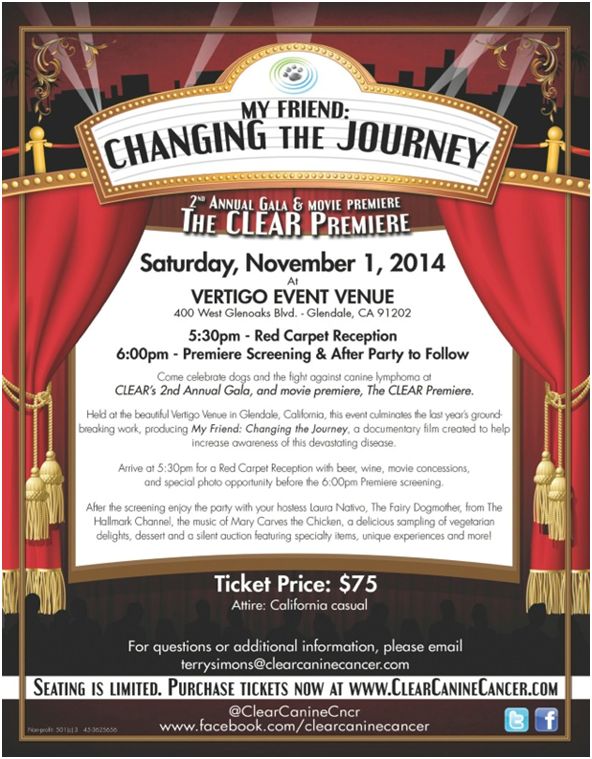 Canine Lymphoma Education Awareness and Research (CLEAR) Foundation also holds a special place in the hearts of one of our very own, Dr. Patrick Mahaney. Dr. Mahaney is a long-time BlogPaws supporter and speaker along with being a veterinarian and Certified Veterinary Acupuncturist. He writes for several sites, including petMD. His dog is also a cancer survivor.
"Considering Cardiff is undergoing chemotherapy treatment for lymphoma, I was psyched to be asked to contribute to a documentary being filmed by the Canine Lymphoma Education Awareness and Research (CLEAR) Foundation," Mahaney says. "It's been over six months since we began the long journey of Cardiff's cancer diagnosis and treatment, but the end has been reached and the outcome is ideal.
On June 25, 2014 Cardiff finished his course of University of Wisconsin-Madison Canine Lymphoma Protocol (CHOP) chemotherapy and had a repeat abdominal ultrasound, revealing no evidence of new masses nor any other concerning abnormalities inside his abdomen."
Here's a trailer for the movie:

My Friend: Changing the Journey Trailer 1 from My Friend: Changing the Journey on Vimeo.
My Friend: Changing the Journey is a ground-breaking documentary that will take dog lovers on their own informative journey of awareness and hope as it weaves interviews from highly respected Oncologists, Veterinarians and Canine Care Professionals throughout three inspiring stories of dogs who are battling lymphoma.
Now What
The more pet parents you know, the more you are likely to encounter a pet with a health issue ranging from an ear infection to an orthopedic problem and/or even cancer.
November Healthy Pet Blog Hop
Throughout the month of November, BlogPaws will be blogging about and sharing posts, news, and information with pet health awareness in mind.
We encourage you to share your pet health obstacles and challenges with us along with tips for keeping pets healthy. Visit the blogs on the hop so you can network and learn from each other. We will be doing the same.
If you are a pet blogger, now is a great time to blog a post about pet health. All month long, this blog hop will be open. You are welcome to share your pet health blog posts in the Linky List below.
Photo Contest and Three Shopping Sprees
Finally, we are also hosting a "My Healthy Pet" photo contest and giving away THREE (3) Only Natural Pet $40 gift certificates to three lucky winners. Be sure to stop by the BlogPaws Community to enter.
Here is the blog hop below and if you don't know how to do a blog hop, here are details: