Every small business owner knows how challenging it can be to manage and get the most out of their marketing resources, especially considering the fact that they are often doing it all themselves. Small budgets often mean that less time is spent on research, design, and development. Thankfully, there are design platforms like Canva to make your life much easier.
In this article, we are going to look at how to use Canva templates step-by-step. We'll also discuss the best Canva features for your business goals.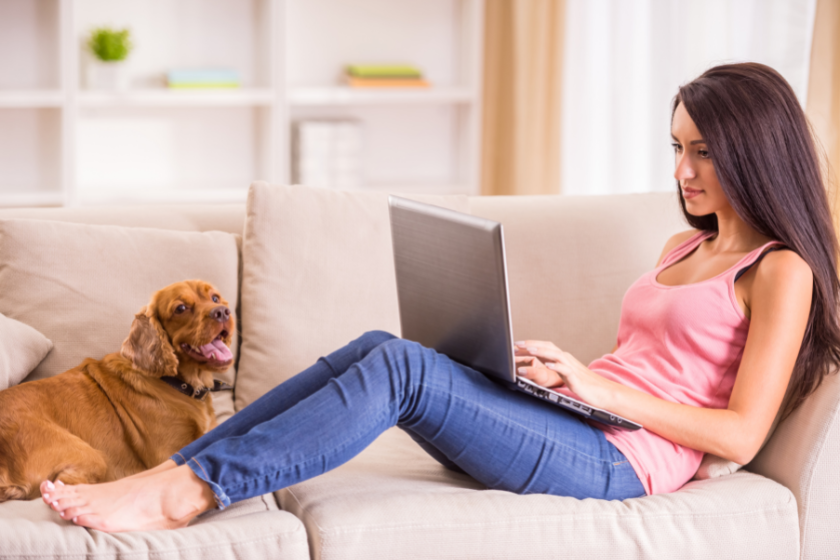 What is Canva?
Canva is a web-based design tool that allows you to create designs for social media posts, blog graphics, infographics, and more. With drag and drop templates you can create branded content quickly and easily with professional results. You can also personalize your designs by uploading and incorporating your original photos and videos.
While it offers a variety of different design options with a free account, as a small business owner you will likely enjoy the great Canva business benefits that come with the Canva Pro or Canva Teams accounts. These plans start at $12.99/month per person if billed monthly or $9.99/month when paying annually. 
Both paid plans have access to features you'll love including stock photos, videos, audio and graphics, access to all templates, and brand kits to establish your brand's visual identity. Canva Teams allows you to collaborate with others which is useful if you have someone helping to create content.
What Canva Features Are Useful to Small Pet Business Owners?
Before we look at how to use Canva and, more specifically, how to use Canva templates, there are a few features that you may find useful as a small pet business owner. Here are a few Canva features that could prove to be valuable in your business design work. 
Stock Photography
Canva Pro gives you full access to all the elements available on Canva including:
Over 60,000 stock images

 

21,000 stock videos

 

3,500,000 graphic elements

 

750 premium fonts
All these elements can be used in the templates to create social media posts, pamphlets, flyers, posters, YouTube intro videos, and much more. 
Easy Resizing
When creating social media graphics, there are going to be times when you would like to share the same information across all social media platforms. But each platform has its own recommended sizing. The resizing feature in Canva allows you to change the size of your graphic quickly and easily. You can choose from the pre-set sizes for each social media platform or enter your own custom sizing. 
Background Remover
This simple feature can be a big time saver, especially for those with product-based businesses. With a single click, the program will remove the background of your image. 
Brand Kits
Brand Kits are a great way to keep your business elements on-brand by allowing you to save pre-set brand colors, fonts, graphics, and logos. Each time that you make a new design for use in your business, the brand kit is readily available to guide your decisions. Not only does this save time by making all of this information easily accessible without searching, but it is also easy to share your brand kit with the whole team. 
Comments and Collaboration
If you are working with a team, Canva makes collaboration easy. Invite others to view or edit your graphics. You can also leave comments within the design program, making communication easier. If, while working together, you want to return to a previous version of your graphic, you can easily do so with the available version history. 
How to Use Canva Templates for Business Growth
Of course, one of the greatest features that Canva provides for your and your business is their large collection of easy-to-customize templates. There are templates available for every purpose, from T-Shirt stores to Logo Design. For the purposes of this article, we'll show you how to use Canva templates to create a social media graphic. 
#1 – Search for a Template in Canva
Search through the many templates available for the graphic that you need. You will be customizing your graphic, so don't feel stressed if you can't find anything that is "perfect" for what you envision. Choose the template that is closest to what you want to create.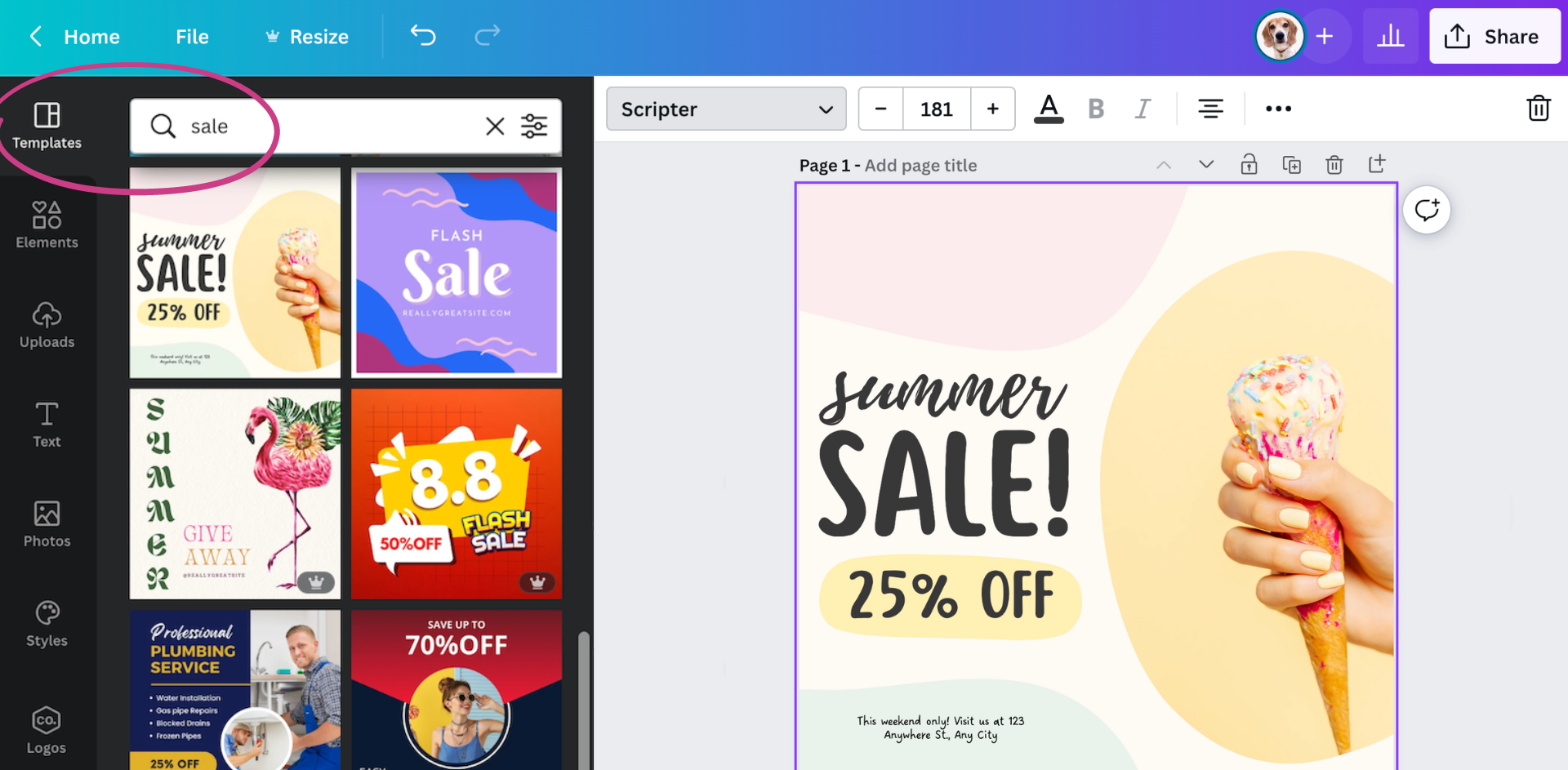 #2 – Upload and Edit your Desired Photos
If you are planning on using an original photo, upload it to the program. There are several options available to edit your image within Canva including removing the background, applying a filter, auto enhance, autofocus, and more. 
3. Change the Colors and Fonts to Represent your
Brand
This is where your Brand Kit will save you time. Update the fonts and colors of your graphic to those that you have chosen for your brand. If you have saved this information in your Brand Kit, it will be conveniently displayed in the menu where you choose these elements. If you haven't saved your brand colors, you can also search colors by name or hex code. Fonts are also searchable by name or by font type (such as bold, calligraphy, vintage, or rounded). 
4. Add your Logo and Voila!
Finally, add your logo to the graphic. If you have a logo saved to your Brand Kit, it will be available to you in the Logos window. If not, you can upload your logo from your computer to be used.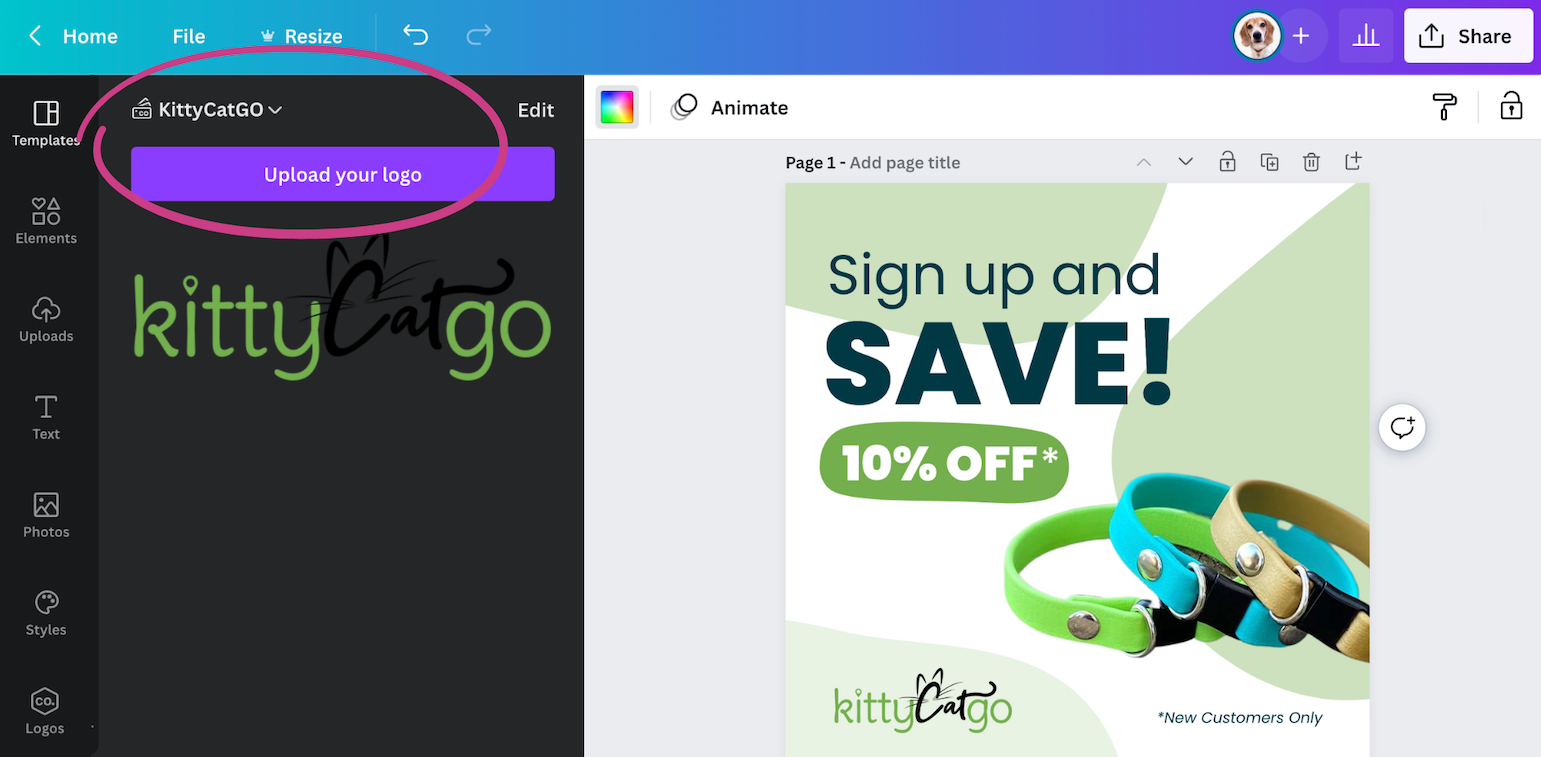 Canva templates are easy to use and can be customized in a variety of ways. If you've got a small pet business and want to grow it, Canva has all the templates you need to get the job done. From social media graphics to flyers and promotional materials, you'll find everything you need. And best of all? It's easy to use!
If you were already familiar with how to use Canva templates, which Canva feature is your favorite? If you're new to Canva, which feature are you most excited to try?
About the Author: Christy Castillo lives in San Diego with her beagle, Elvis. Together they explore the beach with their pack and also practice nose-work for fun. Christy has a background in graphic design and video editing. She works behind the scenes at BlogPaws creating our fantastic designs and making sure we all stay on brand (eh hem, Chloe). You can see all her adventures with Elvis, @elvis.thebeagle on Insta.