As we round home on 2016, many of us are putting pen to paper (or fingers to keyboard) to plot out the 2017 editorial calendar. I tend to plan in broad strokes broken out by quarter (like, I want to dedicate posts to safe hiking with dogs in late spring and a cat training win in the summer), then get down to the granular level one month at a time.
If your planning is already complete, congratulations!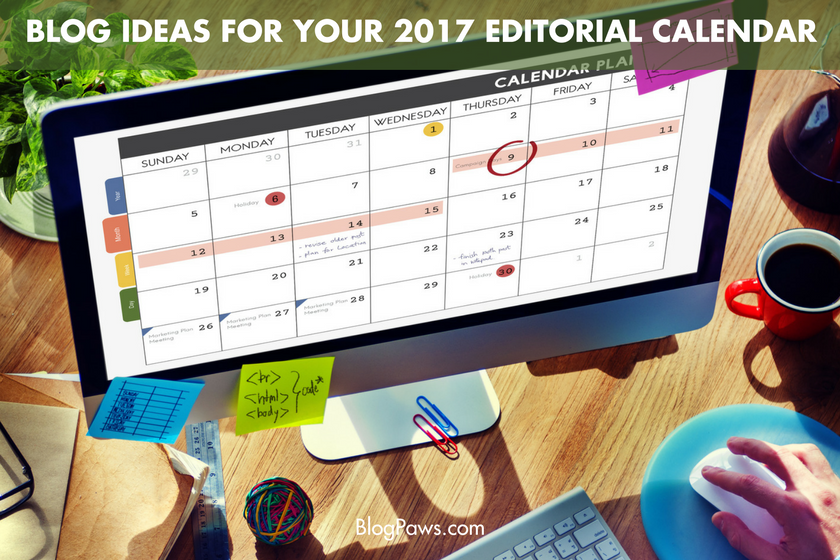 For those of us still working or feeling stuck on ideas, here's a quick roundup of blog post ideas for your 2017 editorial calendar:
A Year of Pet-Related Holidays and Themes to Blog About
An entire year's worth of holidays—pet-related and other—to slate into your calendar. Comb through the list to find the ones that appeal to you and fit the theme of your blog. Once you have the dates down, map content that suits your voice and your audience around those dates.
10 Blogging Prompts for Creative Inspiration
In Q1 of 2017, and as winter winds down, this list of prompts can spark your imagination. If you're looking for ideas that aren't time-bound, this is the list for you. Reference it whenever you have a gap in that calendar for a creative push.
10 Summer Blogging Prompts
It's hard to think about summer when there's snow on the ground, isn't it? But once you start plotting your second quarter and summer content, take a glance at this list of summer-specific blog prompts. Perhaps it'll inspire you to plan a summer adventure now that you can build your editorial calendar around!
10 Fall Blogging Prompts
For the third quarter of 2017, dig into the topics that your audience craved all year long. While some of the prompts on this list are fall-specific, many work at any time throughout the year. Pick what works for you!
10 Creative Blog Prompts for December
Because this time next year will be here before we know it! Plan your fourth quarter around the holidays that are most important to you and yours. Consider big events like gift guides and work backward in your planning (you need to start soliciting items around Halloween).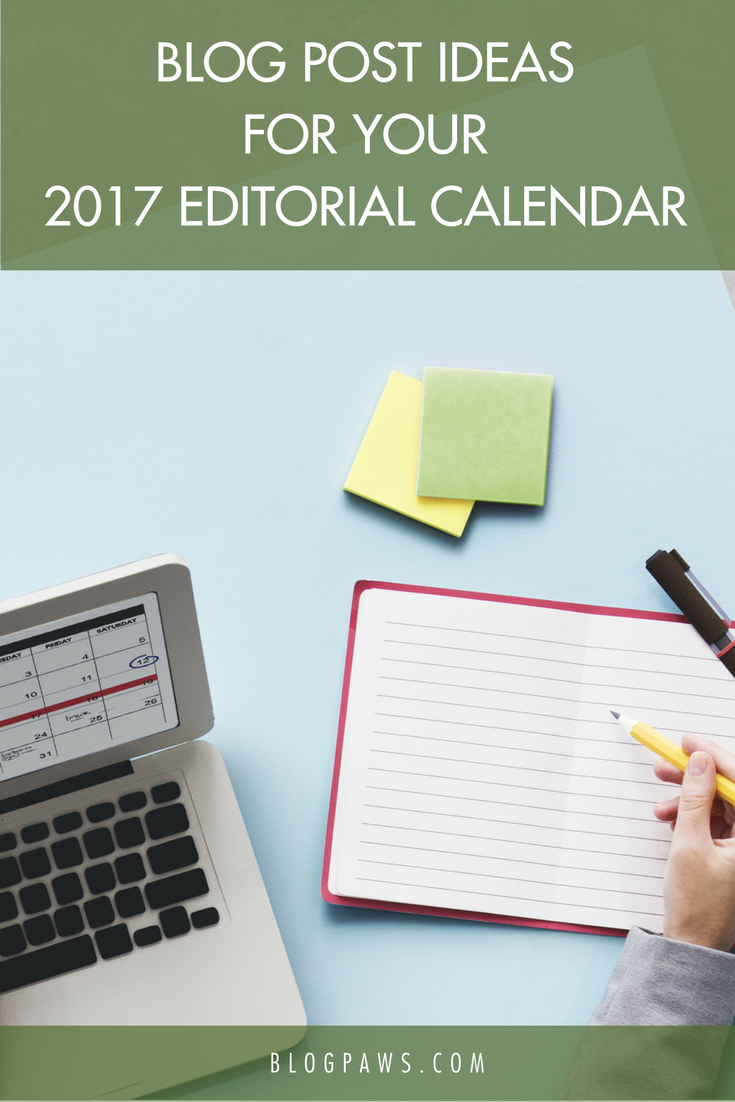 Each of these lists can be re-imagined to fit any time of year. Hopefully they spark some creativity and provide the inspiration you need to wrap up your 2017 planning!
How do you map out your year? How far along are you in planning 2017?
Maggie Marton serves as the BlogPaws senior editor. When not hiking with her two pit mixes, Emmett and Cooper, or playing with Newt the Cat, Maggie writes about them (and the pet industry) at ohmydogblog.com and maggiemarton.com.

Images: Rawpixel.com/Shutterstock.com