Have you started publishing on LinkedIn? I know. I know. You hardly have time to publish on your own site, let alone write another post and share it on LinkedIn. If you're not, you might be missing a large potential audience by ignoring the opportunity to publish on LinkedIn.
If you have cultivated a following on LinkedIn, publishing there makes sense. Why? Because LinkedIn helps with your promotion of that blog post! Once you hit save and update, LinkedIn pops up a box asking if you want to share your post with your connections. Easy and quick. This means your blog post will show up in the feeds of everyone with whom you're connected without your having to take any additional steps.
Yes, you will need to determine whether your ideal audience is on LinkedIn and if they would benefit, or appreciate, your piece, but if they are and you're not publishing there, you are missing out.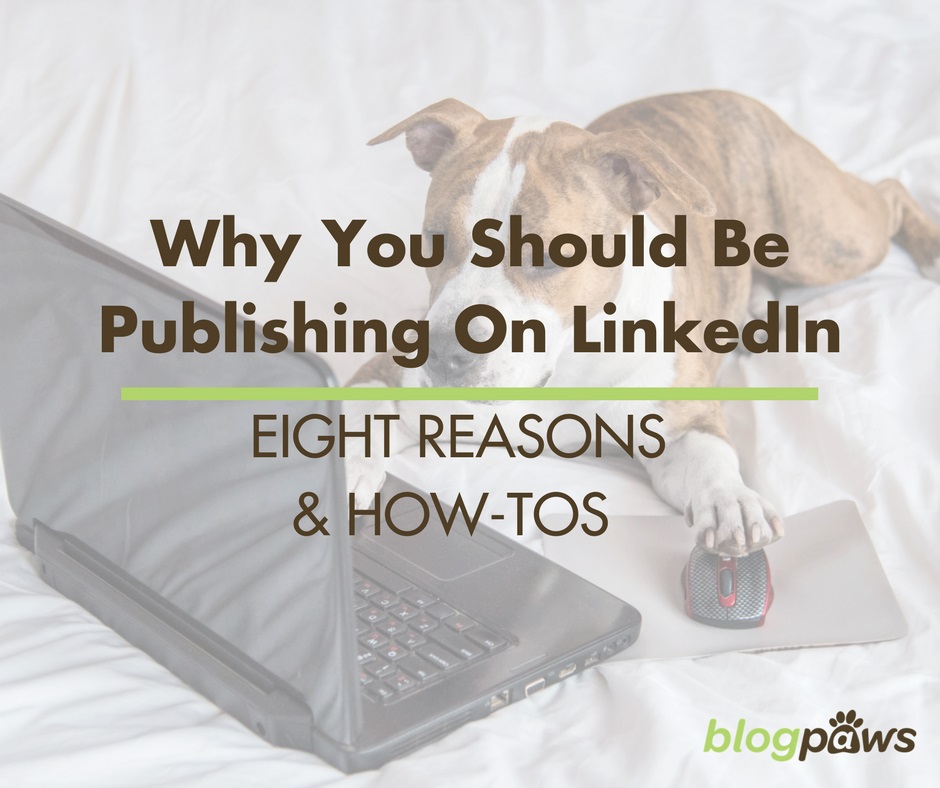 How To Use LinkedIn Publishing To Grow Your Audience
Repurpose old content. Look through old blog posts, breathe new life into them and publish them on LinkedIn. Update the content, write a new intro paragraph and add a new call to action. Include a different photo than the one you used on your original post, if possible. Look at the LinkedIn publishing platform as a new home for your older content. Word on the Internet is that Google won't penalize you for publishing duplicate content on LinkedIn, but I recommend changing the content you'd originally published elsewhere.
Be consistent. Publish regularly and publish posts about trending topics, and you might catch the attention of the LinkedIn editors and they will promote your piece. If the powers that be on LinkedIn like your piece, it may be featured on Pulse or on its homepage!
Reach more readers. When you publish on LinkedIn, your first-level connections will see your post, but there is also a chance that your post will be seen by second- and third-level connections when one of your first-level connections likes, comments or shares it.
Numbers don't count as much. Even if you have a small number of connections on LinkedIn, you could still benefit from publishing posts there. Because your post has a potential to reach second- and third-level connections, your network is bigger than you imagine.
LinkedIn Analytics. When you publish a post, you can see its analytics. LinkedIn offers information on who liked it, how many likes, shares and comments it received and also the demographics of those who interacted. Valuable information if you use it to target your next post.
High engagement. I don't have a lot of statistics to back this up, but each time I have published on LinkedIn, I receive more connection requests, higher engagement and more comments than when I post on my blog. I have also had more conversations with potential clients who reached out to me after I'd published a post. I don't think any of that is coincidence.
Quality audience. I read a survey recently (the survey was about five years old) that showed that close to 50 percent of LinkedIn users had a household income of more than $100,000. Statistics have also shown that LinkedIn is more than 200 percent more effective for business-to-business lead generation than Facebook or Twitter.  Something to ponder.
Highlight your expertise. Expert matters are found in all niches on LinkedIn. Consider that on Facebook, your followers could be your mom, your sister, friends and other family members who may not understand the expertise you bring to the table. On LinkedIn, your expertise shines through to those seeking subject matter experts. Joining LinkedIn groups is also another way to be seen as a subject matter expert, but that's a topic for another post!
How can you make your LinkedIn post shine?
Be specific.
Be concise and clear.
Create controversy (don't be inappropriate or offensive, but take a stand if you can defend it).
Write in a conversational tone.
Provide high value without being salesy. If someone wants to work with you after having read your post, they will reach out without you have to say, "Hey, buy my stuff."
Offer actionable steps.
Don't forget to add images. Video works well in a LinkedIn post if you have them.
Always add a Call to Action — whether it's "contact me" or "download my free eBook" or "share this post with others," a clear CTA is crucial to getting your post shared or action taken. Read more: How to Create a Call to Action That Gets Readers Clicking Through
You'll notice, I am sure, that publishing on LinkedIn is much the same as publishing on your own site. The mechanics of a great post and providing value remain the same, regardless of the site.
As with anything that you add to your marketing efforts, don't jump in without a strategy. If you don't have time and don't see how LinkedIn will fit into your overall marketing efforts, then don't think you have to add this to your already full schedule. If, however, you're looking for ways to grow your reach and you are already on LinkedIn, but just haven't used its publishing platform, then you may want to add it to your marketing and promotions strategy for your blogging efforts.
Are you publishing on LinkedIn? Are you finding value in the platform? I'd love to hear about your successes and your challenges.
Robbi Hess is an award-winning author, full-time writer, newspaper columnist, writing coach and time-management guru. She works with bloggers and solopreneurs and blogs at All Words Matter. I will be speaking at BlogPaws 2017 as part of the Cat Writers' Association. My topic is: "Overworked & Overwhelmed? The Four-Step Process for Reinventing Your Writing" Synopsis: Whether you're writing full time, blogging, in the midst of a multi-book project or just starting out, this session will help you lose the feeling of being overworked and overwhelmed. You'll learn a four-step process to beat procrastination, use time blocking to help you get more done, claim your writing time and bump up your creativity and some in-the-trenches writing tips, hacks and advice. There will be giveaways, handouts and time for questions! Hope to see you there!