Whether you're brand new to blogging or you're looking to take your "blogging hobby" to new levels (aka, those that pay!) this beginner's guide to starting a profitable blog is for you!
If you're like most pet bloggers, you fell in love with your pet then decided to tell the world about him/her/them. You want to make a difference in the pet world through your efforts with shelters and rescues, or you simply want to share your knowledge and expertise. Regardless of the reason, chances are you have thought, "How can I make some money at this?" You're not alone!
In the pet blogging world there are opportunities to make money; you just need to put in the time and effort necessary to build readership and bring in the dough. Here are some ways in which you can monetize your blog:
Affiliate programs
On-site advertising: banner or display ads
Consulting services based on your niche
Selling product
Beginner's Guide To Starting A (Hopefully) Profitable Blog
Blogging for your business may have come about naturally, but if you're looking to make money you need to:
Define your brand.
Understand your business mission and vision.
Know what product or service you're offering.
Set your pricing.
Be willing to put in the time.
Understand your audience.
Build a network both within the pet community and outside of the pet community.
Money and success don't typically happen overnight. If you're looking at your blog as a money-making entity that will allow you to leave your full-time job, you need to have motivation, determination, passion and, above all, commitment.
How can you take your blog from hobby or side-hustle to money-maker? Here are a few basic ways:
Understand your blog
Take an inventory of your blog. Do you have a clearly defined niche and topic? Do you know your ideal reader? Have you written down the steps necessary to get your blog noticed? How do you plan and organize the blog content? Have you made note of any successes your blog has had or any recognition it's garnered?
Don't forget to make note of areas in which you can improve both content and blogging skills, if necessary.
Hey, look at me!
How can you get noticed? It's great to write a blog post and hit publish, but if no one is reading are you furthering any goals? It is not easy to stand out in the blogosphere. It takes time. It takes effort. It takes self-promotion. How?
Network with other bloggers.
Get involved, or be more involved, in social networks.
Attend conferences or blogger meet ups.
Look at your blog and your social media activity, and make note of whether you are truly putting yourself out there.
Get writing
It's a truth: The more you write, the higher the chance you will have at being "found." I know bloggers who publish seven days a week and I say, more power to them. That schedule is exhausting to me. I blog at least once a week on my site. Should I blog more? Probably. Do I have the bandwidth to blog more frequently? No. My readers know I publish once a week and they are all right with that!
Write on your own site. Write on other sites (as long as you're staying within your niche) as a way to drive traffic to your site and to get your name out there.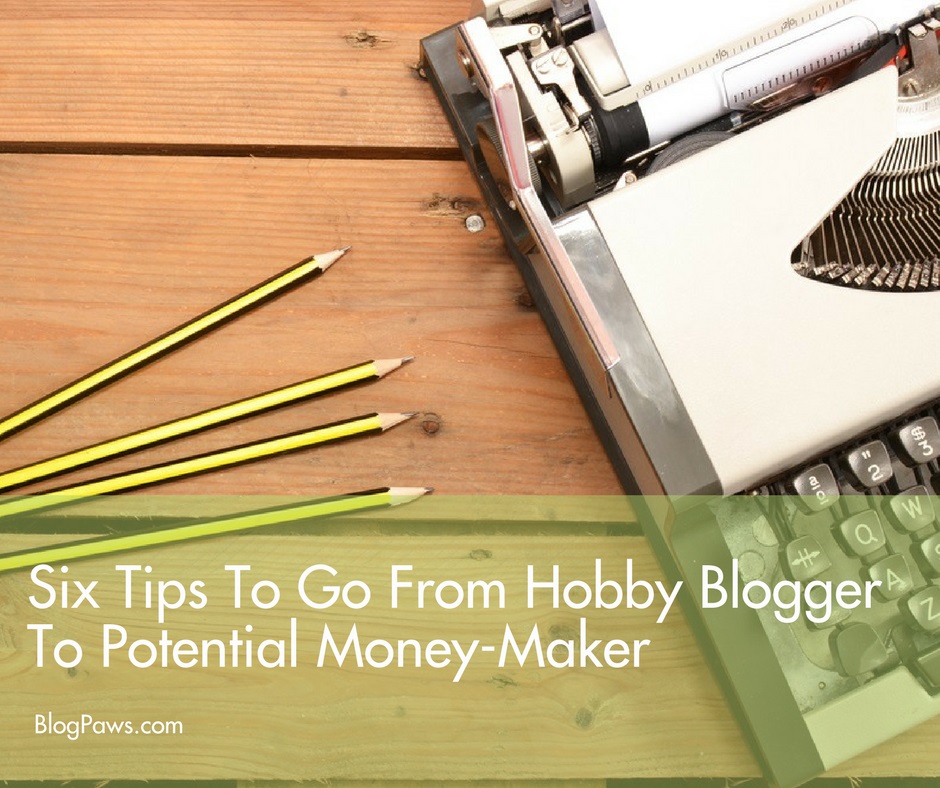 What else do you know?
Can you diversify? For example, my niche blog is about time management and writing for entrepreneurs. I diversify by teaching time management seminars. I get paid for my writing and editing services. I've written a book that will be re-released soon. I teach writing classes. I have moved beyond simply writing a blog post to offering goods and services as a way to enhance my writing income.
What can you do to diversify and look for other income streams? Do you have mad photography skills? Are you being called upon to make the flyers and design newsletters for local businesses? Can you fix a computer? Look for ways to enhance your income by using your other skills.
Hire me!
When I taught writing classes, there would be individuals in the class who'd say, "I've written a novel, but no one has published it yet." I'd ask, "To whom have you submitted it?" Their response? "No one. I just thought someone would ask for it." True story! I don't think anyone is breaking down your doors to look at your completed novel… I mean, how did they know you'd written one?
If you want to get a paid guest blogging gig, you need to apply. Want to be in a BlogPaws sponsored post program? Again, you need to apply. Look on craigslist for writing gigs. Check with sites like Freelance Writing Jobs or ProBlogger.
Look for small businesses in your area that don't have a blogging or social presence and offer to work for them.
When you're thinking of "making money with your blog" don't be too literal. Look at ways to "make money with your skills" that you have honed through your blogging.  
Here is a list of other money-making ideas for your blog
Sell product or merchandise.
Diversify and your services – taking photos, designing images and logos, etc.
Start a subscription or paid membership for your site and offer premium content.
Write a book.
Teach a course.
Write for other sites.
Charge people to write on your site (you'd need to have numbers to back up why you're charging for placement on your blog and what the blogger could expect to receive).
Reach out to a brand you love and see if they have any need for a blogger or social media outreach person. Don't blog for free product – unless you don't need money to pay your bills.
What steps have you taken to turn your blog from hobby to money-maker? Where are you struggling?
Robbi Hess is an award-winning author, full-time writer, newspaper columnist, writing coach and time-management guru. She works with bloggers and solopreneurs and blogs at All Words Matter. I will be speaking at BlogPaws 2017 as part of the Cat Writers' Association. My topic is: "Overworked & Overwhelmed? The Four-Step Process for Reinventing Your Writing" Synopsis: Whether you're writing full time, blogging, in the midst of a multi-book project or just starting out, this session will help you lose the feeling of being overworked and overwhelmed. You'll learn a four-step process to beat procrastination, use time blocking to help you get more done, claim your writing time and bump up your creativity and some in-the-trenches writing tips, hacks and advice. There will be giveaways, handouts and time for questions! Hope to see you there!