Brand fonts are an important part of any business branding. They can help convey the right message to your audience and make your brand stand out.
Some fonts are more memorable, while others are more readable. Fonts also have different connotations and meanings,  so finding a professional font for your business is essential to creating a successful brand identity. 
Why Are Fonts Important In Branding? 
While color is one of the most influential elements when it comes to marketing, fonts are the driving force of your brand's visual personality. When selecting your font, you will want to consider your company values and the message you want to convey.  Every single font has its own personality. Some are classic and timeless while others are edgy and modern.
Making sure that your font is readable and easy to read for all of your customers will help your marketing efforts and convey the message of your overall brand image.
How Many Fonts Should a Brand Have? 
There are many factors that go into deciding how many fonts to use in a brand. Some people may prefer one font, while others may prefer to have a large variety.
Choosing to have only one font for your brand is an easy way to maintain consistency and keep things simple. However, this can also be limiting if you want more options for your marketing materials. 
Font Families
If selecting only one font, it's a good idea to make sure that the font, or the  "font family" is available in different weights. A font family will generally include regular, bold, and italic, but added weights like light, regular, bold, and black can give you more options when selecting a font for a heading vs body.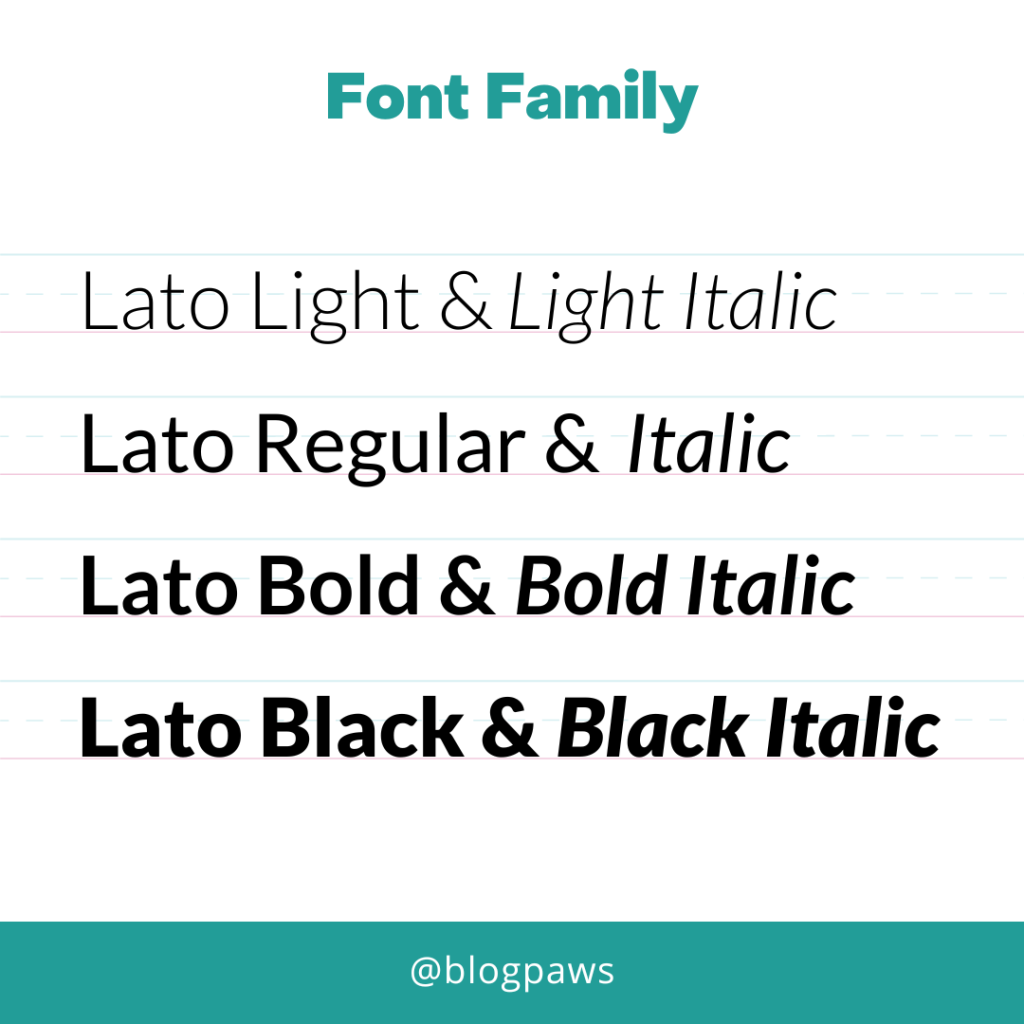 Font Pairings
Font pairings will dictate how and when to use specific fonts throughout your website, social, etc. 
Many think about the fonts as an easy way to modernize your designs. While this might be true, the problem with choosing too many fonts is that there's no consistency and it can give off a chaotic vibe to your audience.
In order to avoid this, it's best to stick with 3-5 different fonts in a font pairing. You'll want a font for your heading, subheading, title, and body. And remember, you can use a single font family, or you can use fonts from different families.  It's also important to consider how legible your fonts will be at smaller sizes.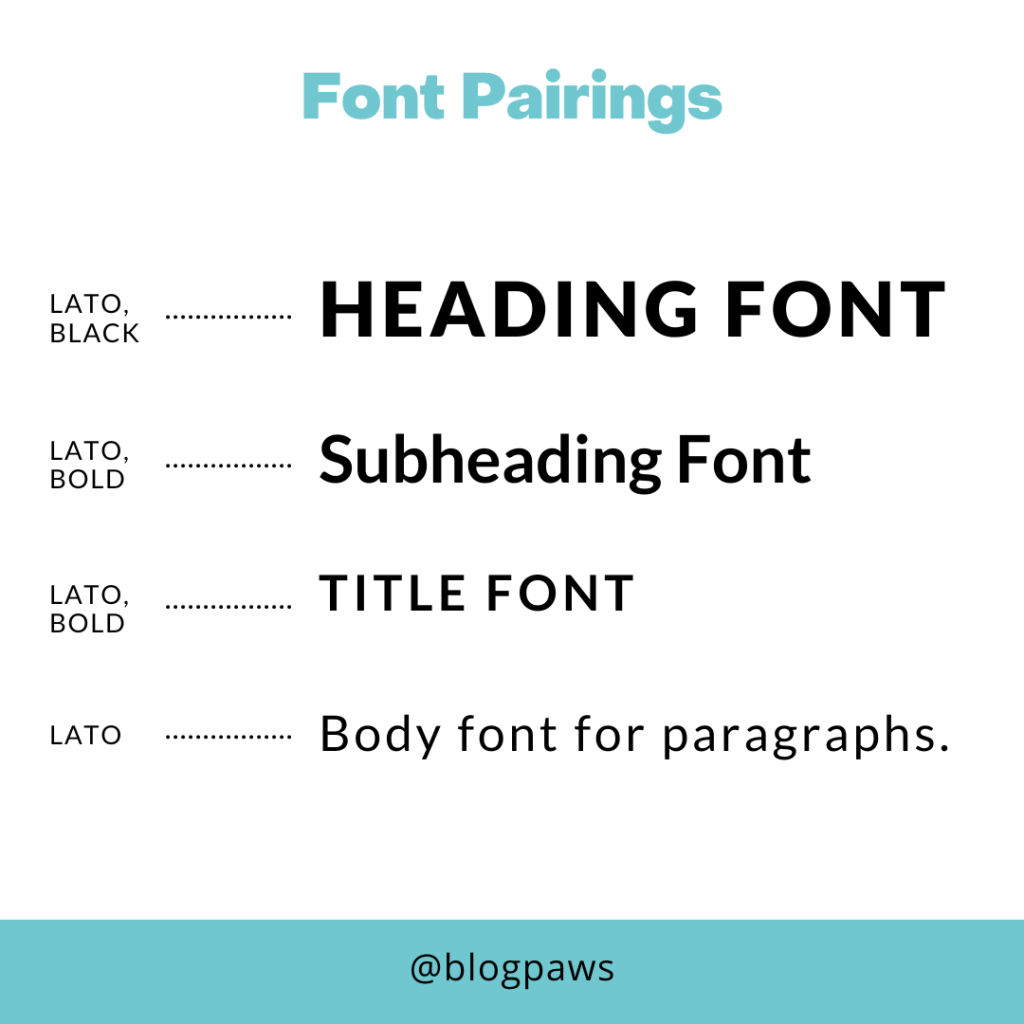 Where to Find Fonts
When choosing a font Google Fonts is an excellent place to start looking. With a library of 1462 open-source font families and APIs for convenient use via CSS and Android, you will be able to find a font that's free and functional for your website. Canva also has font pairings that are easy to use when creating social media graphics. 
Where should I use my Brand Fonts? 
The use of fonts in branding is an important aspect to consider when building a brand. The font that you choose can make or break your branding, so it's important to know how and where to use your brand fonts.
Logo Font
When choosing a font for your business logo, the most important thing to consider is whether or not the font will be readable at small sizes. It's also important to remember that different fonts can convey different emotions and feelings, so it's best to choose one that matches your company's personality.
Your website may be the first place where people see your brand name and logo, so it's important that you use your brand fonts there as well. You should also use them in the graphics you post to social media platforms because these are both places where people will be able to see them in detail. If you have an event or conference, you should use your brand fonts on any signage and also in any printable materials like business cards or flyers.
Depending on the style of font, it's generally best not to use your logo font anywhere else. For example, if your logo is a script font like Coca-Cola, you can imagine how busy their brand would be if those same scripted letters were used in place of the headline font on their website.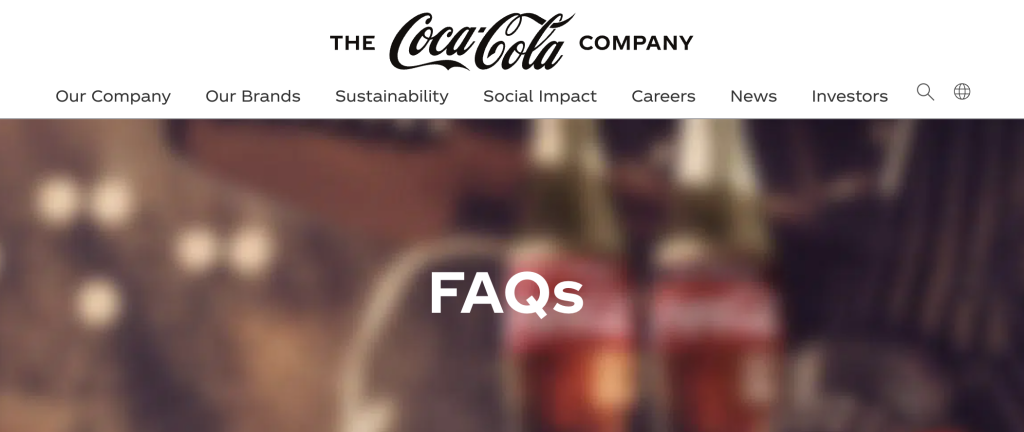 Screenshot from
The Coca-Cola Company
website
6 Tips for Choosing the Best Brand Fonts for Your Small Business
Consider the emotions you're trying to portray in your branding. Is it fun and bubbly? If so, you might want a playful or cursive font. Or does your business have a more modern vibe? Then a sans serif font would be the best choice. If you're trying to look upscale, a serif font in calligraphy style would work better for that. 
Serif fonts are characterized by small feet at the ends of the letters. Sans-serif fonts have no feet. Traditionally serif fonts are often used in print, while sans-serif fonts are used on websites. Script fonts are flowy and generally in cursive.
When it comes to choosing a font for your brand, there are many factors that you need to keep in mind. The one (or more) you choose should be able to reflect the spirit of your brand, it should be easy to read for customers, and it should also suit the audience.
There are a few things that you can do before you make the final decision on the best fonts for your business. You can try out different fonts and see which one suits your brand best. You can also take a look at other brands in your industry and see what fonts they are using and which options work well with their style. 
Here's a checklist to keep in mind when selecting fonts. Be sure to evaluate all of these aspects when making your decision. 
Understand your brand identity.

Research and understand typography. 

Make a list of the brands and fonts you admire

Ask yourself what exactly you like about these fonts

Test a few fonts and make sure it works in your social media graphics

Ask for help from a designer
Remember! Every typeface has its own personality. This personality might not match your business's intentions and goals, which is why it is important to research fonts before making a decision. 
FIN
It's important to know where and when to use your fonts since they set the tone for everything else. While the font used for a logo is one of the most important things to consider, your supporting fonts affect the clarity of the message you are trying to send.  
When choosing a font, it's important to consider your brand's personality,  typography, pairings, and size so that you can create a brand that has a lasting impression.
About the Author: Christy Castillo lives in San Diego with her beagles, Elvis and Cosmo. Together they explore the beach with their pack and also practice nose-work for fun. Christy has a background in graphic design and video editing. She works behind the scenes at BlogPaws creating our fantastic designs and making sure we all stay on brand (eh hem, Chloe). You can see all her adventures with Elvis, @elvis.thebeagle on Insta.