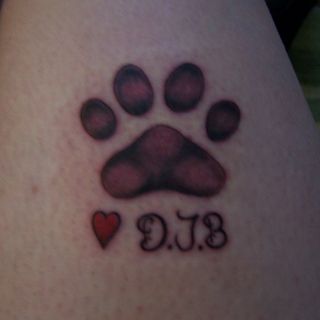 by: Carol Bryant
Walking into a tattoo parlor and saying "ink me" is one of the most permanent (and extreme for me) things I have evern done to further embrace my love of dogs. I've always been someone unafraid to hide her passion to help dogs.
Growing up, I found every dog book I could and took refuge in the library. Words became my escape, my fuel, my passion. I recall the librarian asking me if "I was really going to read 10 books in two weeks" as I stuffed my Judy Blumes and Encyclopedia Browns and the few canine-inspired titles I could find into the small white and purple basket on my banana bike.
Two weeks later, I'd be back with crumpled library card, ready for more.  I could go anywhere with words and in the name of dog. Whatever mood I was in, I had an escape and it was 2 blocks away. And then came the day when I knew ink had to mark the spot….
In what has become a permanent trend in a way to forever memorialize a beloved pet, grieving guardians/pet parents (myself included) are turning to tattoos as a lasting tribute. An intensely personal experience—and forever etched on the largest of the body's organs (yes, skin)—this indelible ink serves as an emblem of honor and love.
Yours truly went under the needle twice, both times in the name of dog. For my 40th birthday, I gifted myself a tattoo. 
While vacationing in Cape Cod with my Cocker Spaniel, Brandy Noel, in September of 2008, I decided that I would have her paw print impression put on my leg.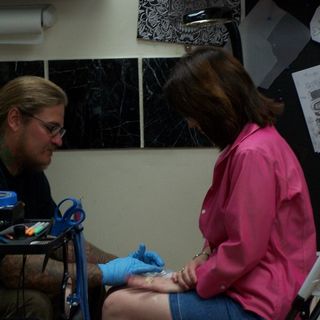 For all of her life, Brandy sat on my lap. And when she would get up, her tiny "impression" would leave a temporary paw imprint on my skin. Eureka! I decided to have her imprint done on my leg right where she would rest her paw forever. 

The whole process took about an hour. The tattoo artist owned the shop (Mooncusser Tattoo), and before I decided, I did my research, talked to him about it and then went for it. It really was not as painful as I thought it would be, and it healed up nicely.
Three weeks after having this done, I lost my little girl to what was believed to be liver cancer and complications of IBD. She was one week shy of her 15th birthday. And I think Brandy left me one last gift.
I had a little tattooed heart emlbazoned near Brandy's paw print tattoo on my leg. On November 8, 2008, little Dexter came into my life.  And as fate would have it, Dexter has the marking of a heart imprint in his fur. Talk about messages from the angels. In 2009, Dex marked his spot with a second paw print right next to his departed sister.
And I am redy to do it again, this time embracing my love of dogs in general. As a wise friend once imparted, the temporary pain of the tattoo is much easier than losing a beloved pet.
What is the most permanent thing you've done in the name of your pet passion?