If you are focused on building a blog or small business website, understanding your website traffic is a valuable tool in your business growth. But, for those who are used to working with Universal Analytics, the pending end of UA has led to a lot of stress and anxiety. What is changing? How will it impact your business growth? Where do you go from here?
In this guide, we're going to dig into the details of Google Analytics 4 vs Universal Analytics and how to set your small pet business up for success.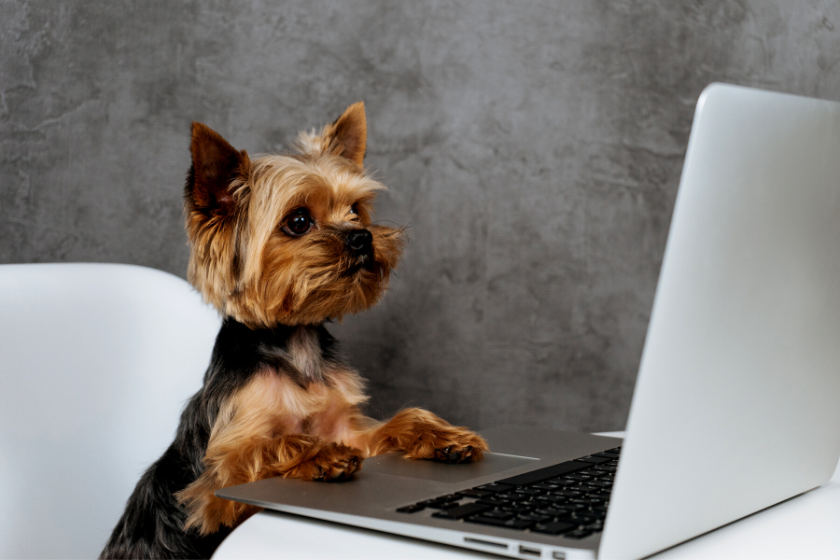 Is Universal Analytics Obsolete?
Yes! As of July 1, 2023, Universal Analytics has been retired and will no longer process any data for your website. If this is the only website analytics tracking option you have set up, it's time to get an alternative set up. This could include making the change to Google Analytics 4 or seeking an option outside of what Google offers. 
Why Do We Recommend Google Analytics 4?
As I mentioned, there are alternatives outside of Google for tracking your website's traffic. However, for most small pet business owners, we still recommend using GA4. Why is it easier to stick with Google?
Start by considering your end goal. What are you hoping to achieve by tracking and assessing these analytics? The hard truth is that 93.12% of all searches are done through Google. This means that while we talk about optimizing our site for search, we're really focusing primarily on how our site will perform on Google specifically. When it all comes down to it, Google plays well with Google. What I mean by that is if you are trying to set your site up to show up on Google searches, it makes sense to make decisions based on information straight from the source.
If you are set on leaving Google behind and switching to a different website analytics option, some alternatives to consider include the following:
If you haven't already installed GA4 on your website, now is the time!
Navigating Google Analytics 4 Vs. Universal Analytics
If you have just logged into GA4 for the first time, you may feel overwhelmed. The good news is that while there ARE some changes, the two options are more alike than you may think! To help you better understand the GA4 interface and how to use GA4 vs. Universal Analytics, we will break down some of the more significant and impactful differences.
Privacy Concerns
One of the significant concerns that often came up in conversations about Universal Analytics was the collection and storage of user data, especially with the privacy and data breaches associated with several big online platforms like Facebook. In response to these concerns, Google made significant changes in the switch to GA4 regarding privacy/data protection.
Starting with Google Analytics 4, Google no longer collects and stores IP addresses as part of its website tracking. While it still does track location-specific data, GA4 offers the ability to turn this off. Finally, the GA4 dashboard makes it easier than ever for you to go in and delete a specific user's data on request. This allows website owners to work with their visitors to meet everyone's needs. 
Understanding Events
One of the biggest differences between GA4 and UA is how visits are tracked. The data you see in Google Analytics 4 revolves around the concept of "events." But what are events, and how do they translate to the actions taken by your website visitors?
Events refer to any interaction your website visitor takes with your website. This takes many of the actions tracked in UA and pulls them all under a single umbrella, including pageviews, clicks, video watches, purchases, etc. This means that most of the basic website data that bloggers and small business owners are looking for can be found under the Event heading.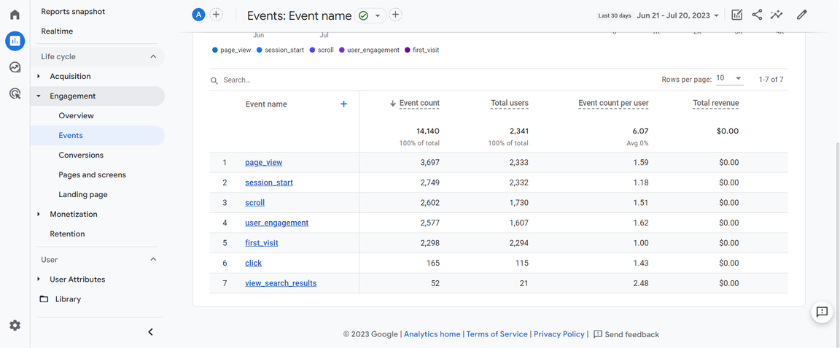 Bounce Rate vs. Engagement Rate
One metric that many bloggers focused on in the past was the Bounce Rate.
With UA, Bounce Rate referred to any session where a website viewer visited a single page on your website and then left without clicking through to another page or taking an action, like making a purchase. This was focused on primarily because it was believed that this metric reflected the number of people who weren't getting value from your website or viewed your content as low-quality, leaving your site to search for the information they needed elsewhere.
However, as the search behavior of the average website viewer changed, so too did the way we viewed this behavior.
Google has adjusted its algorithm to recognize that people can come to your website and get all the information they were searching for without leaving the original page. In fact, this reflects high-quality content and a good user experience! With this shift, tracking your website traffic also needed to change. Enter Google Analytics 4.
To understand the Bounce Rate on GA4, you must first understand what an Engaged Session means. An Engaged Session refers to any session that satisfies one of the following requirements:
Lasts 10 seconds or longer

Has 1 or more conversion events

Has 2 or more page or screen views
The Bounce Rate on GA4 refers to the percentage of sessions that aren't considered Engaged Sessions. This means that a person who comes to your website, reads through a page (for 10 seconds or longer), finds what they need, and leaves will no longer count towards your Bounce Rate.
Reporting
One of the big Google Analytics 4 differences is the number of reports that are available by default. When you access the reporting, you will notice that far fewer reports are set up for you than were by default with Universal Analytics. At first glance, this may feel like the information being provided by Google Analytics may be limited in comparison. However, this isn't the case.
Google Analytics 4 offers more options for creating custom reporting, making it something that can be better adapted to each website owner's individual needs.
Fewer reports are premade for you but don't let this limit you. Learning to set up custom reporting will open the door to a much more robust ability to track, analyze, and understand your website visitors and their actions. This may take some getting used to, but once you do, the world is in the palm of your hands!
Explorations
If you've been looking at the Google Analytics 4 dashboard, you have likely seen the Explorations section. This is a new option with GA4, but what is it, and how can it help you?
Explorations is an advanced reporting and analysis tool that allows website owners to go beyond standard reporting. It takes the basic data collected and organizes it to help you analyze it as it relates to your specific business goals. There are a few Explorations already set up and ready to use, as well as the ability to set up custom Explorations using a blank template.
Some of the premade Explorations reports available to you include the following:
Funnel Exploration:

The Funnel Exploration report is designed for website owners with a defined sales funnel in place on the website. It specifically focuses on the steps of the funnel, showing which steps effectively drive people through and support your website conversion and where the funnel needs some work.

Path Exploration:

This visually breaks down how users navigate your website, showcasing the relationship between sessions, screen views, page views, and other events. It can help you see which pages and events are effectively leading your website visitors through the sales journey and which are causing viewers to drop off.

Segment Overlap:

When focusing on the different segments of your website viewers, we can fall into the trap of seeing them as entirely different groups or entities. This report helps you identify where these segments overlap to better focus your efforts with your target audience in mind.

User Explorer:

This allows you to focus on a specific user group to better understand the individual behavior of your website visitors. It can help you identify areas where user experience can be improved with your specific users in mind.

Cohort Exploration:

By segmenting your website users into pre-defined cohorts based on a set of criteria, this report helps you see how users with shared characteristics engage with your website. It can help you focus your marketing strategy to better reach your target audience.

User Lifetime:

This report helps you see the greater impact of your efforts over time by breaking down the expected lifetime value of the users you drive to your website. This includes expected lifetime engagement on your site, lifetime value in terms of purchases, and more.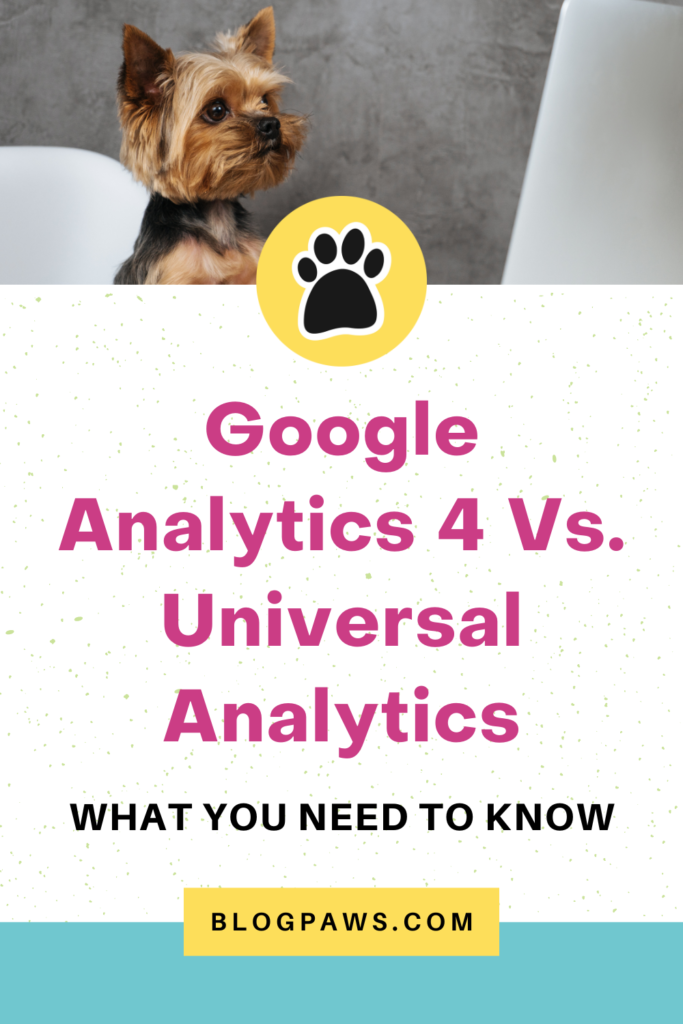 Next Steps for Small Pet Business Owners
Now that we've looked at Google Analytics 4 vs. Universal Analytics in terms of data collection and reporting, you may be wondering: What does this mean for you as a small pet business owner? How can you fuel your content marketing efforts using this new and updated tool?
The most important thing you can do is to dig into the different reporting options and start playing around. We can share all the differences and opportunities, but nothing will compare to seeing this information firsthand. This includes both customizing your reports and experimenting with the Explorations. Each small business owner will have different needs regarding their website analytics, so this is your opportunity to find what will work best for YOU.
Are you still overwhelmed while navigating Google Analytics 4 vs. Universal Analytics? Do you need help understanding how this information directly applies to your small pet business?
Book a 1-on-1 call with a member of the BlogPaws team to discuss your individual needs. Whether you seek the technical know-how of Jessica, BlogPaws COO/CMO, or the SEO expertise of Britt, BlogPaws Director of Content & SEO, we are here to help you reach your business goals!
About the Author: Britt Kascjak is a freelance writer and content creator with a background in digital and social media marketing. In addition to being the BlogPaws Director of Content & SEO, she also runs her own personal blogs Shed Happens, The Kas Pack, and Lucifer the Rescue Pup. When she's not working, she can be found volunteering in the rescue space, camping, hiking, canoeing, or spending time with her 3 dogs and 2 cats.