New to the blogosphere?
Welcome!
You'll love it here, though I'll be the first to admit: With all the acronyms and buzzwords, it's tough to know what's what when you first get started! So, here for you is a short blogging terminology guide with some of the basics.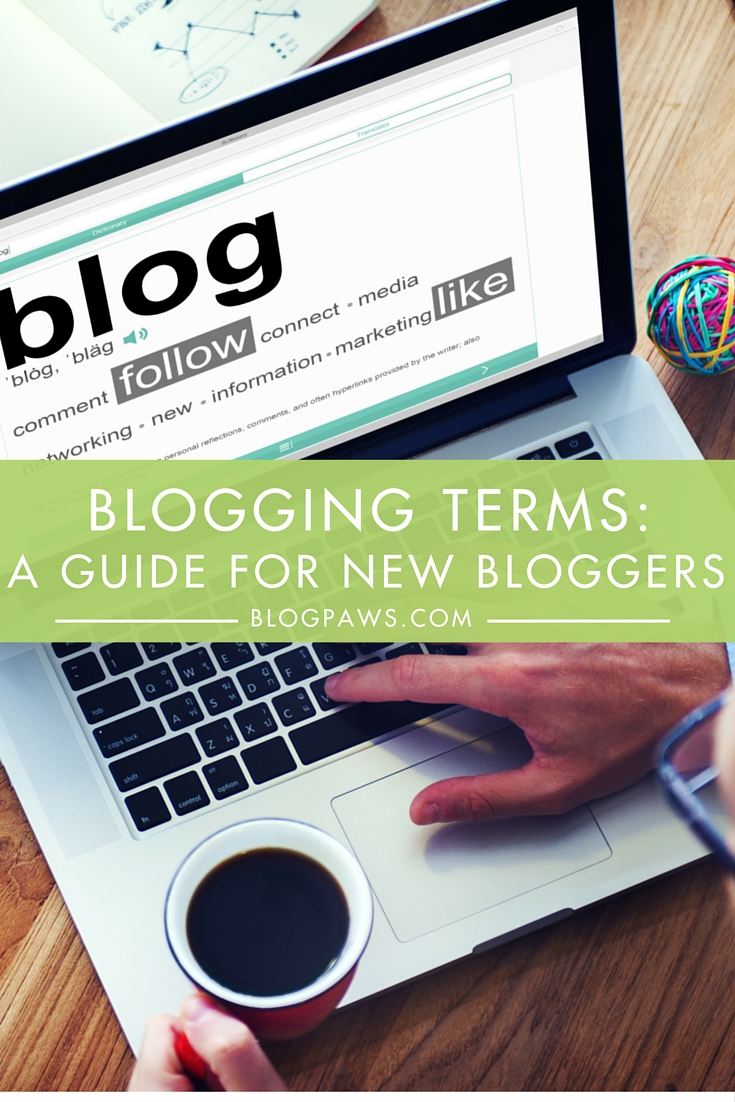 On the Front End
This is what your reader sees. Instead of alphabetical order, this bit of the glossary is arranged from the top of your website to the bottom.
Header: The spot at the very top of your blog and usually the first thing a reader sees when visiting. It usually contains the site name and a visual, like your logo.
Navigation (aka "Nav Bar"): The list of places a reader can navigate to on your site. The basics are Home, About, and Contact.
Page: A static piece of content (like your About page), usually accessible from the Nav Bar or Sidebar (see below).
Post: Blog entries! They appear in reverse chronological order, often on the homepage but sometimes through a Blog tab. Posts are archived and searchable. Key point: If people subscribe to your blog via email or through an RSS Feed (see below), they receive your new posts.
Fold: The point at which someone has to scroll. Anything they can see without scrolling is "above the fold" and prime real estate on your site. Anything that requires scrolling to view is "below the fold."
Footer: Scroll allllllllll the way down to the bottom of the page, and you'll find the footer. This usually incorporates navigation to other areas (like a Contact or About page) as well as copyright information.
Sidebar:Pieces of content that span the left or right side of your blog. Tip: Keep it simple! Make sure whatever appears in the sidebar is useful to your reader; otherwise, it can get visually cluttered!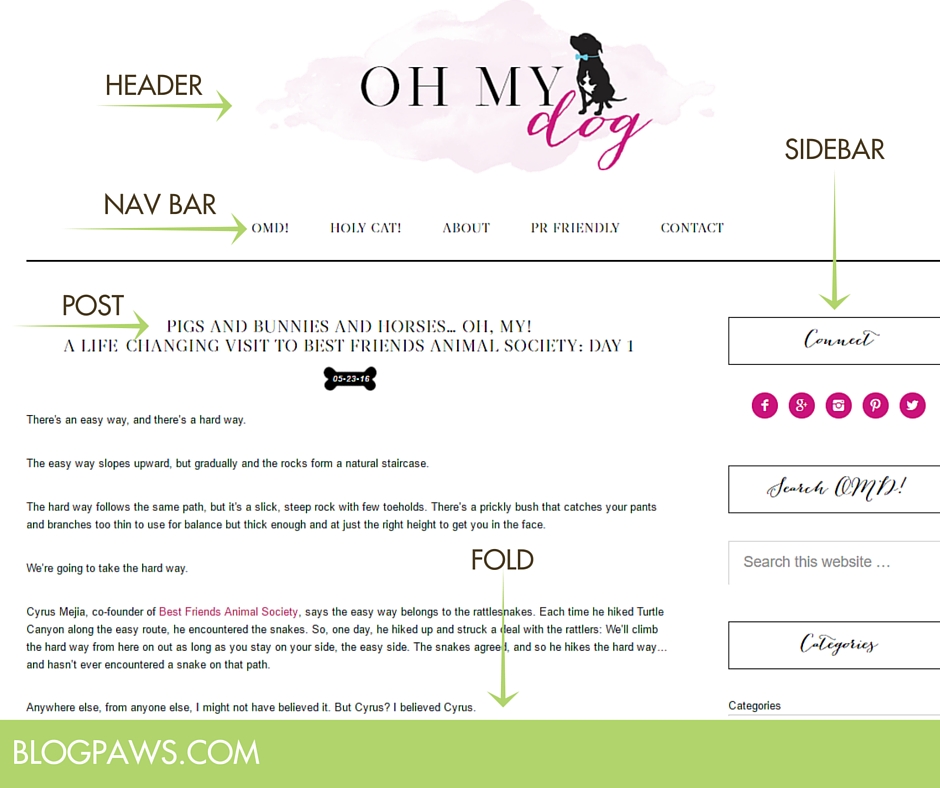 On the Back End
These terms are the bare bones of what you need to know to manage the back-end of your site (that is, the spot that readers don't see, where your management controls live).
SEO: Stands for Search Engine Optimization. Most people use search engines (like Google) to find answers to questions, to shop, or to simply browse. You want to optimize your site so that people find you. Learn more about finding keywords for your blog.
HTML: Hypertext Markup Language. It's a system of codes that allows you to do things like bold text or insert hyperlinks. A basic knowledge is very helpful, though most blogging platforms (like WordPress and Blogger) have the fundamentals built in.
CSS: Cascading Style Sheet. This is what creates the visual of your blog, the part that readers see. It takes all those bits of HTML code and formats the layout of your site. This, too, is built into most blogging platforms.
RSS: Rich Site Summary or Really Simple Syndication. RSS is a format that allows your content–those awesome posts you write–to be delivered directly to readers, sometimes via email but often through a feed like Bloglovin' or Feedly. You can download simple widgets (if you're on WordPress) to streamline this for you and your readers. Or learn more directly from WordPress support.
Widgets: Plugins you can install to fully customize every aspect of your WordPress site. Many are free. Tip: Beware of spammy widgets. Read reviews carefully before downloading anything–and always backup your site before installing a new widget.
Content, Marketing, and More
A quick glance at some of the other aspects of blogging.
Blog Hop / Linky Party: Blog hops and linkups (like BlogPaws' Wordless Wednesday!) allow bloggers to share their posts related to a theme or event. Participants then visit the other blogs in the linkup to support one another with views, comments, shares, likes, etc.
Media Kit: A compilation of all the key selling points about you and your blog to show to potential partners. Learn how to put together a media kit.  
Evergreen: Content you create that's timeless. It stays relevant–maybe with a refresh or update every so often–versus time-bound content that's usefulness has an expiration date (like, announcing an upcoming event).
Sticky:Top-performing content that gets your readers to "stick" to your website. Sometimes it's pinned to the top of the page.
Trolls: People who visit websites just to leave mean, negative comments. Have a troll? Here are some ways to deal with trolly behavior.
Lurker: Most of your readers will fall into this category. These are folks who read your posts, engage with your content, but never leave a comment. Several resources cite different ranges, but the general number of commenters is between one and 10 percent of readers. That means 90 to 99 percent of your readers won't ever comment. And that's OK! Just remember, especially as a new blogger: Don't measure your success by the number of comments you receive.
Whew! There you have it: A (brief, believe it or not) blogging terminology guide! All this, and we haven't even touched your Analytics Dashboard yet!
We'd love to know from YOU in the comments below!
Long-time bloggers: What did we miss? What would you add to this list?
Brand-new bloggers: Any questions about the above? Or have you encountered any acronyms or terms that you're curious about that aren't included here?
Images: Rawpixel.com/Shutterstock.com
Maggie Marton serves as the BlogPaws senior editor. When not hiking with her two pit mixes, Emmett and Cooper, or playing with Newt the Cat, Maggie writes about them (and the pet industry) at ohmydogblog.com and maggiemarton.com.