When it comes to growing your audience, you've probably seen all the typical advice: leave thoughtful comments on other blogs in your market, share your colleagues' work across social, participate in boosts and hops, and so on. Yes, those things work, but many bloggers fall into the trap of marketing themselves only within a small group of blogs. Cultivate those relationships while finding new ways to grow your readership! To grow your influence, it's important to grow your readership. Check out these 5 ways to find new blog readers: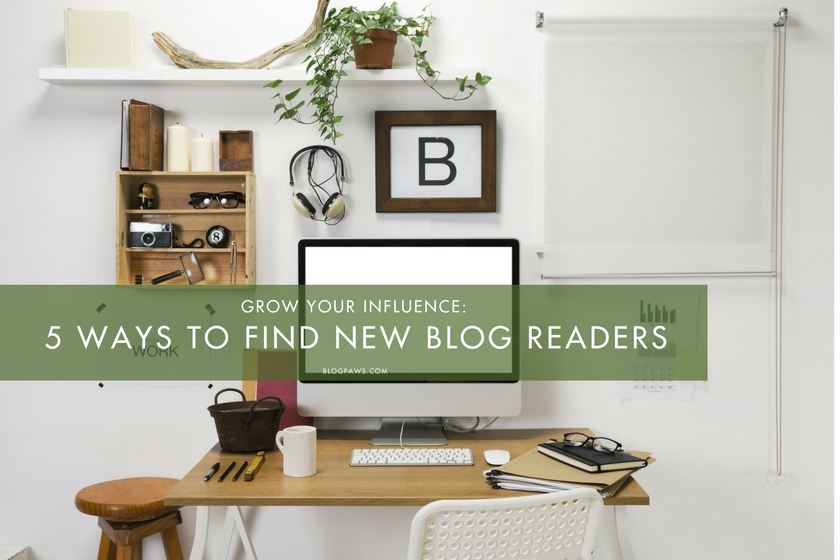 IRL
Most of us are used to working at home, in cozy clothes, surrounded by our animals. Getting out of the house and meeting likeminded people is a fun way to grow your readership. Find an event, grab a stack of business cards, and start meeting people who just might turn into loyal blog readers. Note: It doesn't have to be a formal "networking" event. In our line of work, think how many people you could meet volunteering for a shelter or rescue! Need to brush up on those networking skills? Check out this roundup.
Comment Outside Your Niche
One of the most-often-repeated piece of advice for growing a readership is to leave thoughtful comments on blogs in your niche. And you definitely should be doing that as part of your daily routine. However, to really expand your reach, be sure you're leaving thoughtful comments on blogs outside of your niche! The blogs you already read in other, non-pet categories–photography, fashion, motherhood, business, cars–and likely written and read by people who have pets. Connect through the comments and watch your influence grow!
Blog Challenges
Participate in a blogging challenge to discover new blogs and to be discovered. There are blog challenges for nearly everything: 30 posts in 30 days, 52 weeks of XYZ, photography skills, etc. Some are even hosted within the BlogPaws community. Find a challenge that speaks to you and participate, setting aside extra time to engage with other participants. Head to Pinterest and search "blog challenge" to find one that works for you and your blog.
Email
Do you send an email newsletter? Or have you made your blog available for subscription via email? Both of those are important, but have you considered sending personal emails with new posts? Consider sending relevant friends, family, fellow bloggers, and longtime readers a personal note like, "Hey, Julie! I just published this post, which I think helps answer the question you left on (link to post with Julie's comment). Let me know what you think!" or "Hi, Uncle Jude! I know your dog is dealing with allergies. I wrote this post all about allergies in dogs and thought it might help." This is a tactic to use sparingly, but that personal touch can create a loyal fan base.
Press Releases
Package a series of blog posts, awards you've won, or events you're hosting, and send that info out to the media. Local media is a great place to start because most outlets are always searching for a local angle to a good story. Not sure how to start? PR guru Carol Bryant shared How Pet Bloggers Can Capture Media Attention with real-life examples.
Have you tried any of these tactics? How do you find new blog readers? What has worked the best for you for growing your audience and your influence?
Maggie Marton serves as the BlogPaws senior editor. When not hiking with her two pit mixes, Emmett and Cooper, or playing with Newt the Cat, Maggie writes about them (and the pet industry) at ohmydogblog.com and maggiemarton.com. 
Images: BONNINSTUDIO/Shutterstock.com and Lisa A/Shutterstock.com