*Updated: January 17, 2023
Pinterest is not a social media platform. Pinterest is a search engine. Once you know this and understand why people go to Pinterest, the focus on blog traffic is crystal clear.  People log onto the platform to search for information and answers, and blog content is a great way to provide that. But how do you turn your Pinterest traffic into blog traffic? Is there a secret to directing people to visit your website? Check out these 5 tips to use Pinterest for blog traffic. 
Know What Your Audience Wants
There was a time when Pinterest required a specific number of pins to be shared from others for your account to avoid being seen as spam. The best practices have changed over time. You can still save content from others in your industry, but be selective in sharing only high-quality content that fits your niche. 
But the best way to grow your account and utilize Pinterest for blog traffic is to establish a consistent posting schedule for your original content. 
Create Eye-Catching Pins
Pinterest functions like a search engine, returning results based on a specific search query. But the most significant difference between the platform and search engines like Google is that all the results will be visually based. To stand out in the search results, you need to create high-quality, professional-looking Pinterest graphics that will catch the eye of the Pinterest users in your target audience. 
For standard pin creation, creative best practices include: 
Create a vertical image with a 2:3 aspect ratio

Choose imagery that showcases your brand

Include your logo or branding on every pin

Use clear, easy-to-read text overlay

Optimize your pin title and description

Include a relevant link to your website
In addition to standard pins, you can also publish both video pins and ideas pins to help increase your visibility on the platform. An effective social media marketing plan for your small pet business should include a mixture of different pin types to best take advantage of what the platform offers. 
Branding your content with your logo, website, or brand name will help you identify and address stolen pins should you be faced with that challenge. 
Use the Latest Pinterest Tools
Successful Pinners have a strategy, plain and simple. There are many great tools available to help you put this strategy into practice. This includes both tools on the Pinterest app itself and third party social media tools. 
If you're looking to keep your Pinterest efforts simple and budget-friendly, consider the ever-evolving tools from the folks at Pinterest. Not only do they allow you to keep up with a consistent posting schedule, but they can also help you add more flavor, focus, and strategy to your pins.
Pinterest tools that could benefit your small pet business include: 
Pinterest's native scheduling tool

Analytics and insights

Rich pins (including product pins for product-based businesses)

Shopify integration 
When considering how to promote a blog on Pinterest, take a moment to assess which of these tools will help you to share your brand message. This includes obvious uses, like sharing your product or service and the benefits they offer your audience, but try to think broader. For example, if you sell dog enrichment toys you could use recipe pins to share ideas for stuffing the toys. 
Size Matters
Yes, the right image, the proper text, and a clear call to action with descriptive text all are important, but size matters big time, too. If you are taking the time to create a pin, then by all means take the time to create the properly sized pin. As we mentioned above in the creative best practices, Pinterest has a preferred 2:3 aspect ratio. For example, this could mean 600 x 900 px. or 1000 x 1500 px.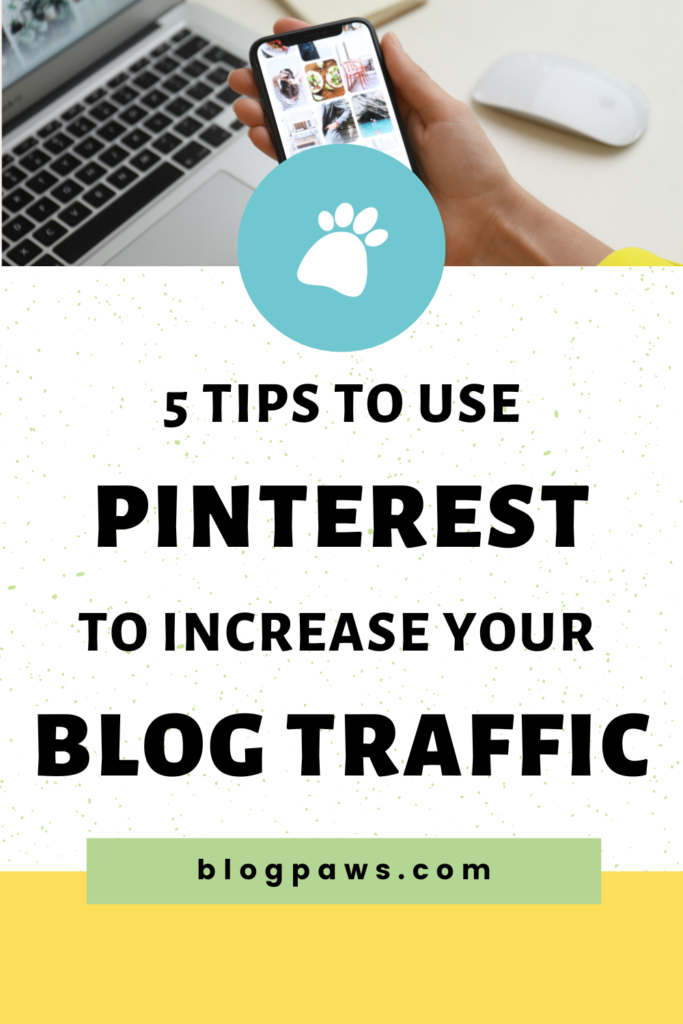 Create Dedicated Pinterest Boards for Your Pillar Topics
To optimize your Pinterest boards for search on the platform, you want to consider the board title, description, and what content you are saving. 
When folks search for your blog posts on the Internet, what phrases or words are you trying to rank for? The same goes on Pinterest. For example, let's say you have a Pinterest board called "Everything Cat Litter." This is where you should save your pins where you post reviews, recommendations, and any other cat litter focused content. Avoid saving any content that doesn't relate to the topic. You want to make it clear to Pinterest what content topics can be expected there. 
In addition to being intentional with what pins you place in your board, create a board title and description that includes relevant keywords. In this example, your board title should specifically state "cat litter," and your description should include other related keywords. 
If someone comes to Pinterest searching for "Everything Cat Litter," they may see your individual pins or the board itself in their search results. 
Put the Social in Social Media on Pinterest
For all of the savvy marketers and tips online about Pinterest for blog traffic, the most overlooked is the most obvious: Be social. I have a dedicated portion of my day where I engage with social platforms. For Pinterest, here are a few tips to help your pin engagement and clicks:
Pin quality content that folks actually care about: Fuzzy, small, pixelated is out.

Ask yourself if a random stranger would know what the pin is about simply by eyeballing it. A photo of a dog with a bag of food = no; A photo of that dog with the food and the title of your blog post in text overlay consistent with your brand = yes.

Repin your followers' pins (if relevant) and comment to let them know you were there.

Check out your blog and other social media platform comments. Answer those questions and comments in a Pin. If someone asked a cat litter question in your blog comments, another person likely has that same question.
Just Make it Happen
Now that we have discussed specific strategies and best practices on the platform, there is one last step. If you're interested in learning how to use Pinterest for blog traffic, the most important thing you can do is just be active on the platform. Too often, content creators and small business owners become caught up in the planning stage and fail to act on these plans. 
What's your biggest obstacle on Pinterest? Do you like the platform?
Carol Bryant is the Marketing and Social Media Manager for BlogPaws and runs her own blog, Fidose of Reality and its fundraising arm, Wigglebutt Warriors. When not busy playing with her Cocker Spaniel, Dexter, she stays far away from cooking. Her trademark is her mantra and is tattooed on her arm: My Heart Beats Dog.®