What do you include in every single blog post?
Every blog and every blogger is unique, of course. However, regardless of your blog's topic, market, or audience, every post should have the same handful of inclusions. That doesn't mean every post is formulaic. It does mean that every post needs to follow a formula… with tons of room for creativity and authenticity!
Let's dig in to clarify that point!


A Catchy Title
You only have a couple seconds to grab someone's attention. Keep it punchy and give only enough info to pique your reader's interest.
Learn more: 5 Blog Headline Secrets
A Juicy Story
Not every post lends itself to high drama. However, every post should tell a story. In other words, you need a beginning, a middle, and an end. Storytelling is the key to successful blogging. It's what keeps your readers reading and inspires them to come back for more.
Learn more: Storytelling for Pet Bloggers and How to Sell with Story
Stand-Out Imagery
You don't need a ton of photos, but one great hero shot can do the trick. And those beautiful pics contain a title, a description, and appropriate alt text.
Learn more: Optimize Blog Images for SEO
Google Juice
No one writes to not be read, right? You want readers to find you, so you have to optimize your post. Many pet bloggers have reported that they skip this step because it feels overwhelming. It doesn't have to. Pick a solid keyword or two and use it naturally throughout your post. With practice, this becomes seamlessly integrated into your blog routine.
Learn more: Start with this crystal clear primer —> SEO Should Not Make Your Fur Fall Out  then read Formatting Your Blog Content for SEO. Both are from our brilliant friends at DragonSearch and will help you become an SEO ninja in no time!
Call to Action
I prefer to call this a Call to Inspire, but that phrase hasn't caught on yet so we'll stick with Call to Action. The goal: End your post in a way that inspires your reader to action. What kind of action? That's up to you and your business needs, but it can be anything from subscribing to a newsletter, leaving a comment, or registering for a conference! Ask a question, leave a link, embed a form… whatever it takes to inspire your reader to take that next step.
Before we end, let's throw in one more bonus thing your blog post should have: Links to internal posts. Make sure that your blog post directs your readers to other helpful resources within your site. It'll provide added value while dropping your bounce rate.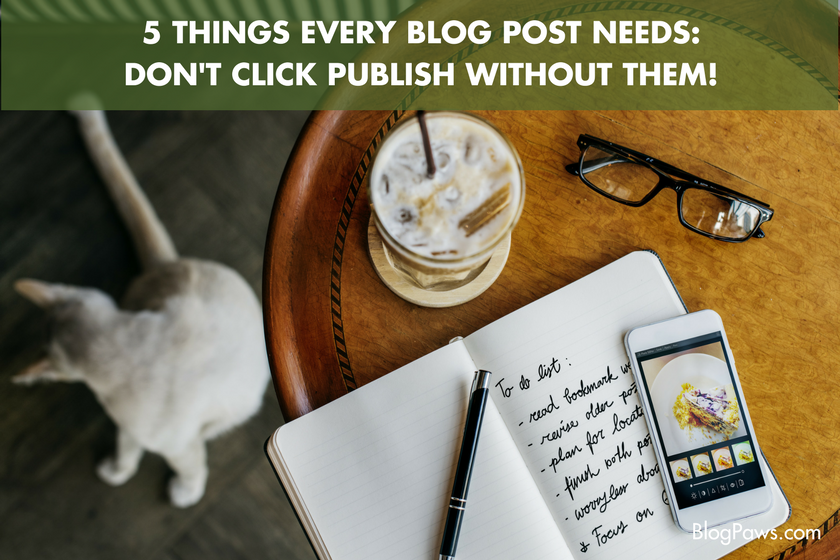 There you have it! The 5 things every blog post needs, along with a bonus sixth. (How many did we do here? Hopefully this post modeled them all for you!)
What would you add to this list? What things do you ensure every post has on your blog before you hit publish? 
Maggie Marton serves as the BlogPaws senior editor. When not hiking with her two pit mixes, Emmett and Cooper, or playing with Newt the Cat, Maggie writes about them (and the pet industry) at ohmydogblog.com and maggiemarton.com. 
Images: Rawpixel.com/Shutterstock.com