At this year's Global Pet Expo, American Pet Products Association president, Bob Vetere, announced that pet industry spending in 2016 rose to a record high of $66.75 billion. The pet industry has experienced continuous, unprecedented growth: According to the APPA, there are 84.6 million pet-owning households in the US, which puts pet ownership at about 68 percent of total households.
That's a lot of people with a lot of pets spending a lot of money!
A handful of trends are driving sales and product development in the pet industry, many of which are reminiscent of what we looked at when we considered the 2016 trends in the pet industry.
Better Pet Food
Pet food is the segment with the biggest spending and the biggest increase from 2016. Coming it at a whopping $28.23 billion dollars, the pet food market is booming. Last year, we considered the increased demand for premium and natural products; that push for high-end food and treats drives spending in this category. Expect to see continued, steady growth in the pet food category.
Millennials Own the Most Pets
In 2016, millennial pet ownership surpassed baby boomer pet ownership. Thirty-five percent of all pets are owned by millennials. As this shift happened, so did the increase in spending on pets. Millennials treat their pets differently than other generations have, treating them more like an integrated member of the family than any previous generation. This equates to more spending and drives a number of the other trends the pet industry is seeing right now.
Pet Tech
Pet tech is huge in terms of product innovation–from smart leashes to automatic feeders to ball launches to microchip-enabled collars and more. It's not huge in terms of sales, though, representing a much smaller niche of consumer, at least for now. Tech in general is growing in consumer goods in tons of different market segments, but only when it provides true value, like a solution to a problem or simplifying a complicated task. Expect to see more product innovation in 2017, though not necessarily more sales yet.
Pet Lifestyle
For years, the trend driving sales in the pet industry was the humanization of pets. The gist: That pet owners wanted to treat their pets like a human member of their family. That held steady for almost a decade, and the industry seems to be shifting beyond that trend, perhaps coinciding with millennial pet ownership. Now, pets are part of the pet owner's lifestyle. And there are products to support and enhance that pet lifestyle. It's no longer enough to say that pets are treated as a member of the family–because those family members were historically still left at home. Now, pets are integrated and often go everywhere and do everything that their owners do.
Pet Product Choice
Related to the lifestyle trend, one of the biggest trends at Global Pet Expo was an increased amount of choice. Many of the products in the New Products Showcase weren't, in fact, new, but rather new colors, styles, or designs on existing products. This means that pet owners are able to find and purchase pet products that reflect their (and their pets') personalities. And that spans categories: From food products to apparel to toys to gear, there's something for every individual person and pet.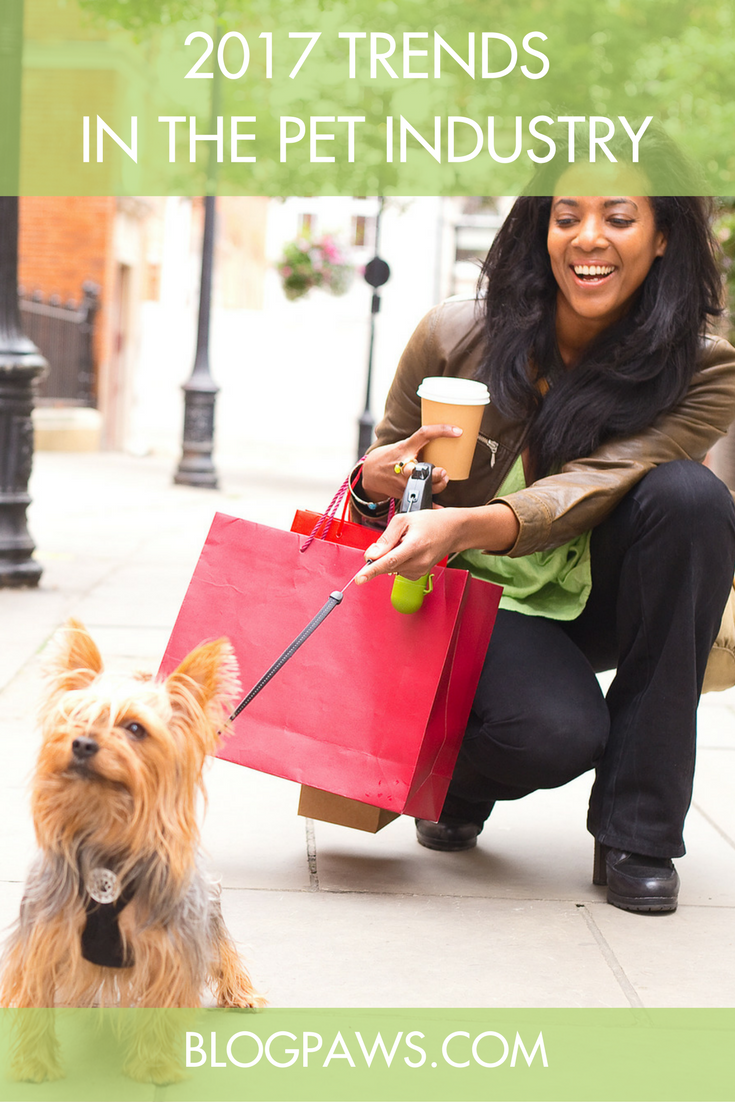 These are the trends that will drive sales and product development in the year to come. For industry professionals like pet bloggers, these are the topics pet owners will be searching for in 2017.
Interestingly, in the APPA National Pet Owners Survey, where the spending data appears, nearly half of cat and dog owners (48 and 42 percent, respectively) turn to the internet when seeking information for or about their pet, and that number is significantly higher for small animal and reptile owners. Digital media producers can capitalize on that SEO juice by creating topical posts that suit your audience and purpose, while providing an invaluable service.
Are you planning any 2017 trends in the pet industry coverage? What questions do you have about these trends or ideas on how to cover them for your audience? 
Maggie Marton serves as the BlogPaws senior editor. When not hiking with her two pit mixes, Emmett and Cooper, or playing with Newt the Cat, Maggie writes about them (and the pet industry) at ohmydogblog.com and maggiemarton.com. 
Images: Bogdan Sonjachnyj/Shutterstock.com and Michaelpuche/Shutterstock.com