Fresh content keeps loyal readers coming back, and it brings new readers to your site.
There are two ways to keep your blog's content fresh: create new, helpful, shareable content or update and improve upon your blog's archives. Doing both in tandem virtually guarantees that your blog will stay relevant to your existing and ideal audiences. Here's how: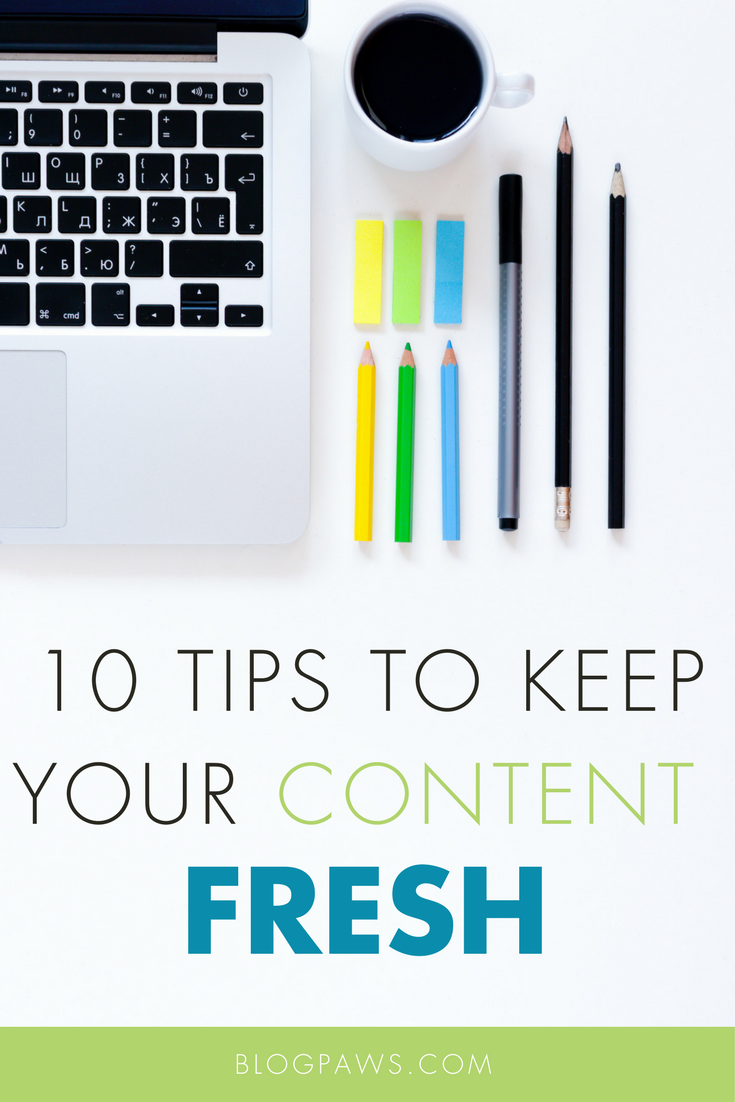 10 Tips to Keep Your Blog's Content Fresh
Create a solid bank of evergreen content. Once you have timeliness, quality content created, you can use those posts to attract a new audience (see point 3 below) and to grow your cross-channel presence (see point 5 below). But you can't take those steps toward growth until you've created helpful, shareable, engaging evergreen content. Read more: How and When to Create Evergreen or Cornerstone Content
Check for broken links regularly. Broken links irritate readers. It's as simple as that! I use a Broken Link Checker plugin to scan my site regularly and make updates as needed. Bonus: Replace old or outdated references with fresh, new links. Then, be sure to tag the folks you're linking to when you re-share across social! Read more: What is a 404 Error and How Do I Fix It?
Integrate new CTAs to old posts. If your goal in 2015 was to drive Facebook likes, most of your posts probably end with that CTA. If your 2018 goal is to drive newsletter signups, take some time to freshen up those old posts with the new CTAs and re-share to promote the new action. Read more: How to Create a Call to Action That Gets Readers Clicking Through
Swap out the featured photo. Piece-of-cake update: Add new pinnables to old posts. Then, of course, don't forget to re-pin on all your relevant boards!
Use a scheduling tool to share and re-share with new, unique copy. "New, unique copy" is key. Most scheduling tools make it easy to post and repost the same messages over and over. That's OK to a degree, but craft several different—though equally compelling—social messages so that your audience isn't getting hit with the same text over and over.
Eliminate the ROT: redundant, outdated (or obsolete), and trivial. If a post isn't getting traffic or if you cringe when you see it in your archives, first try to update it. Can you tighten up the copy? Add a new pinnable? Replace some of the resources with new? If not, let the post go!
Clean up static pages, like your About and PR pages. Nothing shouts "stale" quite as loudly as outdated contact info or an About page that no longer reflects you or your blog's mission. (Or showcases a headshot that's a decade old!) Read more: Must Haves to Include on Your About Me Page
Build resource pages. Roundup your most useful information by topic to create a resource page that helps your audience navigate your helpful content. Infuse SEO terms, and create images that your audience can't wait to share! BTW, this is a great way to decrease that bounce rate IF the posts you compile compel your readers to click through.
Develop new skills. One constant in the blogging world: change! Keep your content fresh by always learning new skills, picking up fresh tips, and developing some of your own best practices. The Social Learning Community is a great place to start. Never be "finished" with your blogging education!
Publish your best work. It's easy to fall into the trap: "Argh, it's Thursday. I always post on Thursdays. I have nothing to write. My audience expects a Thursday post. I better go pull something outta thin air." Those outta-thin-air posts quickly add up and decrease the quality and relevancy of your blog. Before you click publish, ask yourself: If a brand-new, ideal reader were to land on THIS post before any other on my site, would I be proud? Would this post reflect my authenticity and be THE post to turn an ideal reader into a loyal reader?
Your turn!
How do you keep your blog's content fresh and relevant? Which of these 10 are you going to try first? Any tips to add to this list? We'd love to hear 'em in the comments below!
Maggie Marton serves as the BlogPaws senior editor. When not hiking with her two pit mixes, Emmett and Cooper, or playing with Newt the Cat, Maggie writes about them (and the pet industry) at ohmydogblog.com and maggiemarton.com.
Image: Rorygez Fresh/Shutterstock.com