Each year, the BlogPaws Team has chosen Ambassadors to help promote the conference, help out newbies and to assist in "being the faces" of BlogPaws leading up to, and at, the conference. This year we featured our four Ambassadors in our newsletters and asked them some "getting to know you" questions.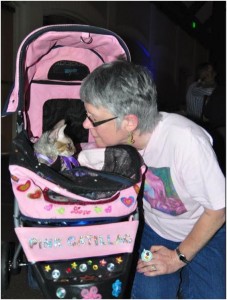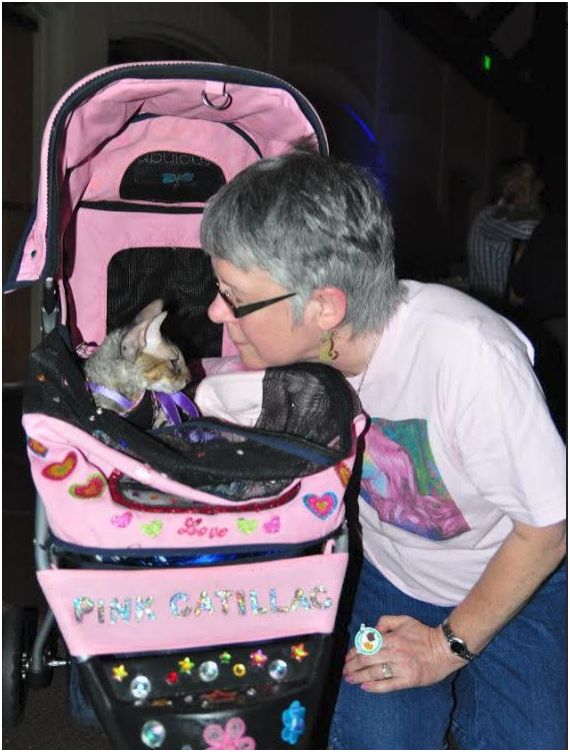 Teri with Coco in the Pink Catillac
"Meet" Teri Thorsteinson:
What was your first pet: Growing up, my family always had dogs, never a cat although it wasn't long after being in the veterinary healthcare field, I felt myself attracted to the feline species. I adopted my first pet when a mother cat was brought into the clinic with mastitis and unable to care for her remaining kitten…the kitten was a "foster fail" and became my constant traveling companion–I took her everywhere with me, and she helped me survive a divorce that was happening to me at the time and I adopted her.
If you won the lottery, what is the first thing you'd do? Sell my house, buy a mini motor home and travel around the country volunteering at cat-centric rescues. I also would love to be a consultant for cat owners, advising and/or going with them to vet appointments, being an advocate for their cats health care through education. Those things would not be work to me!
What is your favorite part of being a pet owner?  My cats have gotten me through some very tough times, and while sometimes I am too tired to do things for myself, I always feel better when I do something for them, even if it's something as simple as taking a nap with them.
What goal do you have for your blogging/business this year. With my Coco at the brink of being an Internet sensation (one can dream) I want to focus on her appearances, blog and how she can help homeless cats everywhere. Attending the BlogPaws Conference is a big part of how I learn to be a better blogger, marketer, and savvy with social media.
What is the one must-have or must-do that you have or do every single day?  Must have: Ice cream. Must do: Do a head count before I leave home, so no cat is locked in a closet.
Why I cannot wait to go to the BlogPaws Conference: Ever since the very first conference, I truly feel it is a part of my life now (and dream of retirement and having more time to blog–only five years away, lol). I buy my ticket for the next conference right after the last one ends–it would take a catastrophe to prevent me from going! Even after I lost my job in 2013, when I was interviewing, I told prospective employers that I had a prior commitment in May 2014 to attend a pet related conference! As sometimes I feel I don't retain what I learn well at the conferences (while it is fun, having my cats along is distracting), I have found the BlogPaws Community a wealth of information and education that meets the same high standards as the conferences do! Being an Ambassador this year is very exciting to me, as I will get to know so many more bloggers, brands, speakers because of my duties and so appreciate the BlogPaws Team's trust in me that I can do the job. If you want to register, my discount code is BP15-Amb-Teri-10