BlogPaws 2013
Here's where we were:
Sheraton Premiere Hotel
8661 Leesburg Pike
Tysons Corner, VA
(703) 448-1234
BlogPaws 2013, back at the beautifully remodeled Sheraton Premiere in Tysons Corner, VA (suggestions are welcome; hurricanes and earthquakes … NOT!).
****UPDATE: THE SHERATON PREMIER IS SOLD OUT****
****PLEASE SEE OUR OVERFLOW HOTELS BELOW****
BlogPaws 2013 Conference Hotel:
Host hotel is sold out!
The Sheraton Premier
Tysons Corner, VA
May 16 – 18, 2013
OVERFLOW HOTELS – BOTH ARE PET FRIENDLY:
The Residence Inn by Marriott (which is about 3 blocks from the host hotel)
*UPDATE 4/19/13: Rooms are now sold out for 5/16 & 5/17, but still available for 5/15 & 5/18!*
8616 Westwood Center drive
$139 a night with free Internet
703-893-0120 – YOU MUST CALL TO BOOK YOUR ROOM
Group under BlogPaws
This hotel has a $125 pet fee that is being waived for BlogPaws attendees!
OR
The Residence Inn by Marriott – Tysons Corner Mall (about 3 miles from host hotel)
$119 a night with free internet
8400 Old Courthouse Road Vienna, VA 22182
Phone: 703.917.0800
There is a $75 pet fee at this hotel
There will be a shuttle from the Residence Inn to take you to the Sheraton Premier, and the Sheraton Premier shuttle will be available to take you back to the Residence Inn.
Of course, pets are welcome!
BlogPaws 2012
Honor Flag Project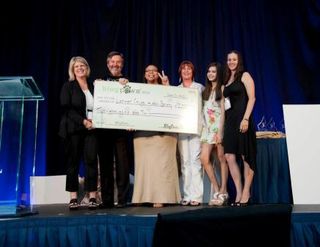 BlogPaws gives back with $12,000 in cash donations and thousands of dollars in goods!