Save this link for all the details you need to know about the 1st annual #BlogPawty – the schedule, the staff and the menu. Everyone is welcome so invite your friends and come pawty with BlogPaws!
The schedule and detail of events:
5:00 p.m. EST – Parade arrival and cocktails through the Village Square
6:00 p.m. EST – Recognition Pawards in the Banquet Hall's Atrium
7:00 p.m. EST or immediately following the Pawards – After Pawty in the Atrium
Everyone put on your most pawsome outfit and join the parade at 5:00 p.m. ET as we head into the Village Square dancing to music and giving away prizes!
We will take the parade from the Village Square, through the banquet hall and into the beautifully decorated atrium. Many thanks to @TinyPearlCat for decking out the Atrium for the BlogPawty!
The Pawards ceremony will begin at 6:00 p.m. ET. BlogPaws will be recognizing many different people who have helped us get where we are today, as well as anyone who has been to all three conferences and those who are already registered for the 4th conference in Salt Lake City, UT on June 21 – 23, 2012!! Have you had purrfect attendance??
Once we wrap up our recognition Pawards it will be time to just pawty – dance, play, laugh and have fun – and of course, time for more prizes! We're even giving away TWO free 2012 conference passes!! That's right, it's your chance to win a free pass to the 2012 conference! And, if you don't win, this weekend is the last chance you have to purchase a conference pass at the early bird rate of $149!! Don't miss it!!
The BlogPawty Staff by hour:
5:00 – 6:00 ET
      Barktender: @PepiSmartDog
      DJ: @ParkerSKat
      Pawleece: @BrutusTheDane
      Quiz Master*: @BlogPaws
6:00 – 7:00 ET
      Barktender: @tildatoo
      DJ: @ParkerSKat & @CathyKeisha (dualing DJs!!)
      Pawleece: @SnoopDoggDoxie
      Quiz Master*: @CokieTheCat
7:00 – 8:00 ET
      Barktender: @PepiSmartDog
      DJ: @CathyKeisha
      Pawleece: @mizCleo
      Quiz Master*: @BlogPaws
*You must follow the Quiz Master to take part in the prize giveaways because you will need to DM (direct message) them to win.
The Menu:
DRINKS
APPETIZERS
DESSERTS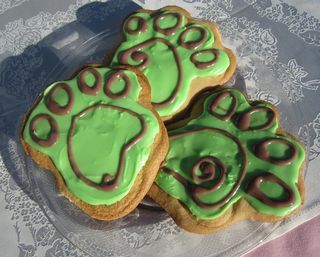 Gluten Free Vegan BlogPaws Cookies
(Homemade by @TinyPearlCat!) 

BlogPaws CheesePawCake
What would a BlogPawty be without CHEESECAKE?!
 
Enjoy!