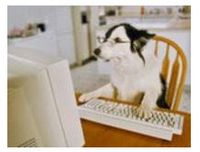 We've discussed the 'about' page here, before. It's a critical piece of your blog or website. Your about page introduces YOU to the people stopping by. We mean "you"… in other words, your company mission, what you do, who you are and why they should either come back or buy what you're selling.
On Marketing Profs site, this article, "Is Your 'About Us' Page Effective?" author Kevin B. Levi shares "four must have components of an effective About Us page".
Here's the break down:
Your about us page needs to have an elevator pitch – short enough to read quickly, but long enough to convey the "value you provide".
It needs to differentiate you from your competitors. One key recognition is that you have competitors. No matter what you do or what you sell, someone else is either doing the same thing, or attracting your would-be customers – which makes them a competitor, even if they aren't selling what you're selling.
You should also have contact information. How does a visitor actually ask you a question? Forms are okay… a lot of people use a pop-up form. But, email is best. When I land on an about page that requires me to fill out a form to contact the blogger or author, I sigh and move on. I don't have time to fill in forms. And, I'm never sure what happens to my message, after I click 'send'. Generally, I never hear back.
It helps to share your address, also. People want to know where you're located.
Your about us page should also inform – tell me something about yourself. Not your pets – yes, that's a fun task, writing about your pets – but, I want to know about you. Don't use third person, "Laurie was top salesperson at her previous job. She
graduated summa cum laude from xyz university and continues to wow everyone with her expertise."
Be personal – "I am a 20-year sales professional. I started this blog to  …whatever… and work with brands on teaching bloggers how to do product reviews. Before blogging, I was a stay-at-home Mom. This is my cat, Booger – he makes all this worthwhile!"
 Make your about page uplifting. Give folks a way to engage with you. Don't leave them wondering what you're about or how to contact you. Friendly, funny, inspiring works every time. If you can't write an about page that reflects the best of you in a way that makes people enthusiastic about working with you, hire a freelance writer.
How effective is your about page? Share it here…and let folks tell you. Don't forget to visit the Marketing Profs article – he has great content on how to test your effectiveness, too.