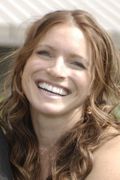 By Guest Blogger Kyla Duffy, President, Happy Tails Books
Blog bonus: The first person to find the grammatical errors in this post will receive a free copy of 15 Great Pet Blogs… And Their Most Memorable Posts.
Have you ever read a blog post and thought, "The topic seems interesting, but I just can't seem to get through this. Maybe I'm tired." 
I have, and it wasn't until recently that I discovered the real reason why. The culprit is non-obvious, obscuring a reader's complete understanding of an article, like a picture of a cat chewing a rawhide. The content is there but something's not quite right.
In the case of blog posts that don't hold readers' attention, that "something" is grammar and usage. Misplaced commas, misuse of homophones, and passive sentence phrasing, to name a few, fatigue a reader's mind before it can even begin processing meaning.
Poor editing is your worst enemy as a blogger. It's right up there with poor search engine optimization and WordPress updates that lock you out of your dashboard because you forgot to first update your plugins. Surprisingly, many bloggers spend hours at the reins of their social media tools working to increase their blogs' readerships, but they don't even take a moment to proofread their posts.
Some bloggers feel that this type-from-the-hip, grammar-free blogging approach is just fine because blogs are conversational. I say conversational is fine. However, note that the following, too, is conversational:
Person 1: Hi. How was your day?
Person 2:  Like, it was, like, a day.
Person 1: What'd you do?
Person 2: Like, I was going to, like, go to the mall, like, with my friends! But then, like, Mom came home and put the, like, smackdown on that idea until I, like, did my HW! Lame! So I, like, told her I did, and then I went to the mall! I got these awesome jeggings!
Do you know people who talk like that? They're called teenagers, and many people avoid talking to teenagers at all costs because it's too hard to figure out what the heck they are saying. Do you see my point? The informality of blogging has nothing to do with grammar and usage. You can be as casual as you want, while still adhering to the rules of English grammar. The result will be a higher likelihood of reader retention and, more importantly, of getting your meaning across.
Have you been ignoring the rules of grammar and usage on your blog? Don't feel bad, even if you do have a college degree (or several). The university system fails most of us who use it in that it assumes we remember everything we learned in eighth grade. Most of us don't. And, in fact, many of the grammatical issues we face today weren't even discussed in secondary school, like when it's appropriate to use "MOL" and "BOL."
Have no fear! BlogPaws 2011 is just around the corner, and at the conference I'll be leading a seminar about grammar and usage for bloggers. You won't want to miss it: It will be fun, educational, and you may even get a chance to throw a pie in my face (or not, but it will still be fun).
Seminar Info:
Name: You Said What?!!??!?
Date: Friday, August 26th, 2011
Time: 11 a.m.