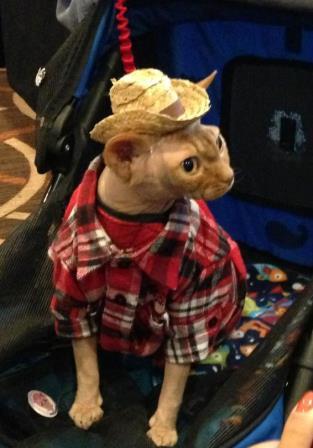 We're still recovering from BlogPaws. Is it really Wordless Wednesday already?! All pictures posted in the free BlogPaws Community are eligible to appear on this post each week, but today's is brought to you via our Facebook page. We couldn't resist sharing Cowboy Disco from Curlz and Swirlz! If you were at the conference we'd love to see your favorite photo. If you weren't, no worries – we still want to see your favorite photo too!
On this post event Wednesday of the BlogPaws 2013 Conference,  we encourage you to make new connections, find followers, join in the blog hop, and grow your blog. If you were at the conference we hope you already have some new friends to connect with here.
Visit and leave comments on other blogs to make some new buddies and maybe some new followers. You can add the BlogPaws Blog Hop button to your post and/or to your blog sidebar, either by cutting and pasting the image or using the HTML code below.
Need help? Here it is: How to Join a Blog Hop – BlogPaws Tutorial
Want to see your pet featured? Join our free BlogPaws Community and share your photos! We select our BlogPaws Wordless Wedneday pet from the photos in the community each week.