This month here at BlogPaws our theme is Pet Safety. We thought July would be the perfect time to talk pet safety with July 4th, the Summer sun, and not leaving dogs in hot cars. We would love to have you join us and help raise awareness about keeping our pets safe and healthy this month and every month throughout the year.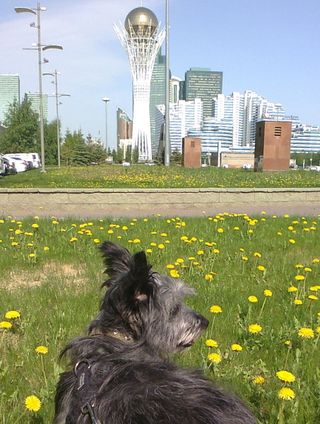 Nellie reminds us that even when you are on vacation and site-seeing this summer to take your time, stop to sniff the flowers, keep your paws cool on the grass, and bring water along in case you get thirsty. Oh and always wear your leash and collar especially when visiting new places you have never been before!

Nellie is visiting Bayterek a monument and observation tower in Astana, Kazakhstan.

You can add the BlogPaws Blog Hop button to your post and/or to your blog sidebar, either by cutting and pasting the image or using the HTML code below.



Need help? Here it is: How to Join a Blog Hop – BlogPaws Tutorial
Featured Wordless Wednesday photos are randomly chosen each week from photos posted by BlogPaws Community members. Please do not email your photos. If you're not a member, you can join us here: BlogPaws Community Center. It only takes a tail wag time out of your day (or night).
If you aren't already a member, there's no better time to
join the BlogPaws
Online Community! It's fast and it's free. And of course, there's the
BlogPaws 2014 Conference in Lake Las Vegas to be planning for!