"Fred After Thanksgiving Dinner" submitted by bassetmomma
Welcome to the Thanksgiving edition of the Wordless Wednesday Blog Hop! This time of year reminds us of how fortunate we are to have all of you in our community. Please know how special you are and how much you mean to us. Best wishes for full tummies, happy families and lots of furry snuggles – And while you're doing your holiday grocery shopping, remember to pick up a little something extra for your next shelter drive-by!
Join BlogPaws' Wordless Wednesday Blog Hop by posting your pet photo(s) on your blog and linking up below – then start hopping! Visit and leave comments on other blogs to make some new blogger pals and probably get some new followers. 
You can add our Blog Hop button to your post and/or to your blog sidebar, either by cutting and pasting the image or using the HTML code below.



Need help? Here it is: How to Join a Blog Hop – BlogPaws Tutorial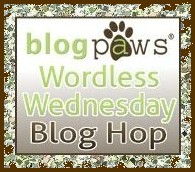 Featured Wordless Wednesday photos are randomly chosen each week from photos posted by BlogPaws Community members. Please DO NOT E-MAIL your photos. If you're not a member, join here: BlogPaws Community Center. It only takes a minute. ; )