I just gotta ask: Who's reading my blog, anyway? Are you?
All of us write our blogs with the hope that our content will reach a lot of like-minded people. Whether those people are pet enthusiasts or other pet bloggers, or our local veterinarian, the goal is to get noticed by more than our Mom.
One way to determine who's reading your blog is by the comments you attract. You can always follow the link provided in a comment back to the commentator's blog or website and thank him or her for visiting your blog and participating in the conversation.
You can also figure out just who's visiting your blog by streaming the feed to your Facebook page and checking for likes or folks who 'share'.
But, the best way to see who's reading your blog is by having a tool that tells you. Google Analytics is one tool. Most blog platforms also have a tool. The general information shared via these tools is how many pageviews you had that day. You should also be able to see where the people who visited your blog came from. Most tools show the referring web page, which can be someone else's blog or Facebook page, or media site.
Blog stat tools also let you know which part of the country your traffic originates from. Sometimes that can help identify readers if you know a few people from the general area.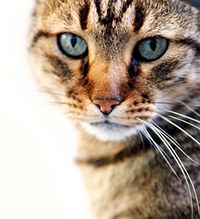 I'm not an expert on stats and how to read them, but we do have a session on this topic at BlogPaws 2011. Today is the last day for Early Bird Registration…so, consider making that move right now.
One thing to remember is that you probably have a good many lurkers. These are people who visit but don't comment. These are people who like you and might be sharing your link with their friends, but not be visible to your stat tool. And, if you're not attracting comments, Liz Strauss tells you why in 10 steps.
Instead of worrying about who's reading, worry about providing great content. Great content will bring the readers and convince them to share. Content is still King!