Guest post by Melanie Monteiro
What if you walked into
your living room to find your pup just chowed down the bowl of
grapes you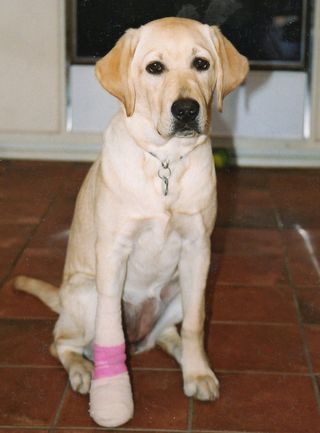 accidentally left on the coffee table? What if your kitty is stung by a
bee and her head swells up like a watermelon? In the first moments following an
emergency, your pet's outcome may depend on your ability to respond swiftly
and properly until you can get her to a vet — and having a well-stocked pet
first aid kit is rule #1.
Most of the items you'll need
are inexpensive and can be purchased at the drugstore, or you can start
with one of the many ready-made kits available online, then customize as
needed. Once you've got all your items, keep everything together in a
brightly colored backpack that you can easily spot at home, quickly grab for day
trips, or pack for longer travel.
Here's what you'll need:
Phone numbers of pet's
regular vet, after-hours emergency vet, ASPCA Poison Hotline (888-426-4435),
pets' microchip # and microchip company hotline
Pet first aid guide such
a The Safe Dog Handbook or Pets
America
Hydrogen Peroxide 3% USP
(to induce vomiting under a vet's guidance only)
Commercial muzzle (for
cats or snub-nosed dogs) or strip of fabric 24-36 inches long, for muzzling
when treating pets in extreme pain (**NEVER muzzle a pet that's vomiting, has
difficulty breathing or has throat/neck/head injury)
Oral syringe
Tweezers or needle nose
pliers
Styptic powder/cotton
swabs
Diphenhydramine
antihistamine such as Benadryl (for use under a vet's guidance only)
Saline eye wash
Latex-free gloves
Pediatric rectal
thermometer and water-based lubricant
Epsom salts (to make
larger batch of saline solution to rinse wounds)
Can of pop-top chicken
broth or tuna in water (to dilute oral burns/irritations, or as base to get pet to
drink hydrogen peroxide when vomiting is indicated by a vet.)
Spare leash
Cut and wound care items to pout in your first aid kit include:
Hand sanitizer
Antiseptic
(povidone-iodine) solution, such as Betadine
Flexi-wrap (self sticking
elastic bandage roll or Ace)
Antibiotic ointment such as
Polysporin
Stretchable gauze
Gauze pads/ non-stick
bandages
Non-scented sanitary pad
(for heavily bleeding wounds)
Clean cotton sock/t-shirt
(for quick-wrapping wounds)
First aid adhesive tape
Blunt scissors and smaller
sharp scissors for clipping hair
Duct tape
Also, make sure you always keep a blanket/large
towel, fresh water, treats and dish in your car. Naturally, having a pet
first aid kit won't do much good if you don't know how and when to use the items it
contains – so be sure to get pet first aid training! Look for a class
through your local Red Cross, ask your local humane society, or check
out the instructor list at pettech.net,

We all know accidents can
happen at anytime or anywhere. So tell us … do you already have a pet first
aid kit, or will you plan to put one together soon?
Bio: Melanie Monteiro is a dog
safety & lifestyle expert, pet first aid instructor, writer and author
of The Safe Dog Handbook –
the acclaimed manual inspired by her adventures with Taiga, the world's most
accident-prone puppy. 
 Editor's Note: Melanie was a guest on #BlogPawsChat on Twitter last week where she answered questions about pet safety and pet first aid kits. On Tuesday, July 30, #BlogPawsChat will be welcoming Dr. Jason Nicholas @preventivevet of The Preventive Vet. He will be tweeting about stroke awareness
& prevention. Perfect timing as July 31st is National Heat Stroke
Awareness day. The #BlogPawsChat is on Twitter from 8-10 pm EST.