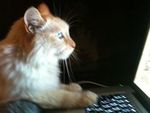 It has come to our attention that some of our blog buddies don't tweet. That just seems wrong! But, we understand that some of our pet people (and their pets) just "don't get it." Cokie the Cat (who brought this to our attention) has a series of posts on this topic that can help newbies get started.
Here's what Cokie says, "I'm a seventeen year old ragdoll cat and if I can do it, and have 4700 followers, no less, so can you! If you you are just the slightest bit uncomfortable jumping onto Twitter, bookmark this page. I'll be adding new tips and suggestions here regularly, at least once a week."
And, she says, "We'll cover things, too, like blog hops, and whatever else you're wondering about."
So, without further ado, here are some of her Twitter Tips For Beginners (1) Getting Started –
If you haven't already, sign up for a Twitter account at www.twitter.com. You'll need an email address and a photo you want to use for yourself on your computer, and you may have to be creative coming up with a Twitter ID (name), since there are SO many Twitter accounts now, but you'll think of something cool.
Just don't make your Twitter ID too long, because you only get 140 characters per tweet and since folks have to use your Twitter name to address you or mention you in a tweet, you don't want it to take up too much real estate!
My Twitter ID is cokiethecat, written as @cokiethecat. That's eleven letters (not including the @ symbol) and I wouldn't make yours much longer than that. The shorter the better for Twitter!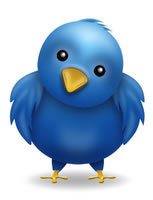 Oh, there is LOTS more than that, of course. Twitter is complicated…but fun. You can really trust Cokie cause she knows a ton about twitter and being on the web. She is pretty popular! In a good way, of course. It's the kind of popular we all want to be – you know, the kind that is helpful and happy and always looks out for her friends.
After she introduces Twitter for beginners ( of which there is lots more, so hop over and read the entire post!), she shares hashtags and FollowFriday.
Are you a twitter expert? What do you use twitter for – besides just tweeting? How do you get more followers…and SHOULD you get more followers? There are lots of questions…we want you to ask them here and we'll see if we can get Cokie to come and answer them.
Happy tweeting!