By: Carol Bryant
Tout is a social media platform that allows users to shoot 15-second video status updates via smartphones and webcams. It is also catching on like wildfire and BlogPaws has the inside track on how to use Tout, what features can rock your blog and social media presence, and tips and tricks for maximizing the Tout experience.
Melissa Breen is the Director of Entertainment Marketing and Relations for Tout, which is based in San Francisco, California. She'll be introducing Tout and how to use it for embedding and blogging to get the message out at BlogPaws. So what is Tout and why shout it out?

"Tout is a social media application for the smartphone, Android, or iPhone, iPad or home computer with your camera. It is a great tool that allows people to capture a 15-second video status update you can then push out to all Twitter, Facebook, and Pinterest platforms," Breen shared.
People tend to be much more likely to share, LIKE, and retweet with content with video content, Breen told us. Tout is a very simple way for people to engage with their audience on a much more elevated and richer experience.
"Social media is the most important factor that comes into play when bloggers are trying to reach their audience, so by using Tout, the experience gets elevated." Bloggers can show it with a 15-second video using Tout. Imagine your dog showing a toy in use, your cat engaging with a product or experience.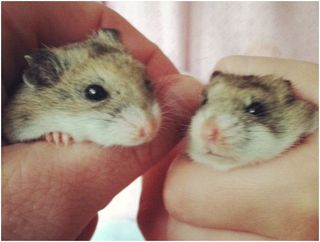 Tout functions much like Twitter does, in real time, so people can actualy see and hear the people in your community. It is taking the idea of real-time face conversations to a whole new level.
So how about something quirky from Melissa, as we make all of our speakers share? "I own 15 fedoras, and I am as comfortable in a dress and 4 inch heels as i am in my cargos and black-n-white checkered vans…..it's all about balance!"
Conenct with Melissa by finding her on Twitter @melissabreen, email : Melissa@tout.com, and check out the Tout website at www.tout.com. And aren't her hamsters oh so cute???
Come to Salt Lake City, meet Melissa, and join in the fabulous 3-day event:  BlogPaws 2012
Catch up on our BlogPaws Speaker Series in the BlogPaws Community.