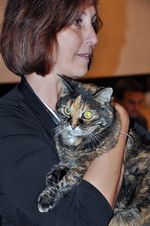 Yvonne DiVita here: Seems that yesterday's post on PR pitches struck a cord with a number of people, both bloggers and PR firms. The following is a post written by Megan Licursi of MLMC . She and I exchanged some emails about this topic, then hopped on the phone to chat. I welcome her thoughts from the PR side of the equation and thought you would, too.
This is a dialogue that can be far-reaching. The goal is not to prove who's right. The goal is to help bloggers and PR firms and brands work well together. Read Megan's post, with my thoughts in purple, and send her your thoughts and questions. This is a polite conversation – don't get all up in arms about anything I say or Megan says. Keep an open mind and let's all learn something from this. 
Directly from Megan's blog:
Republican or Democrat; Coke or Pepsi; Auburn or Alabama. We live in a world of opposing sides and the blogosphere is no exception: to pay or not to pay for product reviews. 
Last night, I received an e-mail from BlogPaws, a network of pet bloggers whose annual conferences I've recommended to clients in the past. The e-mail and blog post can be read entirely 
here
, but here's the part that has me up in arms:
Some [pitches] will make you feel sad because they are about shelters, rescues or a program supporting shelters and rescues, and you want to write about them but… you can't write 10 different posts about 10 different things going on, and still get your own writing done. And, some will make you mad. Because they will assume you're going to cover their product for free… free product, that is. It's not the message, sometimes, it's the assumption that your time if not worth anything.  
Here's the skinny on all of this. 
Every time you do a free product review, you sell yourself, and your fellow bloggers short. Be selective. No, I am not advising you stop doing free product reviews. I am saying, weigh the free product and your influence carefully. Ask yourself, "Should I get paid for this review? Did the newspaper or major magazine in which an ad was placed for this product, do it for free? Why is my blog any different?" Truth is – your blog has more relevance than a major magazine or newspaper ad. 
I do a fair share of social media marketing and consulting. At any given time, I'm running between 5 and 10 blog tours for various CPG companies. I recognize that product reviews on blogs are extremely important. The last statistic I can recall on the subject said that people who read about a product on a blog are 9x more likely to buy that product versus only 3x more likely if they read about it editorially (both metrics are compared to seeing an advertisement). [note the stats here in BlogHer's ad doc – and remember, BlogHer is a BlogPaws partner; no where does it indicate that if the blogger got paid, the post was suspect in some way]
But to resonate with the consumer, that post needs to be objective. And it's that reason that I do not advocate paying for content. [some other ideas on paid content – can help support Megan, I think – what do you think? Do you think paid reviews are not objective? Mine are. I tell the PR firm up front that the payment is for my time, not my opinion. And my blog readers at Lipsticking have said they're okay with that. But, it could be an issue, couldn't it?]
Why would a blogger do this? Simply put: content drives traffic. It's the same for traditional media and it works for blogs, too. My good friend Tim Wagner at WrightIMC explains it nicely, saying "If you provide good content and do good search marketing, your audience will come. And, with that audience will come advertisers. PR people help you build good, unique content." [Bloggers – do we need help finding content? I know I don't. Do you? Could this be a good way to add value to your blog? Thoughts?]
So, how can a blogger make money? I buy ad space on blogs on a daily basis. I've sponsored bloggers to attend conferences and other events. I've even been known to pay for an advertorial (or two). [Kewl! Like to hear more about these, Megan.]
As Jeremy Pepper says, You need the traffic to command and demand a cost structure. <<< Head's up, bloggers!
I'm going out on a limb here and I'm sure I'll make some enemies by saying this: It boggles my mind that some bloggers can't see the forest for the trees. They have a money-making mechanism at their disposal. But, it's not in the content. It's in the advertising.
I've sent this link to BlogPaws, fellow bloggers and several people I respect in the PR world for comment.
From me: Now it's your turn, bloggers. What question do you have for Megan? Do you agree with her "can't see the forest for the trees" comment? Megan has gratiously said she will try to answer your questions in comments. If you have a question you don't want to ask in a comment, feel free to email me, Yvonne DiVita, and I'll share it with Megan.
Want to keep the conversation going? Engage!