Post by Blog Manager Robbi Hess
Sometimes when I look back over the blog posts of the past week I wonder, "Where to begin" when it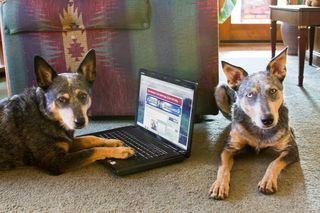 comes to reviewing all that we'd covered. This week saw so much basic, "how do I get readers to my blog" and "how do I keep track of what I'm going to write about" content that it's well worth your time to re-read them all!
Many of the conversations we had on the blog posts carried over into the BlogPaws Community so if you're not a member, it's all the more reason for you to sign up (it's free!) jump into the conversation and see what happens when bloggers get together in a chat forum. 
Here's what happened last week on BlogPaws: 
The week ahead is certain to be filled with topics that pet bloggers can use to enhance their blogs, make a difference in the pet world and draw readers to their social media pages. Don't forget we continue to celebrate International Pet Blogger Month and are hosting a photo contest of your pet undertaking his or her social media tasks! 
(Photo from BlogPaws Facebook page cattleaussies.blogspot.com — with Cattle Aussies Corner)