Guest post by Blog Manager Robbi Hess
The day you brought your beloved pet home you cared for and fed and loved her to bits, right? Every day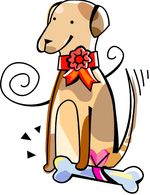 you took time to nurture her and make certain she was happy and content. You told all of your friends and family about her and basically drove everyone crazy with your nonstop "proud mother/father" conversations. Are you doing the same for your blog? Or more, specifically for your blog followers? If not, here are some steps you can take to care for, feed and nurture your blog the same way you care for your pet. 
Post frequently. Yes, I know I've said this before but it's true. The more often you post, the higher your blog/website will rank (if you use the correct keywords) and the more likely it is that people will like and follow and comment on your blog. 
Speaking of comments. If you have someone who takes the time to comment on your blog, thank them! Comment back. Let them know you care! Nurture those followers. 
Share the love. If the individuals who comment on your blog have blogs of their own, hop over there and comment on their posts. Commenting is a two way street. 
Track the posts that garner the most comments and then steer your other posts in that direction. For example, if you write a humorous post and it seems to resonate with the readers, then be funny. If you interview a vet or review a book that garners you comments, then maybe that's your area of expertise. 
Write what you love. If you're blogging just because you "feel you have to because everyone else is" your lack of enthusiasm will show through. You don't have to be a blogger to be a blog follower. 
How are you caring for and nurturing your blog?